Contests, challenges, competitions!
Saint-Gobain has sponsored 7 student teams in the Solar Decathlon Europe 2014 challenge.
The aim of this international academic architectural competition was to improve education and research in the fields of sustainable architecture and solar energy. This year, 20 student teams representing 41 universities from 16 countries and three continents have presented full-scale prototypes of the sustainable, comfortable, innovative and affordable solar energy houses they designed.
Take a look at the top contenders: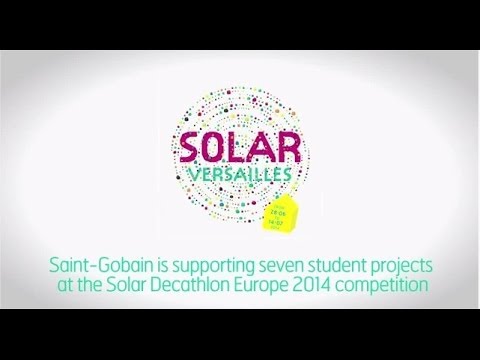 This year was the first time that Engineers for a Sustainable World hosted the Alternative Energy Challenge at UT Austin. We are happy to say that the competition was a great success! Three teams spent roughly 6 weeks building their designs and the results were quite impressive. The teams were:
Team Gurlz: The Humble Umbrella. A patio umbrella that can be deployed at restaurants and coffee shops around Austin that utilizes solar and wind power to charge electronics.
The Dream Team: Solar Powered Rooftop Hydroponics System to grow food in urban environments.
Team RAJ: A Peltier thermoelectric generator to capture heat energy released by appliances such as light bulbs and convert the heat energy to electrical energy.
In the final judging round, each team presented their research and prototypes to an audience of roughly 40 UT Austin Engineering students as well as three judges. In the end, the judges selected Team Gurlz as the winner of the competition. We are very proud to present them with a cash prize as well as recognition as the Spring 2014 winners of the Alternative Energy Challenge!
We would like to congratulate all the teams who participated in the Spring 2014 ESW Alternative Energy Challenge. Your hard work and dedication was very apparent and the judges were thoroughly impressed. The Dream Team plans to continue working on the solar powered filtration system for their hydroponic system. Team RAJ is still working through the technical details of their ambitious project. Team Gurlz spoke about implementing their prototype at a local coffee shop in Austin.
With its most recent addition of a council in Tanzania (May 2014), the World Green Building Council continues its growth throughout the world.  Currently covering these Regions:  Africa; Americas; Asia/Pacific; Europe, MENA – "…networks are set up to focus on relevant activity and facilitate collaboration between more than 90 local GBCs for greater regional impact.  Each region sets its own work program, with companies partnering to deliver agreed actions."
Visit World Green Building Council
A hearty salute to MIT!! – they are already taking part in the exciting activities spurred by GBC through the MIT Climate CoLab!  Check out their current contest
2nd Place (awarded $7,500)  WE ARE SO PROUD  – Glad we are part of Matt's in crowd.  I Love Free Concerts,
(Matthew Diaz, Lehman College):A curated calendar website and email newsletter platform offering free live music event listings, serving one quarter of a million consumers in New York City and the greater area.
Baruch College announces winners of the 12th annual SmartPitch Challenge
With only two classes on my schedule in my last semester at UC Merced, I decided I needed to find some way to keep myself busy. So when a friend asked me to join his team for UC Merced's Mobile App Challenge, I was interested but honestly somewhat clueless to how I could contribute as an economics major with, let's say, not a very technical background especially in making mobile apps. But after thinking it over I decided it would be an interesting side project where I would be able to exercise my creativity. And if we won something in the process, it would just make my decision even better.
The Mobile App Challenge at UC Merced is hosted by CITRIS@UC Merced, a UC research administration. Fifteen undergraduate student teams compete for awards in a variety of categories. It was founded at UC Merced in 2011. Currently, it runs annually at the Berkeley and Merced campuses in order to encourage entrepreneurial and innovative thinking through mobile apps. You can find all of the apps made over the years here.
After we brainstormed for a bit on how exactly we would go about making an app, we formed a team between myself, two environmental engineers: Jordan Vida and Jeff Laird, and our resident programmer and former participant in the Mobile App Challenge, David Eighmey. The initial idea that we came up with was "Shower<Less" (be clear to distinguish showering less as opposed to going without showers). As we are currently in the middle of a drought—one felt stronger here in the Central Valley than elsewhere in California—we decided our app would be an attempt to limit water usage. We feature a method of limiting one of the more controllable indoor water uses: showers. Essentially what the app features at the moment is a timer, educational materials, and a data visualization of how long one spends in the shower correlated with how much water they used. Clearly, a vision for the future was needed. So I found my role. I ended up in charge of handling the presentation materials, creating the poster, and thinking about the future business potential for the app. If you want, you can find some more information on our app here.
We met a few times to go over the technical details of the app which wasn't the difficult part—the hard part was finding a way to convince people that our app would be useful. We already anticipated that most people would say, "But it's just a timer!" We decided the best way to do this was to create an incentive scheme that we knew would be intensely scrutinized during the semi-finals… which is exactly what happened.