Contests, challenges, competitions!
Finding ways to best utilize our planetary resources has been a theme of UNESCO (The United Nations Educational, Scientific and Cultural Organization – a specialized agency of the United Nations) for many years.  This initiative has garnered less attention in the media than perhaps might be expected – but, as ordinary citizens, we're becoming more personally aware as our world continues to undergo startling changes relative to climate, water availability, sustainable construction, etc., etc.
One of UNESCO's objectives in which I find myself particularly interested is the Man and the Biosphere Programme (MAB), which "develops the basis within the natural and social sciences for the rational and sustainable use and conservation of the resources of the biosphere and for the improvement of the overall relationship between people and their environment."
There is a yearly competition in which you might wish to participate (and of which you may be unaware…as I was), that encourages new avenues to tackle the issues mentioned above affecting everyone around the world -
Although the 2015 application has not yet been posted, you can find out details about the competition by clicking the link above.  There is a $5,000 USD award to the winner(s).  To be eligible, award applications must be made on the MAB Young Scientists Award application form (in English or French) and be endorsed by the applicant's MAB National Committee, which may endorse only two applications per year from applicants who are not older than 40 years of age (at the closing date of the application).
There are other incentives UNESCO offers as well; take a look here: Awards and Prizes
Even if you find that you don't qualify for the competitions, I do hope that you'll spend some time exploring the wealth of information on UNESCO's website… There's much food for thought and many pathways to explore – what will YOU contribute?
The Eiffel Tower in Paris is an easily identifiable structure – no matter where on the planet you happen to reside.  Designed by Gustav Eiffel, it became the symbol of the city, and remains a tourist attraction that draws throngs of visitors each and every year.
But…there's a move afoot all around the globe for eco-friendly and sustainable building – and Paris is embracing this trend!
As reported on PlanetSave:  Vancouver architect Michael Green is a world leader in designing and building tall buildings out of wood, says a report in the Vancouver Sun.  Now, in partnership with French architects DVVD Paris and developer REI France, he has proposed a 35 story carbon neutral wood skyscraper for the Reinvent Paris competition, a bold effort by local authorities to inspire innovations in urban design and sustainability that will revitalize Parisian architecture.  [This story first appeared on the Green Building Elements site.]
Are you busy mentally constructing the buildings of the future?  There are lots of places looking for your vision and optimism!  Become part of the movement…
NASA has issued a challenge to designers aimed at stimulating innovation in 3D printing solutions that may one day be the key to establishing a permanent presence on Mars.
NASA has launched the multi-phase 3D Printed Habitat Challenge as part of its Centennial Challenges program.  Phase 1 of the competition runs until September 27, with the top 30 submissions to be judged at the World Maker Faire in New York.
The first phase of the challenge will award a $50,000 prize based on pure architectural merits, while a second will hand out two $1.1 million prizes for those who figure out how to manufacture individual components and whole shelters from "indigenous materials," such as rocky soil. NASA hopes that the winning ideas will make it possible to settle alien terrain without bringing mountains of Earth-made construction supplies. That would not only let crews pack light, but fix their own abodes if something goes wrong millions of miles from Earth.
Do you have the skills needed to accept this challenge?
South Korea's Team KAIST wins 2015 DARPA Robotics Challenge
For those waiting with bated breath for the outcome of the DARPA Robotics challenge – read all about it here
On June 5 and 6, the 2015 DARPA Robotic Challenge (DRC) Finals will take place at Fairplex in Pomona, California. Open to the public, there will be 25 international teams competing for US$3.5 million in prizes as part of an effort to develop robots for disaster relief.  The challenge aims to develop semi-autonomous ground robots that can do "complex tasks in dangerous, degraded, human-engineered environments."  The challenges leading up the finals started in 2013.
The DARPA Robotics Challenge was inspired by the Fukushima nuclear disaster following the Japanese tsunami of 2011, when the general devastation prevented workers from reaching and operating the valves that could have prevented the gas explosion that damaged the reactors. Though robots were eventually brought to the site, they were slow to go into action because of the challenging learning curve and the degraded communications infrastructure.
This led DARPA to start a competition designed to spur development of semi-autonomous robots capable of acting as teammates for disaster workers rather than tools. A virtual challenge using simulated robots kicked things off in June of 2013. This was followed in December 2013 by a physical challenge with 16 teams using real robots kept upright by safety tethers as they negotiated obstacle courses and carried out tasks using the tools at hand rather than specialized attachments.
Seven of the teams have elected to use Atlas, the DARPA-provided robot to compete.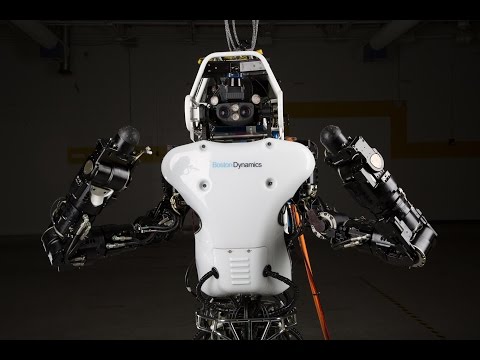 The Robotics Challenge will focus on disaster or emergency-response scenarios. Although the requirements may change as the contest progresses, the initial task requirements for robot entries is:
1. Drive a utility vehicle at the site.
2. Travel dismounted across rubble.
3. Remove debris blocking an entryway.
4. Open a door and enter a building.
5. Climb an industrial ladder and traverse an industrial walkway.
6. Use a tool to break through a concrete panel.
7. Locate and close a valve near a leaking pipe.
8. Connect a fire hose to a standpipe and turn on a valve.
Check out the Robotics Challenge website with everything you may want to know about this exciting challenge.  Can't wait to see which robot emerges triumphant overall!