Education
University College Cork
(2B)OR!(2B): From the Beehive to the Cloud and Back
Fiona Edwards Murphy, Liam O'Leary, Killian Troy, Lily Pinson and Katie Hetherington
Cloud and Mobile used to monitor honeybees in the hive.
Boston University and Massachusetts Institute of Technology
Street Bumps and Big Data Analytics:  Crowdsourcing Our Way to Better Roads
Theodora Brisimi, Yue Zhang, Wuyang Dai, Setareh Ariafar, Nicholis Baladis
Analytics to crowd source the path to better roads
Delft University of Technology
Proposal for IEEE/IBM Smarter Planet Challenge
Nicolas Kramer Floyd, Olac Grouwstra
Cloud based analytics platform for health care SMEs
Swinburne University of Technology, Malaysia
Project Lily
Ting Yang, Kah Hung, Poh Ling Hung
Crowd sourced environmental monitoring
Sun-Yat Sen University and South China University of Technology
Self Medical
Jianghong Zhou, Zixiao Yang, Cindy Chen, Heng Du, Jujie Peng
Mining medical data for improved health care
Fourteen flooring tiles from London-based clean-tech company Pavegen Systems were installed outside the Saint-Omer subway station in northern France. The tiles, each roughly 7 by 24 inches, generate renewable electricity from the otherwise wasted energy of footsteps.
When a walker's foot makes contact with the tile, it bends inappreciably, depressing an average of five millimeters each step and creating approximately seven watts of converted kinetic energy in the process. The slabs, made from 100 percent recycled rubber, can store energy for up to 72 hours via small built-in batteries.
"I realized that although wind and solar alternatives were progressing exponentially, they were inefficient in urban environments due to high-rise infrastructure and pollution," he says. "Given that 60 percent of the world's population would be residing in urban environments by 2030, I decided to investigate further. I discovered footfall as an untapped, renewable resource that is efficient, constant, and literally all around us, to be used when and where it is needed."
The tiles were also installed at the Simon Langton Grammar school in Kent, UK. Check out the students' reaction to this exciting new technology: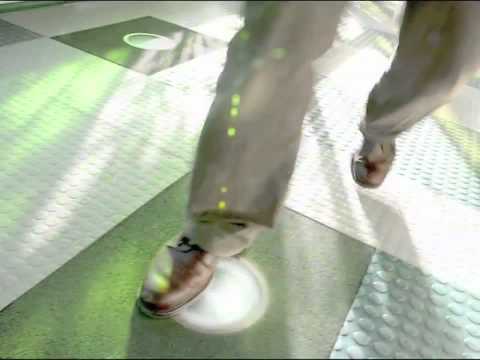 This is a win-win situation for all involved: the students who get inspired to think of ways to contribute to a smarter planet at a very young impressionable age, the company looking to expand operations into different venues to capture greener energy production, and, of course, the entrepreneur who profits from this great new technology!
What a great world we live in – that young minds can shape a very (literally) bright future!
We study history in order to (theoretically) keep us from repeating mistakes of the past.  The great potato famine in Ireland is one of the tragedies of the modern world that is often discussed in schools.  Definitely NOT one of the mistakes we want to revisit in the 21st century!
We're in the midst of technological breakthroughs aimed at keeping more of the world's population fed with less of the earth's dwindling resources being expended.  Here's a story about potatoes, out of Amsterdam, that may surprise you:
Inspired by sea cabbage, 59-year-old Marc van Rijsselberghe set up Salt Farm Texel and teamed up with the Free University in Amsterdam, which sent him Dr Arjen de Vos to look at the possibility of growing food using non-fresh water.
If the experiment works and the potatoes adapt to the Asian climate, it could transform the lives of not only small farmers in Pakistan and Bangladesh,, where floods and sea water intrusion wipe out crops with increasing regularity, but also worldwide the 250 million people who live on salt-afflicted soil.
Remember the cartoon characters whose heads were smashed in below their shoulders and then – ta-dah! – their heads magically re-expanded and they were on to their next prank?  Cavorting and wise-cracking as though nothing untoward had happened at all.  Doesn't usually work that way in real life, does it?  But research on regenerative cell growth may provide some clues to scientists for just this type of 'magic'.
While the odds remain pretty slim that if your head is smashed by a giant rubber hammer wielded by a colossus they'll be able to grow you a new one, this path of study may offer some new-found opportunities for patients who've not had other treatment avenues to explore.
Primary research is taking place at The Regenerative Medicine Institute in Galway, Ireland. Professor Uri Frank has this to say: "While there's no market for regrowing human heads, wouldn't it be great if we could repair spinal cords, damaged hearts, damaged kidneys, hands and any other organs we might lose?"
Maybe your own research will provide keys to some other medical breakthrough?  Or perhaps your invention will bring about advances in medical science already underway…  In any event, as the saying goes:  the trick is to keep your head while all those around you are losing theirs!
With the hazards of Ebola and anti-government protests and genocide being front and center in the news, we sometimes overlook the many organizations quietly operating in the background to bring assistance to those in strife or peril.  I ran across this entity quite by accident as part of my work for university programming.  Maybe your studies will bring you to become part of their efforts? Click on the logo below to learn more…
TIDES stands for Transformative Innovation for Development and Emergency Support. This research project is coordinated at the Center for Technology and National Security Policy (CTNSP) at the National Defense University (NDU), which is part of the Department of Defense.
STAR-TIDES (Sharing To Accelerate Research-Transformative Innovation for Development and Emergency Support) is a research effort that promotes sustainable support to stressed populations – post-war, post-disaster, or impoverished, in foreign or domestic contexts, for short-term or long-term (multi-year) operations. The project provides reach-back "knowledge on demand" to decision-makers and those working in the field. It uses public-private partnerships and "whole-of-government" approaches to encourage unity of action among diverse organizations where there is no unity of command, and facilitates both inter-agency and international engagement.
TIDES has three strategies that frame everything they do:
Leverage Global Talent
Promote Integrated Approaches
Sustain through the Private Sector
There are internships available through the National Defense University – check it out!