Education
In just under a week's time, students from the University at Buffalo (myself included) will be visiting a local elementary school to teach the first graders about recycling. This is part of an educational outreach project for the University at Buffalo's chapter of Engineers for a Sustainable World (ESW)- a national environmental organization. Our goal is to simply teach the students what and how to recycle so that future generations will be more environmentally conscious.
Our day will start out early, arriving at the elementary school at 8:30 am, prior to the students' arrivals. Throughout the day we will have a total of five classrooms to visit (and over 100 students)- we're definitely going to have to bring the energy! We will start our lesson by asking the students what they know about recycling to stimulate some discussion on the topic. After teaching the students what items should be recycled, we will play a game with the entire class. The game will be on an interactive poster that each classroom may keep, hand-crafted by the members of ESW. Each poster is divided into three sections representing a trash, recycling, and compost bin, and the students can sort pictures of various items into their respective bins.
We hope that these activities will keep the students engaged and interested- six and seven year olds can be pretty unpredictable. Stay tuned to see how everything went!
University College Cork
(2B)OR!(2B): From the Beehive to the Cloud and Back
Fiona Edwards Murphy, Liam O'Leary, Killian Troy, Lily Pinson and Katie Hetherington
Cloud and Mobile used to monitor honeybees in the hive.
Boston University and Massachusetts Institute of Technology
Street Bumps and Big Data Analytics:  Crowdsourcing Our Way to Better Roads
Theodora Brisimi, Yue Zhang, Wuyang Dai, Setareh Ariafar, Nicholis Baladis
Analytics to crowd source the path to better roads
Delft University of Technology
Proposal for IEEE/IBM Smarter Planet Challenge
Amir Piltan, Nicolas Kramer Floyd, Olac Grouwstra
Cloud based analytics platform for health care SMEs
Swinburne University of Technology, Malaysia
Project Lily
Ting Yang, Kah Hung, Poh Ling Hung
Crowd sourced environmental monitoring
Sun-Yat Sen University and South China University of Technology
Self Medical
Jianghong Zhou, Zixiao Yang, Cindy Chen, Heng Du, Jujie Peng
Mining medical data for improved health care
Fourteen flooring tiles from London-based clean-tech company Pavegen Systems were installed outside the Saint-Omer subway station in northern France. The tiles, each roughly 7 by 24 inches, generate renewable electricity from the otherwise wasted energy of footsteps.
When a walker's foot makes contact with the tile, it bends inappreciably, depressing an average of five millimeters each step and creating approximately seven watts of converted kinetic energy in the process. The slabs, made from 100 percent recycled rubber, can store energy for up to 72 hours via small built-in batteries.
"I realized that although wind and solar alternatives were progressing exponentially, they were inefficient in urban environments due to high-rise infrastructure and pollution," he says. "Given that 60 percent of the world's population would be residing in urban environments by 2030, I decided to investigate further. I discovered footfall as an untapped, renewable resource that is efficient, constant, and literally all around us, to be used when and where it is needed."
The tiles were also installed at the Simon Langton Grammar school in Kent, UK. Check out the students' reaction to this exciting new technology: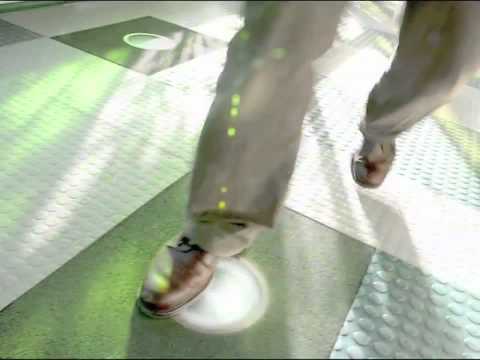 This is a win-win situation for all involved: the students who get inspired to think of ways to contribute to a smarter planet at a very young impressionable age, the company looking to expand operations into different venues to capture greener energy production, and, of course, the entrepreneur who profits from this great new technology!
What a great world we live in – that young minds can shape a very (literally) bright future!