Education
September 19th, 2014
11:32
As the semester kicks into full swing, more parts have started arriving, and we've begun testing, refining our designs, and more testing.
First up, our temperature sensors, courtesy of Sparkfun. This is a simple, robust design that will start the drum rotating once temperature reaches a certain threshold.
And of course, our Arduino Uno R3 that will be the brain of our entire system. Mouad and I have been working very closely together to set the groundwork for the power-control  interface.
And finally, magnetic pickups that will be part of our safety system, to make sure the system can't run when the drum door is open.
More parts are coming every week, and we just finished our Critical Design Review last week. Stay tuned for more about that!
Ted
Heard this story on the radio and thought of boyfriends past who were SO into StarWars; perhaps they are still…  It was all about the Rebel Forces, and how the Death Star pulled them in – but I digress…
"Sci-fi" references aside, this is genuine Tractor Beam Technology that is currently being explored by scientists in Australia.  News has been released that physicists at The Australian National University (ANU) 'have created a tractor beam on water, providing a radical new technique that could confine oil spills, manipulate floating objects or explain rips at the beach'.
Here's three takes on the subject:
P.S.  I hear the surfing is great down under. Maybe you want to head off and join the Aussies to do some water research…
September 16th, 2014
11:25
Have you ever submitted a paper to a conference? There is currently a call for papers for the Eleventh Sustainability Conference to be hosted in Copenhagen, Denmark on 21-23 January 2015. Here's an opportunity to share you great idea(s) for sustainability!
This is a knowledge community brought together by a common concern for sustainability in an holistic perspective, where environmental, cultural, economic and social concerns intersect. The community interacts through an innovative, annual face-to-face conference, as well as year-round online relationships, a family of peer reviewed journals, and book series. Members of this knowledge community include academics, teachers, administrators, policy makers, and other education practitioners.
Proposal guidelines can be found here.
Good luck to those who submit!
September 13th, 2014
10:15
Did you ever deal with 'toothy' stuff… Braces?  Fillings?  Crowns?  Implants?  Root canal?   A trip to the dentist is usually not looked forward to with  much enthusiasm – more like trepidation.  But – did you ever stop to think about the effects of our oral hygiene on the rest of the planet?  Maybe Mother Earth is as frightened of the sound of a dentist's drill as humans are – and possibly with good reason!
Dental Recycling International (DRI) announced that it has partnered with the Rwanda Dental Association. DRI provides education on and technology for dental waste recycling throughout the world, and will help the association to reduce the amount of mercury from dental amalgam entering the local environment.  Take a look at related articles found linked at the bottom of the posting.  There's a great piece on amalgam alternatives, with credits to U Illinois, too.
And check out Dental Recycling International (DRI) while you're at it!
September 12th, 2014
11:09
There has been much in the recent news about harnessing power from the sweat you generate from working out. Testing is being conducted with sensors placed in a temporary tattoo – or even inside your underwear – which could pull electrons from sweat (lactic acid), producing a weak electrical charge which could power small electronic devices. The tiny, cheap biobatteries can harvest enough power to power wristwatches and LED lights.
Professor Joseph Wang and his research team at University of California, San Diego imprinted a flexible lactate sensor onto temporary tattoo paper. The sensor contained an enzyme that strips electrons from lactate, generating a weak electrical current.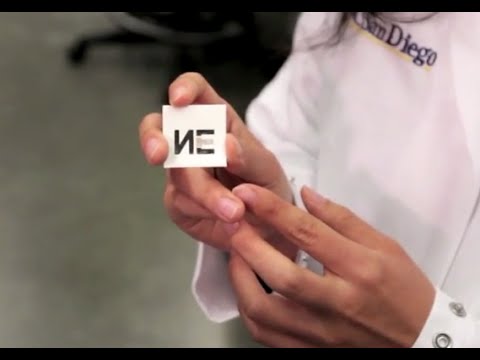 What a great motivator – it may inspire you to workout harder at the gym – the more sweat you generate, the more battery time you could have on your cell phone!