Energy
Technology continues its march around the world.  This post focuses on a major project which has been in the works since 2013 in Thailand, specifically Myanmar.  The budget and scope of this endeavor – the first Solar Plant to be constructed in Thailand – is impressive.  Read about both the plant and the design team that has been engaged to bring this vision to fruition…
Here's the backgound on the Memorandum of Understanding (MOU) signed by Green Earth Power in 2013 [Note:  the company is privately held and does not have a website of its own; but, they are the driving force behind the new power plant.]
Green Earth Power to develop Myanmar's first solar plant
"Green Earth Power (Thailand), the developer of the power plant, on Thursday signed a memorandum of understanding with Myanmar's Ministry of Electric Power for the country's first solar power plant. Total project value is US$275 million (Bt8.15 billion)."

"…present power production was not enough to support industrialisation in Myanmar and solar energy would be the first supplemental source of electricity. Currently, 70 per cent of electricity in Myanmar is from hydropower, 20 per cent from gas turbines, and 10 per cent from coal power plants."
and the press from this month trumpeting the project's movement forward
Black & Veatch to provide design services for Myanmar's first solar plant
Take some time to read the Press Release from Black & Veatch about the project:
Black & Veatch starts work in Myanmar on Southeast Asia's largest solar power plant
And spend a little time learning about the design company itself – with international locations, might this be a future employer that interests you?
Green Earth Power has been a proponent of solar for some time. Here's another interesting piece about endeavors they are undertaking in Japan (published in 2013) – Rising Sun to power Thai panels
Carbon is the building block of a myriad of organic and inorganic matter around us including diamonds.  Carbon nanofibers (built from carbon) hold tremendous potential.  These nanofibers may one day be put to use in tougher bulletproof vests, artificial muscles or rebuilding damaged hearts, just to name a few possibilities.
Researchers from George Washington University led by Stuart Licht, have developed a technique that could pull the mounting carbon dioxide in our atmosphere and transform it into carbon nanofibers, resulting in raw materials for use in anything from sports gear to commercial airliners.
Please click on the picture below to review this process in Professor's Licht's presentation: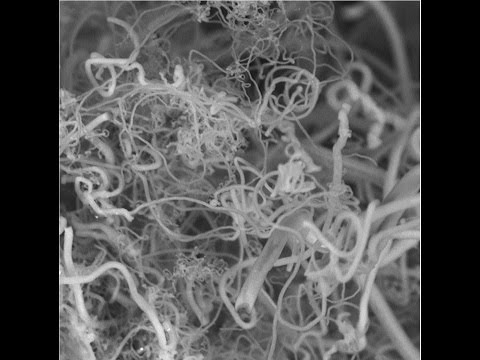 This technique to 'manufacture' carbon nanofibers provides a win-win since the reduction of carbon in our atmosphere is of penultimate importance for a healthy planet with the added benefit of producing very valuable raw materials.
Does the idea of extraterrestrial life interest you?  If so, here's an opportunity to earn big bucks with design ideas for Mars habitation.  Like they have in the past, the US governmental agency National Aeronautics and Space Administration (NASA) is putting it's faith in humankind to come up with a viable idea to advance exploration of the planet Mars.
It's purported that each piece of material gleaned from the Red Planet and put to use in building infrastructure will mean less that needs to be ferried some 140 million miles (225 million km) from Earth.  NASA says this could equate to savings of more than US$100,000 per kg (2.2 lb) of cargo on each launch.
NASA has announced the top award at $10,000 to the brightest design idea for building a structure on Mars that uses in situ materials, along with $2,500 for two second-place submissions.  The designs could consist of surface materials like rocks or soil, or even draw on the planet's water supply.
NASA is taking submissions until December 3, with winners to be announced in late January 2016.  So let your knowledge and imagination have free reign and, who knows, you could walk away with the top prize!
Click on the red planet for more detail about the challenge.