Energy
When I read about recycled plastic roads, it sounded like a great idea to me!  Plastic doesn't immediately jump to mind when you think about going green, but here we are talking about recycling plastic which litters our oceans.  It seems to be a very good incentive to clean up our waterways as well as find a home for this traditional blight on our oceans.
VolkerWessels has quite a few interesting projects underway, including recycled plastic roadways which is in the conceptual stage.
The plan promises a lightweight design, a fraction of the construction time, virtually maintenance free, and three times the expected lifespan of the road.
Check out this video that has interesting narration which describes it in more detail: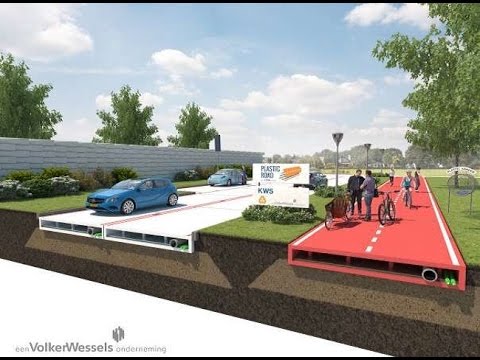 In a similar video, you can see how India is also incorporating what used to be nuisance plastic into their roadways: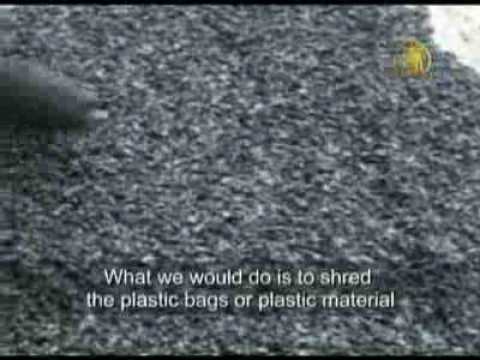 Do you know of any adaptations to further this cause?
In the "early days" of architectural design, buildings boasted quite small windows to allow for ventilation.  These smaller apertures served the purpose of keeping buildings more snug in the winters, too.  (Tiny openings were also a good deterrent against attacking marauders with their arrows, bullets, and the like.)  Glass was an expensive product, and was generally a sign of the level of wealth of the building owner/occupant.
My, how times have changed!  Most of the buildings constructed in the 20th century boast glass from top to bottom – and we've started to make some big changes in the 21st century, too!
Researchers at the Cockrell School of Engineering at The University of Texas at Austin are one step closer to delivering smart windows that have a new level of energy efficiency. Their research has created new materials that allow windows to transmit light without transferring heat, or conversely to block light while allowing heat transmission.  The materials are controlled by a small voltage applied by the building occupants.
 "We believe our deliberately crafted nanocrystal-based materials could meet the performance and cost targets needed to progress toward commercialization of smart windows," says engineering professor, Delia Milliron.
Green building is a burgeoning field – how will you contribute??
(…and, as a bonus, if you click on the picture above, you can read a fascinating story about Château de Cazemajou in Montazels and the mystery surrounding its priest. I love these speculative reconstructions of lifetimes past.  There are some fabulous architectural photos to enjoy on the site as well…)
There is yet another alternative to solar panels, fuel cells, muscle-powered dynamos, wind turbines, AC-charged back-up batteries and other portable power solutions.
Drumroll please….
Announcing Blue Freedom, "The world's smallest hydropower plant" which transforms the power of running water into phone chatting, internet browsing, music listening, GPS navigating and other mobile device activities, and it does so from a package built to fit in a backpack. Judging from the results of their Kickstarter campaign where they raised almost double what they were seeking, I'd say this product is well anticipated.
Developed in Germany, the Blue Freedom charging kit consists of a 4.7-in (12-cm-) -diameter micro turbine, a 5W generator and a 5,000 mAh lithium-polymer internal battery. The turbine takes a plunge into a running water body and the unit's base stays ashore, letting you charge devices directly by way of the USB 2A and 1A ports. You can also store energy in the integrated battery for later use. A built-in LED light helps you see at night.
According to the governments of US and Canada, two world leaders in hydropower production, hydropower is the most efficient means of generating electricity, transforming up to 90 percent of available water energy into usable electricity. Compare that to around 15 percent for solar panels, and you can start to see why a portable hydropower charger could prove quite superior.
In addition to charging gadgets during outdoor travel and adventure, Blue Freedom sees its technology as a viable solution for those that live off the power grid. Assuming they have access to running water, they could harvest their own electricity to use for cell phones, lighting and other important everyday devices.
If all goes as planned, deliveries will get underway in October. And for all of you campers, this sounds like a great product to pack for those fishing trips you may be planning.
For those with allergies,  a 'no pets' policy can be a welcome salvation.  These types of rules generally apply to 4-legged furry creatures; but, the regulations have been extended as folks have gotten more "creative" in their choice of non-human companions for the home.  I recall (with somewhat of a shudder), the glass box of Tarantulas that graced the bedside table of a guy friend of mine.  Don't know what became of him – or the arachnids – but, I do know that fish are often in a nebulous gray area when it comes to those pesky pet policies.  Their mini-homes within your home can range from a glass jar filled with water to some really impressive tanks, with all sorts of acoutrements to make the inhabitants feel like they are back in their native locale.
There are a lot of fishy people in the world (I leave the interpretation of that up to you!) Two of them, Yoon Hoon and his friend and co-founder, Andy Zhong, have come up with a nifty gadget to give your finny little friends a CLEAN place to frolic – no human intervention required!!  The product has been debuted and promoted at Hax Demo day in San Francisco and the inaugural CES Asia event in Shanghai last May, as well as the 2014 Mini Maker Faire, in Shenzhen, China.
Read about the
AquaTrek is an all-in-one cleaning, monitoring, and surveillance tool. Much like the Roomba, it is a largely autonomous, utilizing an aquatic scrubber and auto sensing technology to perform its duties.
The pair have a start-up and you can sign up for their email list here: Moai Devices
What a great use of Robotics and Sensor tech!  If you've got an idea that seems 'out there', maybe reading about these guys will spark you into acting on your brain-child… It might be the next big thing!