Energy
Brilliant minds of 1600 high school students from all over the world gathered in Phoenix, Arizona to take part in the Intel International Science and Engineering Fair hosted by Intel. More than 400 students received prizes and scholarships for innovative research.
Three of the most remarkable projects were awarded with the top awards:
Eesha Khare, an 18-year old high school student from Saratoga, California, showcased her invention in the Intel International Science and Engineering Fair and won the won the Intel Foundation Young Scientist Award, taking home $50,000. She was concerned about the quick draining of power of her cell phone battery, and thus was inspired to focus on creating a device which can address this. She invented a supercapacitor that can store energy that can be charged in 20 to 30 seconds, and as an advantage, it can also extend the life of cell phone batteries from the current 1,000 charge-recharge cycles to 10,000.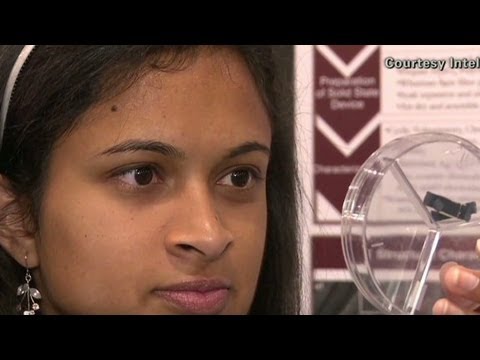 In her demonstration, she was able to power a light-emitting diode, or LED. This supercapacitor she invented can fit inside cell phone batteries and has the potential to be also used in car batteries, which in effect can then possibly charge batteries quickly. According to Eesha, she will use her prize money to fund her college. Unsurprisingly, she was accepted to various Ivy Leagues and will be attending Harvard.
———————————————————————————————————————
The Intel Foundation Young Scientist Award was also awarded to Henry Wanjune Lin, 17, from Shreveport, Louisiana. He provided a simulation of thousands of clusters of galaxies which include dark matter, dark energy and the balance of heating and cooling in the universe's most massive objects.
———————————————————————————————————————-
The highest award in the Intel International Science and Engineering Fair, the Gordon E. Moore Award, was granted to Ionut Alexandru Budisteanu, 19, from Romania. He created a model for a low-cost, self-driving car which utilizes artificial intelligence.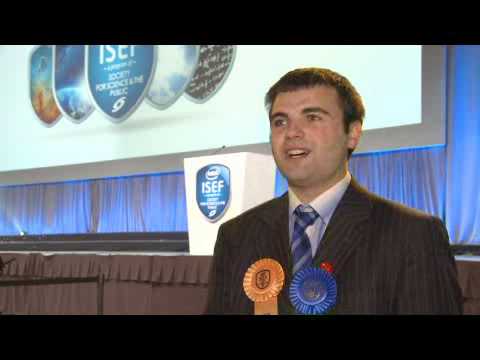 Guest editor: Kristine Rowan
Many countries today employ nuclear power plants to produce electricity in their nation. These countries include the United States, United Kingdom, Japan, France, Argentina and many more. The 19-year old "physics wunderkind" Taylor Wilson thinks that the biggest problem that the world faces now is energy and electricity. His original research was about fusion, but in this video, he came up with a "radical plan for small nuclear fission reactors."
Source: TED.com
In nuclear power plants, the steam turbine system is generally employed. In this kind of system, the water is boiled, the steam from the boiled water turns the turbine which then creates electricity. According to Wilson, nuclear fission is not utilized to its maximum in the steam turbine system.
His idea is to employ molten salt reactors rather than nuclear power plants. These molten salt reactors can produce 50 to 100 megawatts of power which can power 25,000 to 100,000 homes on average. According to Wilson, it will operate at 600 to 800 Celsius which makes it 45 to 50% more efficient than a nuclear power plant. An average nuclear power plant operates at a 200 to 300 Celsius and is only 30-35% efficient in producing energy. Another advantage of Wilson's fission reactor is that it can run 30 whole years without refueling which makes it a lot safer than nuclear power plants which needs to be refueled every 18 months. Moreover, this will provide a carbon-free electricity which will also somewhat address the growing concern on the environment.
What's even more interesting about this technology is that developing countries can benefit greatly from this fission reactor as it cheap to produce and operate. Wilson's molten salt reactor is indeed an innovative source of energy, an innovative technology and an innovative tool for future scientific applications.
Let us know what you think of this new and innovative technology.
Guest editor: Kristine Rowan
Many have written off Africa as a charity cause but many others would disagree. Africa has fast become a hotbed for digital innovation – from solar panels to new kinds of smartphones to mobile banking transactions. The continent has moved leaps and bounds and is now the largest growing mobile phone market wherein 55 million people use mobile phones to settle debts, collect payments and take out insurance policies.
The disruptive M-Pesa technology launched in 2007 provided Africans the capability to collect or pay loans through their mobile. It has enabled Africa to top the mobile money market at $61 billion – more than Europe and North America together. Chinese mobile phone manufacturer Huawei and Microsoft have also teamed up to launch 4Afrika, the world's cheapest fully functioning smartphone, priced at only $150. According to the GSM Association, the sub-Saharan Africa has become the fastest growing mobile phone market with an impressive 44% growth annually since 2000. Furthermore, Nokia has launched its 105 model which is priced at less than $5 and holds an impressive charge up to a month.
Africa is not only the hub for mobiles and mobile banking. In the Eastern and Southern parts of Africa, Africans have also started using solar panels quite extensively. Africans living off the grid can light up their  homes for as little as $1.40 per week using solar panels which are available on a rental basis. A company called Fenix ReadySet has introduced a plug and play electric charging system for phones, lights, water purifiers etc which already help 100,000 off-grid customers. However, this is only a small percentage of Africa's potential market for solar power.
Source: Panos / Crispin Hughes (UN.org)
Africa has a large potential when it comes to renewable energy production as it has an extensive supply of sunlight to produce solar power which is clean and renewable, besides having vast potential of hydropower. Innovation in Africa has only just begun and soon, local entrepreneurs and the government may just realize the value of Africa's renewable resources.
Guest editor: Kristine Rowan
In Europe, turning trash to power is not an uncommon practice. In 2010, there were about 400 plants which turn trash to power in the continent, and most of these plants are found in Denmark, Germany and the Netherlands. Today, Oslo, Norway, one of the greener cities, utilizes trash to produce energy. The city also imports trash from its neighboring countries as it doesn't generate enough garbage for producing electricity. Of course, it may become a problem as the people might  be pressured to create more waste just to provide inputs for the plants. This led to the importation of trash instead to avoid people from producing more waste.
(c) Brian Cliff Olguin for the NY Times
This is not only present in Norway. The city of Glendale in Arizona might just be the next city to turn trash into power. The Spanish engineering company Abengoa announced its plan to build a $110 M factory in Glendale which will convert trash to electricity. It is expected that the plant will use 180,000 tons of garbage each year, produce 350 tons of gas per day and create 15 MW of electricity. The trash input doesn't only include organic waste but also plastics.
It is interesting how cities are now introducing new ways to provide electricity. However, this might still not be so environment-friendly as the plants require the burning of garbage just to produce power. I agree with Mr. Lars Haltbrekken, the chairman of Norway's oldest environmental group, an affiliate of the Friends of the Earth, when he said that "in a hierarchy of environmental goals, producing less garbage should take first place, while generating energy from garbage should be at the bottom."
In the short run, this practice may be practical especially in the European countries where it's almost always cold, and electricity is highly necessary. The cities should soon come up with new ways to utilize trash into good use for the long run.
Guest editor: Kristine Rowan
The hydrogen fuel cell is one of the green technologies recently introduced to power automobiles. This clean technology initially failed to make it past the back burner stage due to problems associated with obtaining hydrogen gas in its pure form to be used in the fuel cell. This was changed when researchers at Virginia Tech managed to obtain hydrogen from plant matter. Professor Zhang led  the team which made the revolutionary discovery of producing large quantities of hydrogen from a plant sugar, Xylose.
Until today, hydrogen for fuel cells is produced through a process which involves natural gas. Such a process is inefficient as it wastes a portion of natural gas energy which is a precious resource, and in addition, releases large amounts of carbon dioxide.
However, this breakthrough for large scale production of hydrogen from plant matter is believed to be a game-changer in the field of alternative energy. The use of hydrogen fuel cells for powering cars and even buses has been moving ahead at a pace which belittles its potential. It is also remarkable that key initiatives to integrate alternative fuel like hydrogen were undertaken by many cities including Berkeley, California. In Berkeley, AC Transit, the local bus company, utilizes the clean technology of hydrogen fuel cells to power its buses, and these buses have zero emission.
(c) AC Transit
Hydrogen fuel cells are not only financially beneficial as it can promote savings on conventional fuel, but it is also effective in providing an efficient transportation without the cost of carbon dioxide emissions.
Guest editor: Kristine Rowan