Entrepreneur
There are a number of new designs on the market to address the concern of reserving body heat, one with nano technology.
One such design is self-heating nanowire clothing.  Yi Cui of Stanford University in California and his colleagues want to change the way we keep warm. The team has developed a technique for coating textiles in a network of silver nanowires by dipping cloth in nanowire "ink".
"The process of making the nanowire cloth is as simple as dyeing," says Cui. "The nanowires stayed on the cloth and formed a conductive network which can reflect human body heat radiation and keep us warm."

Ordinary clothes provide an insulating layer that traps heat against your skin, but the material can still lose heat to the surrounding air. The nanowire cloth acts as a reflecting surface for heat, keeping you warm, but is porous enough to let water through so you don't feel sweaty.

Another clothing innovation is Podz Gear.

If you live anywhere where it drops below 32 degrees Fahrenheit (0 degrees Celcius), you've probably used the disposable hand and feet warmers for sale in so many stores.  And with this Podz Gear technology, it's pretty inexpensive to replace your heat source by providing those same hand and feet warmers into the sewn in pockets of the garment.

So those designers out there, do you have any great ideas that combine any of our natural biology with technology to produce the next sustainable technology?
Cutting edge technology called Lybra is a tire-like rubber paving, which is designed to convert the kinetic energy produced by vehicles into electric energy. It has been developed by an Italian start-up Underground Power, founded in February 2011.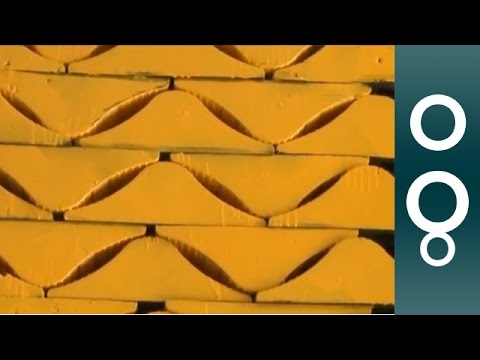 Developed in cooperation with the Polytechnic University of Milan, Lybra operates on the principle that a braking car dissipates kinetic energy. The edge-cutting technology, in its turn, is able to collect, convert this energy into electricity and pass it on to the electricity grid. In addition to improving road safety, the device upgrades and promotes sustainability of road traffic.
According to the team of engineers, a chain of 10 devices located at a rather busy roundabout would be able to produce 100 thousand kWh per year. Just to compare, the same quantity of energy is produced by 19 tons of oil – that's enough to meet the annual power needs of about 40 families.
It seems that places that were traditionally thought of pollution-filled places, have sparked inventive ways to go greener.  Do you have any ideas to turn a typical pollution-ridden area into a green hero?
Although heating oil prices have dropped to new lows in the U.S., consider this alternative that's being tried for home heating – what a great way to reduce, reuse, recycle instead of waste, waste, waste…
Paul Benoit calls what he's created a "digital heater". Essentially it's a bank of computers designed so that the heat they generate is channelled around a room or building that needs heating.  He came up with a simple but devilishly clever idea for a new company, Qarnot Computing.
Read more here:
Do you have an idea for a distribution program that takes otherwise 'unused' material and makes it a productive resource?  You might just be onto something!
There's a lot of safety gear available for the casual sport enthusiast.  There's elbow and knee pads, gloves and helmets, mouth guards – all designed to keep you from being harmed during the fun.   But there's been avoidance in usage by some as the safety gear may not be easily portable.
While not the only product on the market of this type, there's certainly a lot of 'bells and whistles' and a reasonable price point for this helmet that make it a really attractive purchase…  And it does appear to be the most compact of the versions available stateside and abroad.
neatly folds away to a third of its size in small bags
Available currently only in the EU and other overseas locations.  Unfortunately, no orders can be shipped to the USA, Canada, Australia or New Zealand. These countries have specific bicycle helmet standards which the Plixi currently does not comply with.  Read the information from the US Bicycle Helmet Safety Institute about the use of folding helmets.
Should you reside in one of the locations where shipping is permissible, here are specs and purchase info:  http://www.overade.com/en/plixi.php
If you're a cyclist – casual or competitive – this may be the gift that you'll want!  What safety gear could you design that may be next year's hot buy?