Entrepreneur
For those with allergies,  a 'no pets' policy can be a welcome salvation.  These types of rules generally apply to 4-legged furry creatures; but, the regulations have been extended as folks have gotten more "creative" in their choice of non-human companions for the home.  I recall (with somewhat of a shudder), the glass box of Tarantulas that graced the bedside table of a guy friend of mine.  Don't know what became of him – or the arachnids – but, I do know that fish are often in a nebulous gray area when it comes to those pesky pet policies.  Their mini-homes within your home can range from a glass jar filled with water to some really impressive tanks, with all sorts of acoutrements to make the inhabitants feel like they are back in their native locale.
There are a lot of fishy people in the world (I leave the interpretation of that up to you!) Two of them, Yoon Hoon and his friend and co-founder, Andy Zhong, have come up with a nifty gadget to give your finny little friends a CLEAN place to frolic – no human intervention required!!  The product has been debuted and promoted at Hax Demo day in San Francisco and the inaugural CES Asia event in Shanghai last May, as well as the 2014 Mini Maker Faire, in Shenzhen, China.
Read about the
AquaTrek is an all-in-one cleaning, monitoring, and surveillance tool. Much like the Roomba, it is a largely autonomous, utilizing an aquatic scrubber and auto sensing technology to perform its duties.
The pair have a start-up and you can sign up for their email list here: Moai Devices
What a great use of Robotics and Sensor tech!  If you've got an idea that seems 'out there', maybe reading about these guys will spark you into acting on your brain-child… It might be the next big thing!
Wind energy is cool (pardon the pun!).  Generating power from a resource that is readily available without adding more strain to our overburdened planet is an important step in our ecological journey.  Wind turbines have been in place for some time in various regions of the globe – but one complaint has been an increase in noise pollution – as well as the safety of avians.
To combat that, researchers in Spain have changed the design of the turbine to work on a method that is similar to the oscillation that allows the human voice to be able to shatter glass.  "We've all seen how a soprano can shatter a glass with the pitch of her voice," said Spanish engineer, David Yanez. "Instead of using sound waves, we use the swirls generated in the structure by the wind."
The inventors feel there is a cost-savings that will be found by using their generator design.  Check out this article from Reuters:
Whirlpool windmill produces power without blades
And visit the company's website:  Vortex Bladeless.  You can see more on their crowdfunding site at Indiegogo: Vortex Bladeless: a wind generator without blades.  Will this new 'asparagus stalk' shaped invention be adopted worldwide?  "It ain't over til the fat lady sings…", right?
In two claimed firsts, researchers at the University of Manchester have produced both the first commercial application of graphene and the world's first graphene light-bulb. It is expected that this new device will have lower energy emissions, cheaper manufacturing costs, and a longer running life than even LED lights. And this isn't just a pie-in-the-sky prototype, either. The team who developed it believes that the graphene light-bulb will be available for retail sale within months.
Known as "the home of graphene," the University of Manchester is where this unique form of carbon was first isolated in 2004. This feat earned Sir Andre Geim and Sir Kostya Novoselov the Nobel prize for Physics in 2010. Today, with more than 200 researchers in a myriad 2D material projects, the University is at the forefront of graphene know-how.
Even though scientists have theorized about graphene for decades, it is really coming to the forefront due to its many extraordinary properties.
What other ways can we utilize this amazing material for the betterment of our planet?  Any ideas?
For all of you 3D or automobile production experts out there.  Here are some of the latest announcements utilizing both technologies.
Automobiles have made great strides in recent years in becoming cleaner and greener, but according to Divergent Microfactories, they still have miles to go. The problem, as the company sees it, is that while powertrains have become cleaner thanks to the use of alternative energy sources like battery power and fuel cells, manufacturing is dirtier than ever. The start-up puts forth a solution in the all-new Blade, which it calls "the world's first 3D-printed supercar."
"A far greater percentage of a car's total emissions come from the materials and energy required to manufacture it," Kevin Czinger explained during a keynote speech at the recent O'Reilly Solid Conference. "How we make cars is actually a much bigger problem than how we fuel our cars."
Take a look at the production of a Divergent supercar: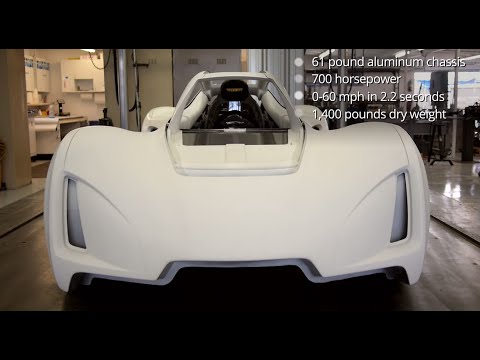 Another big player in the 3D-printed car industry, Local Motors, will be testing its latest product at University of Michigan as part of a 12 month trial.
The SmartCart is one of three vehicles being built for the university's study, and will be used to research and develop low-speed autonomous features. It will also be used to develop an Uber-style mobile phone interface that allows students to call a car for transit across campus – a process that involves managing supply and demand, as well as working out the best way to efficiently direct a fleet of cars around campus.
While tooling around the Local Motors website I found some great information for any of you that are product developers – they have a program where you can submit your ideas.  If any of those ideas come to market, you will be paid for your talent:
"A percentage of total revenue for every co-created product is reserved for the community members who contributed to it."
Good luck to any who partake of this opportunity!