Entrepreneur
University College Cork
(2B)OR!(2B): From the Beehive to the Cloud and Back
Fiona Edwards Murphy, Liam O'Leary, Killian Troy, Lily Pinson and Katie Hetherington
Cloud and Mobile used to monitor honeybees in the hive.
Boston University and Massachusetts Institute of Technology
Street Bumps and Big Data Analytics:  Crowdsourcing Our Way to Better Roads
Theodora Brisimi, Yue Zhang, Wuyang Dai, Setareh Ariafar, Nicholis Baladis
Analytics to crowd source the path to better roads
Delft University of Technology
Proposal for IEEE/IBM Smarter Planet Challenge
Nicolas Kramer Floyd, Olac Grouwstra
Cloud based analytics platform for health care SMEs
Swinburne University of Technology, Malaysia
Project Lily
Ting Yang, Kah Hung, Poh Ling Hung
Crowd sourced environmental monitoring
Sun-Yat Sen University and South China University of Technology
Self Medical
Jianghong Zhou, Zixiao Yang, Cindy Chen, Heng Du, Jujie Peng
Mining medical data for improved health care
Fourteen flooring tiles from London-based clean-tech company Pavegen Systems were installed outside the Saint-Omer subway station in northern France. The tiles, each roughly 7 by 24 inches, generate renewable electricity from the otherwise wasted energy of footsteps.
When a walker's foot makes contact with the tile, it bends inappreciably, depressing an average of five millimeters each step and creating approximately seven watts of converted kinetic energy in the process. The slabs, made from 100 percent recycled rubber, can store energy for up to 72 hours via small built-in batteries.
"I realized that although wind and solar alternatives were progressing exponentially, they were inefficient in urban environments due to high-rise infrastructure and pollution," he says. "Given that 60 percent of the world's population would be residing in urban environments by 2030, I decided to investigate further. I discovered footfall as an untapped, renewable resource that is efficient, constant, and literally all around us, to be used when and where it is needed."
The tiles were also installed at the Simon Langton Grammar school in Kent, UK. Check out the students' reaction to this exciting new technology: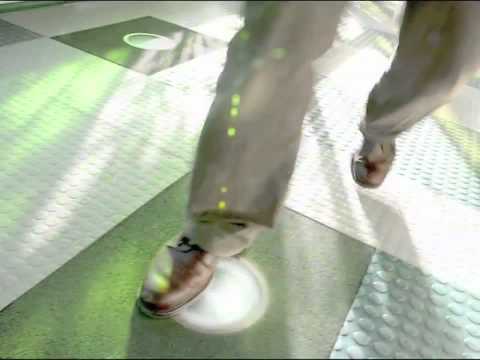 This is a win-win situation for all involved: the students who get inspired to think of ways to contribute to a smarter planet at a very young impressionable age, the company looking to expand operations into different venues to capture greener energy production, and, of course, the entrepreneur who profits from this great new technology!
What a great world we live in – that young minds can shape a very (literally) bright future!
We study history in order to (theoretically) keep us from repeating mistakes of the past.  The great potato famine in Ireland is one of the tragedies of the modern world that is often discussed in schools.  Definitely NOT one of the mistakes we want to revisit in the 21st century!
We're in the midst of technological breakthroughs aimed at keeping more of the world's population fed with less of the earth's dwindling resources being expended.  Here's a story about potatoes, out of Amsterdam, that may surprise you:
Inspired by sea cabbage, 59-year-old Marc van Rijsselberghe set up Salt Farm Texel and teamed up with the Free University in Amsterdam, which sent him Dr Arjen de Vos to look at the possibility of growing food using non-fresh water.
If the experiment works and the potatoes adapt to the Asian climate, it could transform the lives of not only small farmers in Pakistan and Bangladesh,, where floods and sea water intrusion wipe out crops with increasing regularity, but also worldwide the 250 million people who live on salt-afflicted soil.
For those of us fortunate enough to have been granted the full use of all of our limbs throughout all of our life, it is nearly impossible to understand the challenges faced daily by those who don't have unlimited mobility.  There are numerous charities around the world that work tirelessly to collect funds for research.  There are countless hospitals and clinics staffed by caregivers and rehabilitation specialists.
This story is about the brilliant work of a man whose own physical abilities have been reduced – and his gift of new mobility to others who need a helping (robotic) hand…
Invented by Dr. Goffer, the Founder and President and Chief Technical Officer of ReWalk Robotics, the ReWalk allows paraplegics to stand upright, walk and in some cases climb stairs.  He is a graduate of Technion University in Israel.  An Israeli inventor who became quadriplegic after an ATV accident in 1997, it was through his own personal experience in utilizing mobility devices for people with spinal cord injury that Dr. Goffer developed the ReWalk.
Read the

press coverage

and be inspired!!! This is the use of technology for a truly unselfish and humane cause. 

You

can make this kind of a difference in the world, too!
A 5,500-year-old leather shoe was discovered in a cave in Armenia in 2010. It makes you think long and hard about just how many shoes you really need to keep up with fashion and the burden they leave behind when the next must-have shoe design comes into fashion!
Downcycling is a new term I just read about. It's different than recycling in that the process takes a used product, deconstructs all of its different parts, and then utilizes the individual deconstructed parts in a new way. This process claims to reduce the necessity of using fresh raw materials, which, in turn, reduces energy usage to manufacture those fresh raw materials, thereby reducing air pollution and water pollution.
The footwear industry is jumping on this new process. One company in particular, the LYF (Love your Footprint) shoe can be taken apart and remade without losing quality. You can't help but love that name, right?
Inspired by Japanese Shinto temples that can be taken apart and moved, the LYF shoe is made of pieces that slot together a bit like Lego, without the need for glue. Not only are the these shoes made responsibly, they are custom made for each customer and made to fit your feet – you choose from a variety of sustainable & artisan textiles!
"To be truly sustainable you have to design for disassembly. If you put glue into the mix you cause problems in the reuse," the designer, Aly Khalifa, says.
Check out some additional styles here.
For all of you engineers out there, does this inspire you to find a product that can be disassembled and remade into something else useful for its second life?
Other news in the footwear industry:
Nike developed an open source app to help designers assess their environmental impact and has been running a reuse–a-shoe scheme since the 1990s, grinding old trainers into pellets that are used to surface running tracks.
Gucci sold a collection of shoes made from bio-plastic – a biodegradable material used as an alternative to petrochemical plastic.