Environmental
Those of a certain age will fondly remember the recorded messages left for Jim Phelps and his Impossible Missions team which self-destructed after being listened to.  And who hasn't seen a TV episode or movie where a character is forced to eat a hastily scribbled message to keep others from reading it?  In the new digital age, pressing the delete key can wipe your thoughts from a screen so they are never actually communicated.  Maybe there are certain things that shouldn't be kept forever…
Whether you think it's a good thing or not, the printed page will fade over time, but here's a twist on making the printed page cease to exist in a much shorter period of time!  From FOXNews Tech:
The "paper" (actually a film made of glass or plastic, Engadget reports, though a paper version is in the works) comes in red, blue, and green, and the printing process bleaches it where text doesn't appear, instead of adding ink where it does. Exposure to oxygen eventually "erases" the text by returning the bleached sections to their original color.
American businesses are so entrenched in keeping hardcopy as 'backup'; this game-changer could eliminate the rows of filing cabinets that people feel are key to their work function.  Reducing waste is a key component in becoming a Smarter Planet!
Any other potentially stagnant office materials that spring to mind? Can you bring your scientific knowledge to the party to find a reusable spin for their usage?
Along with all of the latest buzz about asteroids following the December 3 launch of Japan's Hayabusa 2 spacecraft, NewScientist has published an article describing the advances that have been made in space farming.
If you want to start a space farm, head for an asteroid. It seems there's enough fertilizer zipping around the solar system to grow veg for generations of space colonizers – and researchers are already beginning to grow viable, edible plants in space.
Wieger Wamelink and colleagues at the Alterra research institute, part of the University of Wageningen in the Netherlands, reported this year that they grew a veritable salad – wheat, tomato, cress and mustard – for 50 days with no added nutrients. The plants even grew better in the simulated space soil than controls grown in poor quality Earth soil.
Asteroid soil is highly nutritious for plants, according to Michael Mautner of Lincoln University in New Zealand. He has grown edible plants directly in material from c-type asteroids, which fell to Earth in meteorites. He simply ground up the meteorite and added water.
I found this cute ad:
How does your garden grow?
Cutting edge technology called Lybra is a tire-like rubber paving, which is designed to convert the kinetic energy produced by vehicles into electric energy. It has been developed by an Italian start-up Underground Power, founded in February 2011.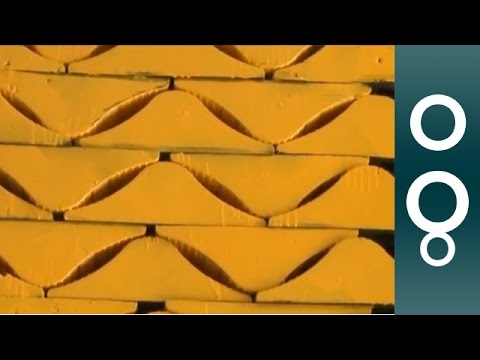 Developed in cooperation with the Polytechnic University of Milan, Lybra operates on the principle that a braking car dissipates kinetic energy. The edge-cutting technology, in its turn, is able to collect, convert this energy into electricity and pass it on to the electricity grid. In addition to improving road safety, the device upgrades and promotes sustainability of road traffic.
According to the team of engineers, a chain of 10 devices located at a rather busy roundabout would be able to produce 100 thousand kWh per year. Just to compare, the same quantity of energy is produced by 19 tons of oil – that's enough to meet the annual power needs of about 40 families.
It seems that places that were traditionally thought of pollution-filled places, have sparked inventive ways to go greener.  Do you have any ideas to turn a typical pollution-ridden area into a green hero?
Although heating oil prices have dropped to new lows in the U.S., consider this alternative that's being tried for home heating – what a great way to reduce, reuse, recycle instead of waste, waste, waste…
Paul Benoit calls what he's created a "digital heater". Essentially it's a bank of computers designed so that the heat they generate is channelled around a room or building that needs heating.  He came up with a simple but devilishly clever idea for a new company, Qarnot Computing.
Read more here:
Do you have an idea for a distribution program that takes otherwise 'unused' material and makes it a productive resource?  You might just be onto something!
In some agricultural areas of Mexico, farms rely on surface water sources including streams and canals to irrigate crops. Many of these sources contact microbiological contaminants such as E.Coli bacteria, harmful protozoa, and chemicals such as pesticides and herbicides. These contaminants pose substantial risks to farm workers as well as to the crops they cultivate and sell both locally and internationally.  Conventional water treatment systems use filters or chemicals to purify water but rarely address all potential contaminants with one solution.
To address this problem, Puralytics has developed LilyPad—a solar-activated photochemical water treatment product—designed to break down the harmful molecular bonds of contaminants and chemicals in streams, ponds, ditches, and other waterways near agricultural lands. This same process also kills microbes, including viruses, bacteria, and protozoa that render water unhealthy. The reusable pads last for several months at a time and help ensure farmers have access to clean water for agricultural use and improve prospects for organic farming.
How inventive – using one energy source (solar) to clean another great energy source (water)!
For more information about this new technology click here