Environmental
With the global growing population, and millions forced to walk more than a mile to collect their daily supply, new ways to find water is critical.
Here are some novel ideas that just may prove beneficial in this quest:
1. Growing glaciers
More than half of the world's fresh water is stored in glaciers, 15 times more than all of the world's lakes, rivers and wetlands combined. As a result of climate change, almost every glacier studied has been found to be shrinking and meltwater is simply lost to the rivers and sea. An Indian geo-engineer Chewang Norphel, who lives in Ladakh on the edge of the Himalayas diverts meltwater onto little plateau where it freezes. He has created 10 artificial glaciers this way, which can be used for water in the dry summer months.
2. A bath without water
At the age of 17, Ludwick Marishane was sunbathing in the Limpopo province of South Africa. His friend said idly to him: "Man, why doesn't somebody invent something that you can just put on your skin and you don't have to bathe." Marishane researched the idea, eventually formulating a lotion called DryBath. Marishane says that DryBath – a blend of essential oils, bioflavonoids, and odour-eliminating chemical tawas – saves four liters of water ever session, a total of a million liters in total.
3. Ultra water efficient shower
We are all familiar with the moment. You get into the shower, turn the tap, then avoid the water until the temperature equalizes. For Peter Cullin, from Australia, said, "Every minute of every day, in millions of homes around the world quality fresh drinking water is lost to the drain from inefficient showers." To solve the dilemma, Cullin created his "Cullector Ultra Efficient Shower", a screw-in device that captures water at the beginning of a shower and and feeds it back into the system. If installed in 1,000 showers, Cullin says the device would save 200m liters of water a year.
4. The lifesaver bottle
"Water, water, everywhere, nor any drop to drink", wrote Samuel Taylor Coleridge famously in The Rime of the Ancient Mariner. This paradox struck Michael Pritchard while watching news reports of the Boxing Day tsunami a decade ago. Clean water was being brought in on trucks as the floodwater was too dirty. To solve this problem, he invented his "lifesaver" bottle, which uses a pump to force water through a 15-nanometer filter, cleansing it of all bacteria and viruses. Since its launch, the Lifesaver Bottle has been used by hikers, aid companies and the British army in Afghanistan.
5. Rainmaking with lasers
In the 1840s, James P. Espy thought burning large fires in the American west would bring rain to the east. In the 1950s, there were attempts at cloud seeding. Now, the idea of rainmaking has returned to the scientific agenda. The idea this time is to fire lasers into the atmosphere. Properly-directed pulses of light have been shown to help ice sublime and vapor condense. The World Meteorological Organization recently debated the future use of this new technology. One of the possibilities is to use lasers to induce rain at times of drought.
6. The fold up toilet
Along with the shower, the toilet is one of the home's greatest source of water waste. As much as seven liters can vanish in a single flush and, wanting to improve matters, two students from the University of Huddersfield have invented Iota, the folding toilet. Iota's design is markedly different to the traditional toilet and, as such, makes more efficient use of water. Gareth Humphreys and Elliott Whiteley, Iota's inventors, claim that if installed it could save 10,000 liters per person every year.
7. Leak monitoring
Despite all the water wasted inside the home – dripping taps, inefficient toilets and showers – utility companies acknowledge that as much as a third is lost to leaks before it even arrives. Tackling this problem is Zonescan Alpha, a software that pinpoints leaks and relays data back to a control center. It works by embedding sensors throughout a network and has been successfully trialled by Albstadtwerke, a German utility company, which says it helped reduce waste by 2m liters.
8. Solar powered water purification
Hot climates suffer the most from a lack of water, making the invention of 16-year-old American, Deepika Kurup, all the more intriguing. Hailed as one of the USA's brightest young scientists, this year Kurup was awarded the US Stockholm Junior Water Prize for her ingenious solar-chemical purification process. This involves exposing titanium dioxide and zinc oxide to ultra violet radiation from the sun to produce a photo catalytic composite that cleans water. "This technology is green, safe, cost effective and easily deployable," said Kurup.
Are there any environmental water engineers who can bring their expertise to new technology and make a real difference in this vast world we live in?
Those of a certain age will fondly remember the recorded messages left for Jim Phelps and his Impossible Missions team which self-destructed after being listened to.  And who hasn't seen a TV episode or movie where a character is forced to eat a hastily scribbled message to keep others from reading it?  In the new digital age, pressing the delete key can wipe your thoughts from a screen so they are never actually communicated.  Maybe there are certain things that shouldn't be kept forever…
Whether you think it's a good thing or not, the printed page will fade over time, but here's a twist on making the printed page cease to exist in a much shorter period of time!  From FOXNews Tech:
The "paper" (actually a film made of glass or plastic, Engadget reports, though a paper version is in the works) comes in red, blue, and green, and the printing process bleaches it where text doesn't appear, instead of adding ink where it does. Exposure to oxygen eventually "erases" the text by returning the bleached sections to their original color.
American businesses are so entrenched in keeping hardcopy as 'backup'; this game-changer could eliminate the rows of filing cabinets that people feel are key to their work function.  Reducing waste is a key component in becoming a Smarter Planet!
Any other potentially stagnant office materials that spring to mind? Can you bring your scientific knowledge to the party to find a reusable spin for their usage?
Along with all of the latest buzz about asteroids following the December 3 launch of Japan's Hayabusa 2 spacecraft, NewScientist has published an article describing the advances that have been made in space farming.
If you want to start a space farm, head for an asteroid. It seems there's enough fertilizer zipping around the solar system to grow veg for generations of space colonizers – and researchers are already beginning to grow viable, edible plants in space.
Wieger Wamelink and colleagues at the Alterra research institute, part of the University of Wageningen in the Netherlands, reported this year that they grew a veritable salad – wheat, tomato, cress and mustard – for 50 days with no added nutrients. The plants even grew better in the simulated space soil than controls grown in poor quality Earth soil.
Asteroid soil is highly nutritious for plants, according to Michael Mautner of Lincoln University in New Zealand. He has grown edible plants directly in material from c-type asteroids, which fell to Earth in meteorites. He simply ground up the meteorite and added water.
I found this cute ad:
How does your garden grow?
Cutting edge technology called Lybra is a tire-like rubber paving, which is designed to convert the kinetic energy produced by vehicles into electric energy. It has been developed by an Italian start-up Underground Power, founded in February 2011.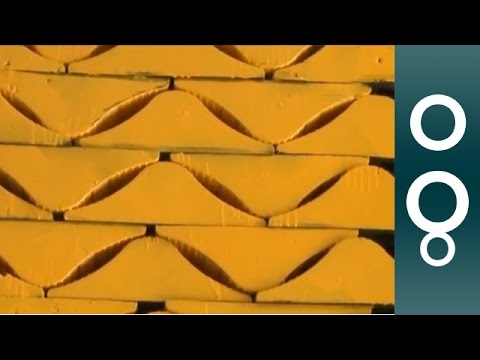 Developed in cooperation with the Polytechnic University of Milan, Lybra operates on the principle that a braking car dissipates kinetic energy. The edge-cutting technology, in its turn, is able to collect, convert this energy into electricity and pass it on to the electricity grid. In addition to improving road safety, the device upgrades and promotes sustainability of road traffic.
According to the team of engineers, a chain of 10 devices located at a rather busy roundabout would be able to produce 100 thousand kWh per year. Just to compare, the same quantity of energy is produced by 19 tons of oil – that's enough to meet the annual power needs of about 40 families.
It seems that places that were traditionally thought of pollution-filled places, have sparked inventive ways to go greener.  Do you have any ideas to turn a typical pollution-ridden area into a green hero?
Although heating oil prices have dropped to new lows in the U.S., consider this alternative that's being tried for home heating – what a great way to reduce, reuse, recycle instead of waste, waste, waste…
Paul Benoit calls what he's created a "digital heater". Essentially it's a bank of computers designed so that the heat they generate is channelled around a room or building that needs heating.  He came up with a simple but devilishly clever idea for a new company, Qarnot Computing.
Read more here:
Do you have an idea for a distribution program that takes otherwise 'unused' material and makes it a productive resource?  You might just be onto something!