Environmental
There is a new metal product that is expected to have far-reaching applications.  While it may take some time for commercial use here on earth, NASA is evaluating its use for space exploration missions as components used to construct rockets.  What makes it unique is that the metal is composed of 99.9 percent AIR.  It is termed to be a micro-lattice material, or an "open cellular polymer structure".
"The metal was developed by

HRL Laboratories

, a joint venture involving Boeing and General Motors, and researchers from the California Institute of Technology (

Caltech

) and the

University of California Irvine

. It weighs only one-tenth as much as carbon fiber, [according to] Bill Carter, the head of HRL's Sensors and Materials Laboratory."

(Photo credit:  Dan Little, HRL Laboratories LLC)
Here's the posting that Caltech has about this unique material:
And the post at UC Irvine:
Where do you envision this "super light" material will be utilized?  Maybe there's an invention that you're already at work on that would benefit from it?  Think of the possibilities…
I've always considered particleboard as pretty indestructible.  I was intrigued when I came across this article describing how rice husks are being employed in production of even cheaper, greener, longer-lasting particleboard.  Ordinarily, particleboard is made from wood chips that are bonded together using glue. Unfortunately, when used in building projects and otherwise, termites eat that wood – the same thing applies to plywood and bamboo.
A group of engineering students from the University of California, Riverside, recently created termite-resistant particleboard from rice husks.
The students wanted to solve the termite problem and wanted the solution to be something readily available for tropical countries needing strong building materials.  The new particleboard is termite resistant due to the rice husks.
Here are some other applications for rice husks as well:  using them as a source of silicon nanoparticles for use in batteries, an ingredient in "green" cement, a component of environmentally-friendly plastic, and a source of greenhouse gas-reducing biochar.
What next great process are you contemplating to solve a pressing problem?
Technology continues its march around the world.  This post focuses on a major project which has been in the works since 2013 in Thailand, specifically Myanmar.  The budget and scope of this endeavor – the first Solar Plant to be constructed in Thailand – is impressive.  Read about both the plant and the design team that has been engaged to bring this vision to fruition…
Here's the backgound on the Memorandum of Understanding (MOU) signed by Green Earth Power in 2013 [Note:  the company is privately held and does not have a website of its own; but, they are the driving force behind the new power plant.]
Green Earth Power to develop Myanmar's first solar plant
"Green Earth Power (Thailand), the developer of the power plant, on Thursday signed a memorandum of understanding with Myanmar's Ministry of Electric Power for the country's first solar power plant. Total project value is US$275 million (Bt8.15 billion)."

"…present power production was not enough to support industrialisation in Myanmar and solar energy would be the first supplemental source of electricity. Currently, 70 per cent of electricity in Myanmar is from hydropower, 20 per cent from gas turbines, and 10 per cent from coal power plants."
and the press from this month trumpeting the project's movement forward
Black & Veatch to provide design services for Myanmar's first solar plant
Take some time to read the Press Release from Black & Veatch about the project:
Black & Veatch starts work in Myanmar on Southeast Asia's largest solar power plant
And spend a little time learning about the design company itself – with international locations, might this be a future employer that interests you?
Green Earth Power has been a proponent of solar for some time. Here's another interesting piece about endeavors they are undertaking in Japan (published in 2013) – Rising Sun to power Thai panels
Carbon is the building block of a myriad of organic and inorganic matter around us including diamonds.  Carbon nanofibers (built from carbon) hold tremendous potential.  These nanofibers may one day be put to use in tougher bulletproof vests, artificial muscles or rebuilding damaged hearts, just to name a few possibilities.
Researchers from George Washington University led by Stuart Licht, have developed a technique that could pull the mounting carbon dioxide in our atmosphere and transform it into carbon nanofibers, resulting in raw materials for use in anything from sports gear to commercial airliners.
Please click on the picture below to review this process in Professor's Licht's presentation: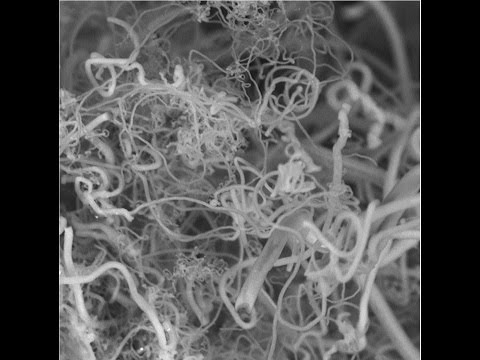 This technique to 'manufacture' carbon nanofibers provides a win-win since the reduction of carbon in our atmosphere is of penultimate importance for a healthy planet with the added benefit of producing very valuable raw materials.
There are any number of competitions being held globally to stimulate the minds of budding inventors and planet champions.  Here's one specifically for Africa from UNESCO, for which the deadline to submit an application is mid-November .
Some of the detail – - There are four programmes within the ANESI Mobility Programme: ANESI's Student Exchange Programme, Researcher Exchange Programme, University/Industry Joint Training Programme and visiting Fellowship for Outstanding Women Geoscientists. Deadline for applications: 15 November 2015.
UNESCO's Earth Science Education Initiative in Africa, which aims to support the development of the next generation of Earth scientists in Africa who are equipped with the necessary tools, networks and perspectives to apply sound science to solving and benefiting from the challenges and opportunities of sustainable development, is implemented through ANESI.
Click on the logo below to learn the details:
There's so much to be done to aid the development of the nations which make up this continent.  Will YOU be a contributor?