Environmental
As we use more and more electronic equipment and continually upgrade to newer, faster, sleeker versions of these items, the amount of toxic, non-biodegradable material we produce grows alarmingly.  Health concerns and unsightly piles of useless and forgotten old computers, televisions, cell phones and other electronics can be likened to the rat-infested wharfs of old -  havens for rotting garbage and disease.  There may be a way to change that…
Researchers at the University of Wisconsin-Madison have developed a surprising way to make tossing out future smartphones and tablets easier on the environment and the conscience. They're replacing the bulk of toxic and non-biodegradable materials in modern microprocessors with wood.
Specifically, the researchers' method replaces the rigid base or substrate material in smartphone and tablet chips, often comprised of the arsenic-containing compound gallium arsenide, with cellulose nanofibril (CNF). CNF is a flexible, transparent material made by breaking down the cell walls of wood to the nano scale and forming it into sheets, much like paper.  The team has investigated methods to combat the moisture accumulation inherent in wood products.
When scaled up … the costs for creating CNF from renewable wood should be inexpensive as well, helping entice device makers to switch from more traditional substrates. After all, wood is abundant, and doesn't need to be mined from the ground like gallium. The pliable nature of CNF will make it a good fit for the emerging field of flexible electronic devices.
Read the full article here:
Click on the picture to read the abstract and full paper:  High-performance green flexible electronics based on biodegradable cellulose nanofibril paper (originally published in Nature Communications)
Maybe being a more eco-friendly garbage dumper will make us less of a drain on our planet in the years to come?  Think about it…
Audi is making a new fuel for internal combustion engines that has the potential to make a big dent when it comes to climate change – that's because the synthetic diesel is made from just water and carbon dioxide.
The developer, Sunfire, claims that analysis shows the properties of the synthetic diesel are superior to fossil fuel, and that its lack of sulphur and fossil-based oil makes it more environmentally friendly. The overall energy efficiency of the fuel creation process using renewable power is around 70 percent, according to Audi.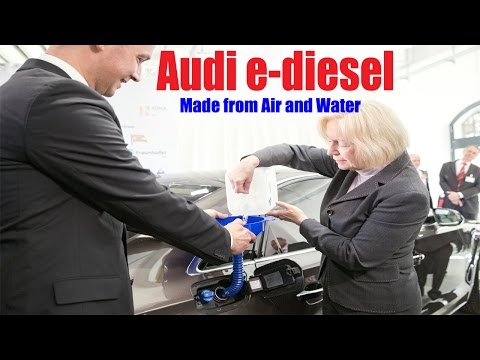 "The engine runs quieter and fewer pollutants are being created," says Sunfire CTO Christian von Olshausen.
It's reassuring to hear that great strides are being made in this energy field.  We can probably all admit that we are way too dependent on fossil fuels and would love to find a permanent solution to this massive problem.  Bravo, Audi, it looks like you are forging the way for a great fuel revolution!
Do you have any skills that can contribute to this burgeoning field?
What do you get when you mix salt water and fresh water?  The answer: ENERGY  (or at least that's one possible answer…)  While this isn't exactly new technology, it has been underdeveloped and underutilized.  Maybe that's about to change?
"Blue energy was first proposed in 1954 by a British engineer named R E Pattle. It is sometimes called "osmotic power", because it exploits the phenomenon of osmosis. To understand how this works, picture two solutions of water with different concentrations of a dissolved substance like salt. If these two solutions are separated by a thin "semi-permeable" membrane that lets water through but not salt ions, then water will naturally pass from the less- to the more-salty side. The flow of water across the membrane builds up pressure on one side that can be used to drive turbines and generate power."
Read this highly informative article on bbc.com/future to learn how the ability to generate power from water may be 'awash' across the globe:
Researchers at both University of Utrecht (Netherlands) and University of Granada (Spain) are exploring refining the original processes to make them more cost effective.
Click on the picture to learn a little about the history of one such power plant.
How will you participate in this innovative planning to "energize" the planet?
If you are fortunate enough to live in a part of the world that's blessed with sunshine a good amount of the year, you take advantage of that blessing.  Students at Cal Poly put their minds to just such a project with their INhouse.  It's part of a competition that will take place at the Orange County Great Park in Irvine, California, from October 8 through October 18.
"…the name INhouse describes the process the team has been going through—the design, engineering, and construction is really "in house" at Cal Poly. Also, three words—"interactive," "intuitive," and "integrated"—describe the technological-meets-natural features of the house. Mostly, it's learning by doing—a process of iteration and trying many things before reaching a final conclusion."
Read about the team and watch their video!
The story linked above was first published on the site: 1SunforAll.  Visit them and learn more about the sun's extraordinary powers and how we are finding new ways to brighten our world with new technology!
Ensuring that the food we eat is locally and sustainably grown is not always easy, especially in cities where crop-growing space is at a premium. Firms like Freight Farms and Cropbox, however, have a solution to this problem. They offer shipping containers that are kitted out as self-contained farms.
Check out this truly farm-to-table approach – and when I say farm, I mean freight container: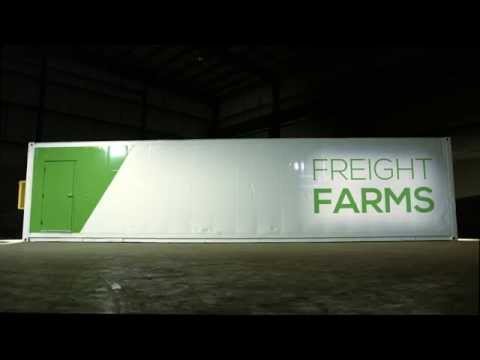 Another newbie in this arena is Cropbox, which appears to have a lot of the same features at a reduced cost.  They claim that you can grow the equivalent of an acre of field grown crops or 2,200 square feet of greenhouse space within a 320 sq ft footprint.  The business is scalable as you can expand vertically by stacking the containers 5 high – especially useful if setup in an urban area.
Sustainability features:
90% less water use than conventional and greenhouse cultivation
80% less fertilizer than conventional cultivation
Automatic record keeping for optimization
34% less inventory loss through simpler logistics
And both of these products enable consistent optimization of the growing process via a smartphone.
It kind of makes you want to try out your "green thumb"!