Finding Jobs
The divide between men and women in the field of science has been undergoing a slow, but steady, transformation.  Possibly the most familar female scientist in much of the developed world is Marie Curie.  There have been countless other woman pioneers over the past centuries…whose names are more obscure – but, whose contributions have also been of great value to humankind.
One group who lauds and applauds the brains and outstanding achievements of these women around the globe is EPWS: European Platform of Women Scientists.  Formed in 2005, more than 100 networks of women scientists and organisations promoting women in science from 40 countries have joined the Platform, working for the promotion of equal opportunities in the research fields of all scientific disciplines and aiming to give women scientists a voice in European research policy.
Click on the logo to learn more about this fascinating and dedicated group – explore their website and take note of the data section which addresses both the European and US promotion of science education for females:
Perhaps you'll be motivated to take advantage of what's sure to be a rewarding discourse at their upcoming conference to be held in Berlin, Germany in November of 2015 (click on the link for more details…): Ready for Dialogue
Don't underestimate the power of poo!  In the never-ending quest to reduce, reuse and recycle – some have found a way to even make poo a valuable commodity.
And since there will not be a shortage of poo anytime soon, these clever minds stand to profit substantially from their brilliant ideas.
Last year, the UK's first bus powered by human poo hit the roads of Bristol and in January this year, the Janicki Omniprocessor, a machine that turns human poo into water was revealed. Janicki Bioenergy, the company behind the machine, is soon to ship a processor to Dakar, Senegal, where it will produce 10,800 litres of water.
Here are some other examples of how waste is being integrated into sustainable, circular design and production with environmental and social benefits.
There are seats made from urine and sand, so it's almost inevitable that there would be furniture fashioned from poo, or to be more precise, a mixture of horse manure, straw and other agricultural waste. The stools and lampshades, known as Terra, were the creation of Tel Aviv-based designer Adital Ela.
Stools made from stools
Let cow poo provide the power
Writing on rhino poo
Run your vehicle on panda poo
WOW – that's quite an extensive all-reaching use of poo power I would say!  It hits so many industries within retail and energy sectors.
It just takes some creative minds to embrace unconventional resources to "get the ball rolling" or in this case, "get the poo flowing"
North West Bicester (pronounced "Bister") is one of four designated eco-towns in the UK announced by the government in 2007. The aim is to create a town that is good for the environment, good for the economy and a nice place to live.
This eco-town described as the UK's "most sustainable development" is moving closer to being occupied. The first residents are expected to move into North West Bicester later this year. It is also one of a handful of One Planet communities around the world. The One Planet scheme was set up by sustainability charity BioRegional. It aims to find ways for people and societies to reduce their level of consumption to an extent that is sustainable based on the amount of resources that the planet can provide.
Take a peek at this exciting new town development: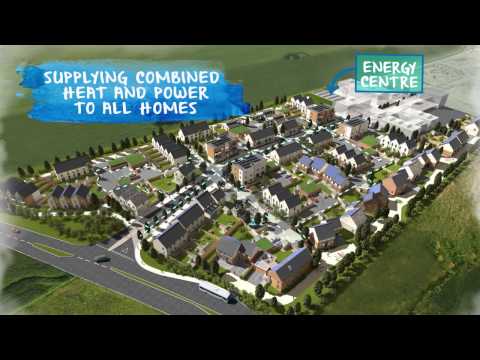 Looks like an ideal place to live.  What great ideas do you have that could make this an even more sustainable place to be?
How would you like to 'glide unseen' into an area?  While Harry Potter and countless other fictional characters have used cloaks of invisibility to achieve that trick, we more mundane beings have limited powers to make ourselves non-intrusive.  And some folks are better at it than others…my laugh is so recognizable, it's been the subject of much commentary over the years.  But, if I could clamp down on my tendency to be mirthful, maybe I have a shot at not standing out in the crowd?
Read about tech that's making at least part of you unrecognizable…  Developed by AVG in the Czech Republic,
"The glasses, they explained, could help prevent smartphone users from snapping and uploading unwanted and potentially embarrassing photos of you. They can also prevent your likeness from being captured and featured in Google StreetView or other big-data projects."
Sorta' makes you feel like a super-hero, doesn't it?  What potential good (or harm) do you see resulting from this technology?  Is there an improvement or offshoot that you can envision?  AVG is a worldwide company – take a look at their job opps across the globe here:  Careers at AVG
Almost everyone has experienced the frustration of trying to get the last bit of a product to shake loose from its container.  It's virtually impossible to expend a tube of toothpaste completely or get the clinging bits from a can of some products.  Hence, a great deal of waste takes place.
Now there's a new product, created by Kripa K. Varanasi, a professor of mechanical engineering at M.I.T., and J. David Smith, the graduate student turned chief executive.  They've come up with a coating that makes the inside of the bottle permanently wet and slippery.
M.I.T. was sponsoring a $100,000 contest for entrepreneurial ideas. Mr. Smith and Dr. Varanasi decided to enter. Over a weekend, Mr. Smith developed a prototype of a ketchup bottle. Using a video of ketchup sliding out, they were the runner-up and won the Audience Choice Award.  Currently the product is generating interest from food packaging companies.
"The company is also exploring the industrial applications originally envisioned, including coatings for petroleum storage tanks and pipelines. That could not only reduce the energy needed to push materials through the pipes, but also speed cleaning of tanks, with fewer chemicals."
Profiled by The New York Times, prepare to meet
And be sure to visit the company's website by clicking the logo below to learn more about their product, their company, and possible job opportunities!