Finding Jobs
North West Bicester (pronounced "Bister") is one of four designated eco-towns in the UK announced by the government in 2007. The aim is to create a town that is good for the environment, good for the economy and a nice place to live.
This eco-town described as the UK's "most sustainable development" is moving closer to being occupied. The first residents are expected to move into North West Bicester later this year. It is also one of a handful of One Planet communities around the world. The One Planet scheme was set up by sustainability charity BioRegional. It aims to find ways for people and societies to reduce their level of consumption to an extent that is sustainable based on the amount of resources that the planet can provide.
Take a peek at this exciting new town development: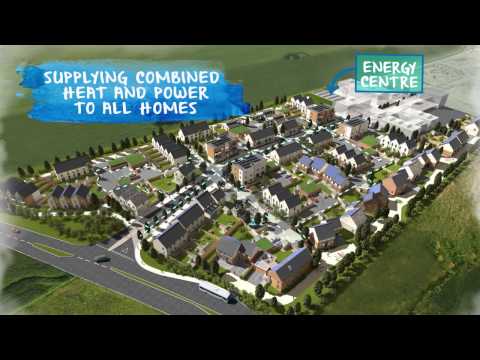 Looks like an ideal place to live.  What great ideas do you have that could make this an even more sustainable place to be?
How would you like to 'glide unseen' into an area?  While Harry Potter and countless other fictional characters have used cloaks of invisibility to achieve that trick, we more mundane beings have limited powers to make ourselves non-intrusive.  And some folks are better at it than others…my laugh is so recognizable, it's been the subject of much commentary over the years.  But, if I could clamp down on my tendency to be mirthful, maybe I have a shot at not standing out in the crowd?
Read about tech that's making at least part of you unrecognizable…  Developed by AVG in the Czech Republic,
"The glasses, they explained, could help prevent smartphone users from snapping and uploading unwanted and potentially embarrassing photos of you. They can also prevent your likeness from being captured and featured in Google StreetView or other big-data projects."
Sorta' makes you feel like a super-hero, doesn't it?  What potential good (or harm) do you see resulting from this technology?  Is there an improvement or offshoot that you can envision?  AVG is a worldwide company – take a look at their job opps across the globe here:  Careers at AVG
Almost everyone has experienced the frustration of trying to get the last bit of a product to shake loose from its container.  It's virtually impossible to expend a tube of toothpaste completely or get the clinging bits from a can of some products.  Hence, a great deal of waste takes place.
Now there's a new product, created by Kripa K. Varanasi, a professor of mechanical engineering at M.I.T., and J. David Smith, the graduate student turned chief executive.  They've come up with a coating that makes the inside of the bottle permanently wet and slippery.
M.I.T. was sponsoring a $100,000 contest for entrepreneurial ideas. Mr. Smith and Dr. Varanasi decided to enter. Over a weekend, Mr. Smith developed a prototype of a ketchup bottle. Using a video of ketchup sliding out, they were the runner-up and won the Audience Choice Award.  Currently the product is generating interest from food packaging companies.
"The company is also exploring the industrial applications originally envisioned, including coatings for petroleum storage tanks and pipelines. That could not only reduce the energy needed to push materials through the pipes, but also speed cleaning of tanks, with fewer chemicals."
Profiled by The New York Times, prepare to meet
And be sure to visit the company's website by clicking the logo below to learn more about their product, their company, and possible job opportunities!
Ever think about the machines behind the machines?  I really hadn't given it much thought myself – until I stumbled on this particular announcement about a machine that performs laser deposition welding and precision milling.  What's so great about it?
"By combining both, additive manufacturing via powder nozzle and the traditional cutting method in one machine, totally new applications and geometries are possible. Especially large workpieces with high stock removal volumes are now possible to be machined in an economical way."

Read more on the actual product specs here:  LASERTEC 65 3D
Having made its debut at IMTS (International Manufacturing Technology Show) 2014, the new machine by DMG Mori was pulled straight off the line from its Davis California plant – machines, the company says, that are "made in the USA for the USA."  Read the pre-announcement about the product at American Machinist.
And, it you're not convinced that this is a way cool technology – watch the video on Gizmodo!
If this stuff fascinates you, check out job opps at DMG Mori by clicking here: