Finding Jobs
Bionics used to be the stuff of fantasy and featured grandly on several U.S. television series.  In the world of everyday life, there are a good number of individuals who, for reasons of birth defect, disease or as the result of a (usually) shocking accident do not enjoy  'freedom' of motion and sensory perception.  Until now, prosthetic replacements for amputated limbs have been limited to those with superlative insurance to cover the cost of these devices.  We hope that is about to change…
A company in Argentina – Bioparx Health Technology – has developed a state-of-the-art bionic arm for less than half of what the others cost.   Read about their technology here:  Smart Prosthetics
And pay a visit to the bioparx company site to see if there's a place for you to contribute (or be inspired to envision the next generation of their products…).  The site is in Spanish, so if you're bilingual, this may be a great fit for you!  BIOPARX.COM 
You may also want to pay a visit to Chalmers University of Technology in Gothenburg, Sweden where they, too, are working on bionic technologies.
WOW – OSVehicle is gaining traction as an open source DIY electric car – check it out: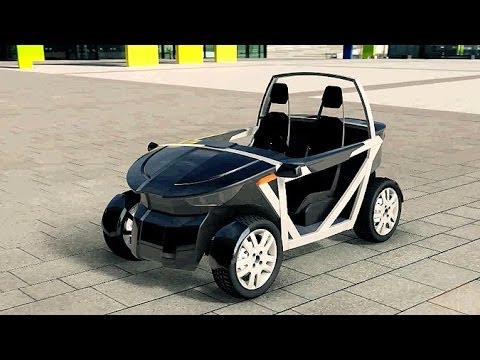 The OSVehicle, which comes in both two seat and four seat versions, can integrate a fully electric drivetrain, an integrated hybrid engine, or an internal combustion engine
They have a robust career page available here which lists some tech/engineering jobs that would put you on the leading edge of this great new technology!
First façade system in the world to cultivate micro-algae to generate heat and biomass as renewable energy sources.
Structural glass photobioreactors used as external cladding elements and dynamic shading devices.
Fully integrated in the house´s building services system to harvest, distribute, store and use the solar thermal heat on site.
Since commissioning the innovative SolarLeaf façade in April 2013, it has been monitored for its technical and energy performance as well as for its acceptance with users. The intermediate results are promising: the system is generating a net energy gain. Additional research programs are investigating the viability of a full integration of the system on a larger district scale, as well as the creation of a way that the high-value biomass may be converted into pharmaceutical and food-supplement products.
If, as a graduate or an experienced hire, you seek a rich culture that is naturally curious and always stimulating, check out the career opportunities at Arup.
New ideas keep surfacing for capturing and storing energy available right now for future use.  Because we must continue to find ways that plan ahead for sustainable life on earth, this is a really hot topic.
Batteries can store electricity generated by solar and wind power when conditions are favorable, so it can be used when they are not. Electricity storage is the second part of the renewable energy solution. By investing in new battery systems, Germany is continuing down the path it started on to shift away from nuclear power.
There are a batch of links in the article to other stories relating to the savvy Germans and the strides they are making.  Jobs in energy – renewable, non-carbon based, solar, wind, etc., are plentiful.  What are you going to do with your future?  (Remember to bring a flashlight – efficiently powered of course!)
While reading through some of the articles on LinkedIn, I came across some of the newest thinking about how to present yourself through a resume.
In a job market where creative confidence, collaboration, and storytelling are valued across sectors, it would make sense for your first impression to be a showcase for those qualities. Rather than standard, it should be exceptional.
Below are some of the winning resumes that caught the CEO at IDEO's attention, and subsequently, led to hiring. Granted, IDEO is a global design consultancy company.
I especially liked the simple video resume that was submitted:  clever video
How creative are you when building your resume so that stands it out from the thousands received?