Food
Bubbles – of the soapy variety – are one of the fun memories of childhood.  Even with all the tech toys available, we've still got a fascination with these iridescent globes hovering gently in the air and then popping with a tiny splash as the pressure in the bubble or its contact with some immovable object causes it to 'disappear'.  Childlike glee can have applications at an adult level, as has been put forward in the journal Physical Review Letters by biomedical engineering researcher Sunghwan Jung of Virginia Tech.
"Jung suggests that cavitation could be used as a method for cleaning produce without chemicals, pulling microbes and dirt off the surface of fruits and vegetables."
Read the short piece featured here on Discovery News:

Glistening and glowing – bubbles may hold a key to helping us "clean up our act" – and clean up the planet!!
Sustainability at its best!  At a recent music festival, Danish Agriculture & Food Council opted to put liquid gold to good use.  A beercycling project dubbed "From piss to pilsner" invited attendees to leave deposits for local farmers to use as fertilizer for barley crops grown to make beer.
"The beercycling project is certainly a fascinating proposal for a sustainable solution where urine isn't just sent down the drain, but becomes a useful resource," said Henrik Rasmussen, Managing Director of the Roskilde Festival. "It is a project which extends beyond the festival itself and it underlines that the Roskilde Festival is a fantastic laboratory for testing new sustainable solutions that could benefit society."
Waste from collectors and specially-designed storage tanks will go on to fertilize the barley crops in nearby fields. That malting barley will then be used to make beer for the 2017 music festival.
Talk about reduce, reuse and recycle!!
Lots of people spread lots of (what we politely refer to as) manure when they are speaking or writing.  There are tabloids and blogs and conversations overheard that reek of the stuff.   BUT – there's a real world application for manure in the farming sector of the economy that is beneficial  (and maybe less toxic than gossip or rumor?), and there's new tech to help with precise application… Read about it here:
Digi-Star LLC is headquartered in Fort Atkinson, Wis., with additional facilities and businesses in the Netherlands and United Kingdom. Digi-Star LLC is a global supplier of electronic sensing equipment, precision sensors, displays and software used by farmers and other equipment operators to precisely measure and analyze valuable data from critical farming processes.
Here's some press about the award they've garnered for their technology:  Digi-StarNT8000iEarnsAward
There's a "world" of farming tech to be explored – visit this site by clicking the logo to learn more:
  (American Society of Agricultural and Biological Engineers)
Ok, so we've heard about hydroponic gardens, which grow vegetation without soil in a water solution rich with nutrients.
In a different twist, scuba diving company owner Sergio Gamberini and his son Luca have picked an even more unusual spot to farm:  under the sea, inside biospheres 6 to 9 meters (20 to 30 ft) below the surface, just off the Ligurian tourist beaches of the town of Noli, near Savona.
The Nemo's Garden project started in 2012 and continued through the next two summers. The three (now five) underwater biospheres were anchored to the seafloor and filled with air. Then, shelves were installed along with cameras and sensors that monitor the plants – bunches of basil (used to make Liguria's iconic pesto sauce) growing either in hydroponics or in soil.
Take a look at this latest video in the quest to find unique ways to solve the plight of agriculturally-challenged regions of the world: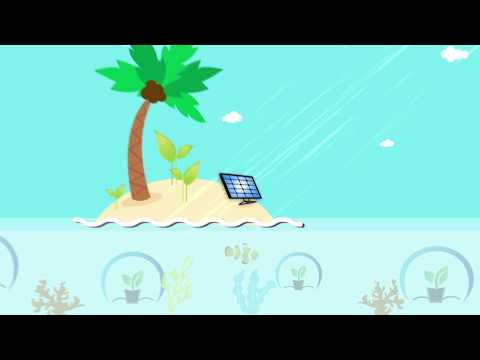 In a related story, the forgotten tunnels under London are being put to good use growing underground farms.
The "world's first underground urban farm" is set to start selling herbs and salads grown 33 m (108 ft) below the streets of London. Growing Underground is based in disused World War II tunnels.  At less than two miles from the city-center, it promises farm-to-fork produce in less than four hours.
The first phase of the farm is coming to the final stages of preparation for commercial supply and the crops being produced include pea shoots, several varieties of radish, mustard, coriander, red amaranth, celery, parsley and rocket.
How does your garden grow – do you have any new breakthrough ideas…..
Now here's something that I don't often see – and I am somewhat of a fan of all that glitters and IS gold!  Imagine taking something as mundane as coffee grounds and turning it into something that most consider to be a commodity – jewelry!
The Java Ore jewellery range celebrates reinvention and creativity, integrating a beautiful unusual material derived from coffee grounds, with gold and sterling silver. The striking and original designs are inspired by the properties and formation of coffee grounds, uncovering their beauty and transforming them into covetable lasting gems that intrigue and delight.
If you are interested in the circular economy (generally it's more economically-friendly, because it means that you're using less of new resources) as it relates to high fashion, check out the other coffee ground jewelry designs at their e-commerce website here