Food
Since well before the start of the space program, dehydrated food has been in use.  And microwaves, once thought to be 'science fiction' are in just about every home and restaurant in the developed world.
Here's the latest addition to food prep that could excite your inner "Trekkie" (that's a person partial to the television series and subsequent films on Star Trek for any of you not familiar with the term…).  The once futuristic concept was that a human could walk over to a device, place their food order verbally, and – presto – a fully cooked meal would appear almost instantaneously.
An Israeli company is introducing a new miniature cooker, called the Genie – it's able to turn pods of freeze-dried ingredients into full meals in as little as half a minute.  Ayelet Carasso and Doron Marco are the Israeli entrepreneurs behind the device.
The price-tag may be hefty to start, but the inventors have a lot of confidence in this new kitchen gadget.  They are hoping to have a major impact on reducing world hunger (read the full article about the product by clicking the link below)
The Genie's creators say it could also help solve global hunger. "In our world, we are getting fat and we are throwing away a lot of food, in their world, they don't have any food," Marco told Reuters. "So if you use Genie, you can distribute the food better, you can have the shelf life much longer without the preservatives, give the people better food for them." (source: The Times of Israel)
And I don't mean from dinner last night :-)  One of the largest hazelnut manufacturing companies, Nutella, has found a way to keep tons of its byproduct waste out of landfills. The Italian company is the world's biggest buyer of hazelnuts, using 25% of the world's supply and making 180m kg of its Nutella spread each year, according to the Italian Trade Agency. As a result, it has plenty of hazelnut shells to play with.
Nutella is using the discarded shells to construct the packaging!  They are still experimenting on the ideal mixture of nutshell fibers in the pulp, but so far it works well for stiffness and bulk. The hazelnut fibers are used in the board's middle layer and have been tested for allergy aspects without any problems.
What chocoholic doesn't like to hear of breakthroughs that will enable a favorite production company to reduce waste?
Another great use of shell waste is being employed at Suncoast Gold Macadamias cogeneration facility in Gympie, Queensland, Australia. It is the world's first ever plant to produce electricity from waste macadamia nut shells. The plant is located adjacent to Suncoast's macadamia nut processing facility in Gympie.
The plant generates 9.5GWh annually, which is enough to power 1,200 households. Suncoast consumes 20% of the electricity generated and the remaining is exported to the grid. The plant helps in reducing 9,500t of greenhouse gas emissions annually, which is equivalent to keeping 2,000 cars off the roads.
Australia is one of the largest macadamia nut producers in the world, with a 45% market share.
There are more than 13 million macadamia nut trees in Australia and the number is steadily growing.
Although most of us are, at all times, peripherally aware of the food shortages around the world, there are those who are constantly addressing the needs of the hungry.  Charities, governments, and individuals make concerted efforts to alleviate the challenge of feeding the globe's inhabitants.  Here are a few links to stimulate your thoughts on what you may be able to contribute through your own work…
Permaculture is a philosophy of working with, rather than against nature; of protracted and thoughtful observation rather than protracted and thoughtless labor; and of looking at plants and animals in all their functions, rather than treating any area as a single product system. —Bill Mollison
From The African Moringa and Permaculture project:

Food Forests

, an idea pioneered by permaculture, draw upon the examples provided by natural native forests and carefully incorporate non-aggressive exotic varieties.
Many of us have heard about Watson since it competed on Jeopardy! in February 2011.  Since that time, Watson has been busy assisting the medical and financial industries.  Most recently, Watson has had success in the culinary world.  The latest announcement attributed to Watson is the newly published Watson cookbook – Cognitive Cooking with Chef Watson which includes 65 recipes.
In contrast to a search engine that simply sifts through existing data to serve up a list of already published recipes, Chef Watson is not programmed to come up with a defined answer to a defined question – it understands, learns, and considers not just the data behind recipes and flavor compounds, but also human perception to design highly creative recipe ideas.

Using the app, users can create novel recipes by selecting ingredients, dish type and dish styles, as well as any ingredients to exclude in the final recipe. Once the user has entered in their choices, the app will generate a list of never before seen recipe suggestions.
And, there is an app to help you with your dinner menu planning.  What one-of-a-kind dish can you and Watson cook up?
I've blogged about sustainable farming methods and even farming on the moon, but the article I recently read made me think even more deeply about agriculture and how we can most efficiently use resources here on earth to produce the vast amount of food needed to feed our planet's inhabitants.
Sky Greens is the world's first low carbon, hydraulic driven vertical farm using green urban solutions to achieve production of safe, fresh and delicious vegetables, using minimal land, water and energy resources.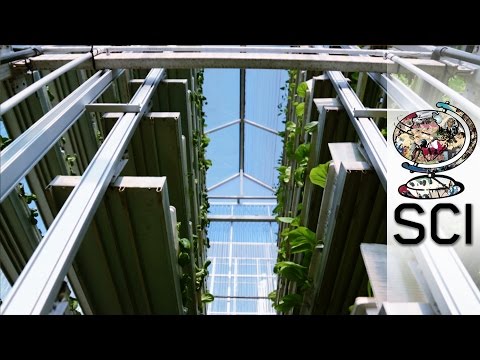 It only takes one idea to create a truly sustainable, profitable solution to a known problem.  Do you have one simple idea?