Government
This story featured in Smithsonian almost brought actual tears to my eyes.  While a chocolate flavor crisis is not at the top of most peoples' minds, my love of that particular food-stuff is unquenchable. Sooo – I thought I'd share this article, as well as links to some of the organizations that are working to keep chocolate chocolatey.
We've done a LOT of tinkering with food – chemicals, cloning, grain-free, organic, gluten-free, etc., etc.  Undeniably, food shortages remain a CONSTANT source of concern world-wide.  "Waste not, want not" are words to live by – but, if foods become "Taste not", will that lead to 'want not', too? That's the concern of food manufacturers…
What cookery wizardry can you add to the recipe?  If you can bring out some new technology that's safe for the Earth and helps save the flavor of foods, you're sure to be popular!
Check out these programs dedicated to being "flavor savers"
Heirloom Cacao Preservation Initiative—a partnership between the FCIA and the USDA's Agricultural Research Service.
…brought to you by
IBM Deep Thunder
The weather is an ever-changing source of fascination for everyone – no matter which part of the planet you inhabit.  The seasons go round, and with these cycles, weather takes on different aspects.  You can get the weather report from your TV, radio, smart phone or a myriad of other sources.  But, generally, these are localized reports and pertain to traffic conditions, school/business closures and the like.  In other words, how the stuff going on outside your door is going to affect you personally.
Deep Thunder is a more complex system -  it "focuses on the operational problems that weather can present to businesses in very specific locales—challenges that traditional meteorology doesn't address."  The roots of this technology date back to 1995, when IBM and the US National Oceanic and Atmospheric Administration (NOAA) joined forces to take on the challenge of targeted forecasting.  Read the full story by clicking the picture below:
As our planet continues to evolve, and we seek new ways to be Smarter in all our business decisions and use of the Earth's resources,  Deep Thunder may be a big player for strategists seeking to ensure best outcomes.  Are you thinking of going the route of entrepreneurship?  Perhaps Deep Thunder will serve to aid you in making choices about whatever project you're seeking to establish!
The Eiffel Tower is the latest in a long string of landmarks going green.
The project is part of a larger efficiency upgrade that also includes LED lighting and rooftop solar panels on a visitor pavilion.
A few decades earlier, in 1979, President Jimmy Carter installed solar panels at the White House which were removed by President Ronald Reagan.  In 2002, President George W. Bush and in 2014, President Barack Obama installed solar panels once again.
In 2008, the Vatican installed solar panels on the roof of the 6,300-seat Paul VI Audience Hall.  In 2012, London upgraded the lights on its iconic Tower Bridge to more energy-efficient LEDs.
New York City's Empire State Building underwent a significant renovation in 2009 that included retrofitting the skyscraper to be more energy efficient. It received LEED Gold certification in 2011, making it the tallest LEED-certified building in the United States. The building's retrofit reduced energy consumption by an estimated 38 percent, and put it in the top 25 percent of the most energy-efficient U.S. office buildings.
Berlin's Reichstag Building has a biofuel-powered combined heat and power system that produces about 80 percent of the building's electricity and 90 percent of its heat. The building also has photovoltaic solar panels on the roof and low-flow water fixtures.
In 2009, the upgrade of the US George Washington Bridge's light "necklace" to energy efficient LEDs was completed. The Port Authority estimated that the upgrade would cut 260,000 pounds of carbon dioxide emissions annually.
LED lights have illuminated Rio's famous mountaintop statue of Christ since 2011.
The Sydney Opera House has implemented several steps to improve the facility's sustainability, including more efficient air conditioners and lighting, along with a cooling system that uses seawater and saves millions of gallons of drinking water annually.
It's great to see that governments and citizens alike see the importance of going green – some dating back to before it became such a hot topic.
Do you have any inventive ideas to make a local landmark where you live even greener?
With so much talk of drones in the media and how they can sometimes be viewed as a threat, it is refreshing to see that some drones are actually saving lives.
From delivering blood….  to search and rescue….  to defibrillation, drones have many different roles when it comes to saving lives.
Here is a good example of how drones with thermal imagery can spot survivors of a disaster much better than could otherwise be found (look closely and you will see the white images moving amongst the rubble):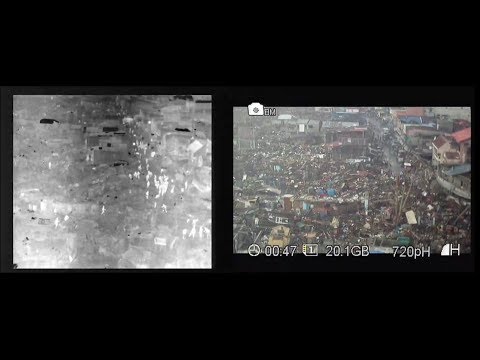 Danish firm Sky-Watch, in cooperation with DanChurch Aid, has used airborne thermal imagery to spot people stranded amongst storm debris. The drones can be in the air in a matter of minutes after a disaster strikes, saving lives earlier.
There are signs more drones are coming to developing countries. A team from Delft University of Technology, in the Netherlands, has created a UAV (unmanned aerial vehicle) with built-in defibrillation equipment. And EPFL is working to set up African drone networks to deliver blood supplies to rural health clinics.
Do you have a need for a drone in the technology you are developing?  Drone Adventures provides the drones for other industries that have a need, so you don't have to be an expert in drone technology, but can benefit from their expertise.
The University of Michigan Ann Arbor is taking driving to roads hitherto untraveled!  They're testing vehicles in a 'fake city' constructed on their campus under the auspices of the Mobility Transformation Center, a partnership with industry and government to lay the foundations for a commercially viable ecosystem of connected and automated mobility.  Read the story straight from the school:
Called M City, the one-of-a-kind facility will include a network of roads with up to five lanes, intersections, roundabouts, roadway markings, traffic signs and signals, sidewalks, bus facilities, benches, simulated buildings, streetlights, parked cars, pedestrians and obstacles like construction barriers.
The story is getting play from the UK tabloids as well…   The Fake City Helping Create Tomorrow's Cars
While it might seem like an image out of a Hollywood movie clip, the advances that are made on this "stage set" are hoping to lead to the implementation of a connected and automated mobility system on the streets of southeastern Michigan by 2021.