Healthcare
Taking time out of your day to make an appointment and see an optometrist isn't always that agreeable, and that's before they blow those little puffs of air onto your eyeballs.  But one Chicago-based startup has visions of making eye examinations a lot more accessible.
A clinical study where Opternative's online exam was compared to a traditional refractive exam indicated it to be equally as accurate.
The Opternative test is free and users will need only a smartphone, Wi-Fi and a computer.  The online refractive eye exam follows the same principles of those that take place in a doctor's office. After answering a few questions, patients are shown a series of images on the computer screen to which they respond using their smartphone, indicating how clearly they can view them.  The results are then sent along to a qualified ophthalmologist for review and you should receive a signed prescription within 24 hours.
Opternative is intended for use by people between the ages of 18 and 40 and in good health.  Currently the exam is only available in 25 US states, though the company says it plans to extend the service to other states soon, with other countries to follow.
How nice to skip the visit to the ophthalmologist/optometrist office and take care of business at home with the added benefit of a quick turnaround time!
Most of us take our mobility for granted.  But for those who are challenged in this area, any breakthrough that enriches their lives is a major "step" in the right direction.
Take a look at the advances in wheelchair technology that the students from ETH Zurich and the Zurich University of the Arts have developed:  the Scalevo electric wheelchair, which features wheels for cruising and tracks for climbing stairs: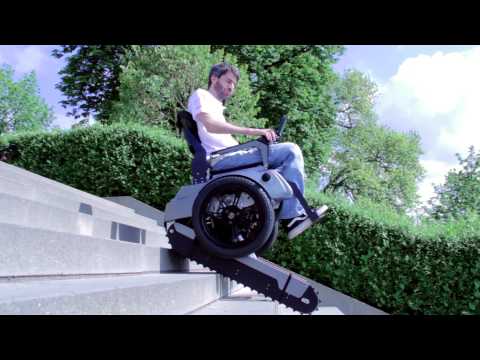 Do you have any brain child that would enrich someone's life?
My last post talked about spores.  In keeping with the 'theme', this one is about microbes.  Now, I did fairly well in biology (and didn't pass out during frog dissection, like a couple of the guys in my class)
   But, I have to admit, I didn't much pursue further information about this branch of science until I began writing for this blog.  And, I must say, I've a renewed sense of interest in how all the stuff that surrounds us can be harnessed for amazing uses.
DARPA or the

Defense Advanced Research Projects Agency

is a US Government agency.  DARPA comprises approximately 220 government employees in six technical offices, including nearly 100 program managers, who together oversee about 250 research and development programs. The program within DARPA to use the extraordinary powers of biologic material is called Living Foundries.
"Biology can replicate, it can scale from one to millions to billions in hours; it can adapt, it's programmable through its genetic code. No other technology that we know of can do these things," Alicia Jackson, deputy director of the Biological Technologies Office at DARPA, says.
Read this piece, featured on Public Radio International (PRI) to learn about why
DARPA is very actively recruiting scientists, either to build new programs or to work with them to build new technologies. One of the quirks of DARPA is that scientists can only stay for three to five years.  And your strength doesn't have to be as a biologist – there's a host of opportunities.  Maybe your future is to bring your innovations to life at DARPA?
A smile conveys SO much in your personal interactions.  It can be interpreted as a sign of love, encouragement or friendliness.  There's a whole marketing blitz that's currently hit the advertising world about products designed to enhance our smiles.  In former days, when dental hygiene was not as prevalent, there were few – old or young, rich or poor – who could lay claim to having a dazzling, perfect smile.  For some today, illness has robbed them of the confidence to display a toothsome grin to the world.
Enter 3-D Tech dentistry research, courtesy of scientists at U Alberta in Canada…  make sure to check out the video and the inspiring photos in this piece!
Working with surgeons and prosthodontists at iRSM, …CT scan images of a patient's head [are turned] into a 3-D model with the aid of computer software. iRSM has a very special advanced digital technology laboratory, the Medical Modelling Research Laboratory, which is equipped to design and simulate surgery at the Misericordia Community Hospital, Covenant Health Group in Edmonton.
University of Alberta offers both a Master's degree & PhD in Rehabilitation Science – could your work dovetail?  Perhaps you'll be leading the way in a pioneering technology that offers a new reason to SMILE!