Healthcare
The many issues facing the African continent concerning food, energy, healthcare, and many other services taken for granted in various areas of the globe continue to dominate headlines.  Those issues bring the heads of nations to the table to speak seriously on what we all can do to address crises that arise in any part of the world.  If each of us were to take steps in our own lives to examine the way we go about our daily routines, there could be some miraculous improvements.  Take a look at a company in Africa that is dedicated to that concept – and the well-deserved recognition they've received for their work!  Notably, they were a recipient of a Genesis Generation Prize in 2015.  Click the logo below to learn about this exciting company in Nairobi, Kenya…
Check out some of the awards and accolades Sanergy has garnered.  And, their reach extends beyond the places in which inhabitants live…  Read about:
Sanergy's School WASH (Water, Sanitation, and Hygiene) program aims to raise students' awareness of the importance of hygienic sanitation. Over the last year, Sanergy has made good progress toward this goal, training teachers from 109 primary schools in the Mukuru and Kamukunji areas of Nairobi. Of these, 90 schools have now installed Fresh Life Toilets for their students.
Take a look, too, at this site & think about becoming a competitor…
The Genesis Generation Challenge welcomes multi-disciplinary teams of young adults to propose big ideas to better the world. Each team must consist of approximately 10 individuals and must designate a team leader (age 20-36). Other team members must be 18 years or older. Teams may represent nonprofit or for profit entities. Because the idea must offer a sustainable and scalable solution to an important problem, we are seeking social entrepreneurs and others with experience delivering projects with lasting and innovative change in their communities and the world.
Maybe your submission will bring about a remarkable change that leaves your imprint on civilization!
If you're a Shakespeare fan, you'll be familiar with the words in the title of this blog.  If you're not a devotee of The Bard, you can catch up here and check out the literary reference:  Shakespeare Quotes
But this blog is not about that kind of sleep – it's about how lighting may be the key to getting a truly good night's rest.  Read all about the
According to Mariana Figueiro, who leads light and health research at the Lighting Research Center of Rensselaer Polytechnic Institute, "It's about delivering individualized light treatments to people."
The Sleepy Baby Bulb is an invention that comes to us from The Lighting Science Group  Perhaps this lighting is what you need to help you get through your studies – or maybe it will spark a "bright" idea for a lighting innovation of your own!!
The term "designer drug" may soon refer less to the illicit kind and more to custom creations by the pharmaceutical industry.  Aprecia Pharmaceuticals Company has just had its proprietary ZipDose® Technology platform approved by the US Food and Drug Administration (FDA).  This marks the very first instance that the FDA has given the green light for a 3D-printed drug product.
ZipDose® Technology utilizes their proprietary three-dimensional printing (3DP) platform.  This process stitches together multiple layers of powdered medication using an aqueous fluid to produce a porous, water-soluble matrix that rapidly disintegrates with a sip of liquid.
Spritam levetiracetam is an oral prescription for the treatment of seizures and those affected by epilepsy.  Aprecia's ZipDose® Technology enables the delivery of this drug, up to 1,000 mg per dose, with just a sip of water.  This rapid disintegration method is achieved by 3D printing Spritam with a porous formulation.  As a result, each dose is easy to take and does not require any measuring.
Take a look: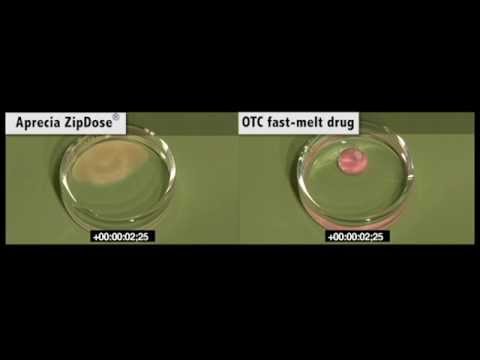 This is a great breakthrough and will greatly enhance the lives of so many that suffer from seizures and epilepsy!
If you have an interest in enhancing lives in a big way, check out their career opportunities here.