Healthcare
Botany is an exciting field.  Plant life has been cataloged, drawn/painted/photographed, distilled, and used for both nutritional and medicinal purposes for centuries.  However, overharvesting and pollution have caused many varieties to suffer and/or become extinct.  Among our goals to save the planet, plant life takes a high priority.
Read about studies taking place in South Africa to capitalize on the health-giving properties of indigenous plants.  This research could bring about economic as well as life-saving benefits!
And make a visit to the website for Stellenbosch University, where this research is taking place.
Violet is a twin who was born with born with a Tessier Cleft, a rare defect that left a fissure in her skull. Boston Children's Hospital performed a reconstructive facial surgery utilizing 3-D printing.  The surgical team created a 3-D replica of of Violet's skull enabling them to practice this rare and intricate surgery before having to actually perform it on Violet.
The video does not show the actual surgery, but describes the process that was undertaken to move Violet's eyes closer together and close the gap in her skull.
Do you have any expertise in 3-D printing that can change someone's life forever or make a real difference in the way we live?
Bionics used to be the stuff of fantasy and featured grandly on several U.S. television series.  In the world of everyday life, there are a good number of individuals who, for reasons of birth defect, disease or as the result of a (usually) shocking accident do not enjoy  'freedom' of motion and sensory perception.  Until now, prosthetic replacements for amputated limbs have been limited to those with superlative insurance to cover the cost of these devices.  We hope that is about to change…
A company in Argentina – Bioparx Health Technology – has developed a state-of-the-art bionic arm for less than half of what the others cost.   Read about their technology here:  Smart Prosthetics
And pay a visit to the bioparx company site to see if there's a place for you to contribute (or be inspired to envision the next generation of their products…).  The site is in Spanish, so if you're bilingual, this may be a great fit for you!  BIOPARX.COM 
You may also want to pay a visit to Chalmers University of Technology in Gothenburg, Sweden where they, too, are working on bionic technologies.
With so much talk of drones in the media and how they can sometimes be viewed as a threat, it is refreshing to see that some drones are actually saving lives.
From delivering blood….  to search and rescue….  to defibrillation, drones have many different roles when it comes to saving lives.
Here is a good example of how drones with thermal imagery can spot survivors of a disaster much better than could otherwise be found (look closely and you will see the white images moving amongst the rubble):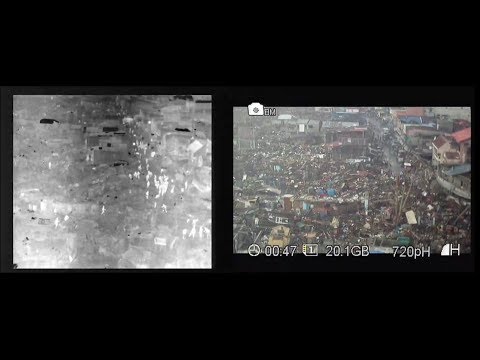 Danish firm Sky-Watch, in cooperation with DanChurch Aid, has used airborne thermal imagery to spot people stranded amongst storm debris. The drones can be in the air in a matter of minutes after a disaster strikes, saving lives earlier.
There are signs more drones are coming to developing countries. A team from Delft University of Technology, in the Netherlands, has created a UAV (unmanned aerial vehicle) with built-in defibrillation equipment. And EPFL is working to set up African drone networks to deliver blood supplies to rural health clinics.
Do you have a need for a drone in the technology you are developing?  Drone Adventures provides the drones for other industries that have a need, so you don't have to be an expert in drone technology, but can benefit from their expertise.