Leadership
Fourteen flooring tiles from London-based clean-tech company Pavegen Systems were installed outside the Saint-Omer subway station in northern France. The tiles, each roughly 7 by 24 inches, generate renewable electricity from the otherwise wasted energy of footsteps.
When a walker's foot makes contact with the tile, it bends inappreciably, depressing an average of five millimeters each step and creating approximately seven watts of converted kinetic energy in the process. The slabs, made from 100 percent recycled rubber, can store energy for up to 72 hours via small built-in batteries.
"I realized that although wind and solar alternatives were progressing exponentially, they were inefficient in urban environments due to high-rise infrastructure and pollution," he says. "Given that 60 percent of the world's population would be residing in urban environments by 2030, I decided to investigate further. I discovered footfall as an untapped, renewable resource that is efficient, constant, and literally all around us, to be used when and where it is needed."
The tiles were also installed at the Simon Langton Grammar school in Kent, UK. Check out the students' reaction to this exciting new technology: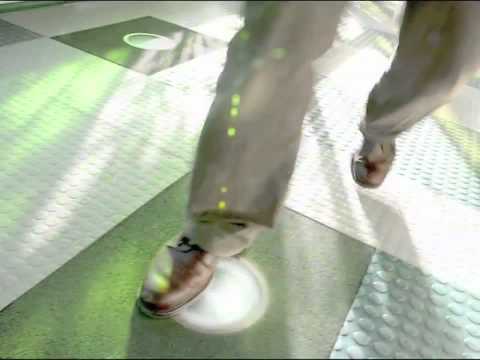 This is a win-win situation for all involved: the students who get inspired to think of ways to contribute to a smarter planet at a very young impressionable age, the company looking to expand operations into different venues to capture greener energy production, and, of course, the entrepreneur who profits from this great new technology!
What a great world we live in – that young minds can shape a very (literally) bright future!
For those of us fortunate enough to have been granted the full use of all of our limbs throughout all of our life, it is nearly impossible to understand the challenges faced daily by those who don't have unlimited mobility.  There are numerous charities around the world that work tirelessly to collect funds for research.  There are countless hospitals and clinics staffed by caregivers and rehabilitation specialists.
This story is about the brilliant work of a man whose own physical abilities have been reduced – and his gift of new mobility to others who need a helping (robotic) hand…
Invented by Dr. Goffer, the Founder and President and Chief Technical Officer of ReWalk Robotics, the ReWalk allows paraplegics to stand upright, walk and in some cases climb stairs.  He is a graduate of Technion University in Israel.  An Israeli inventor who became quadriplegic after an ATV accident in 1997, it was through his own personal experience in utilizing mobility devices for people with spinal cord injury that Dr. Goffer developed the ReWalk.
Read the

press coverage

and be inspired!!! This is the use of technology for a truly unselfish and humane cause. 

You

can make this kind of a difference in the world, too!
Remember the cartoon characters whose heads were smashed in below their shoulders and then – ta-dah! – their heads magically re-expanded and they were on to their next prank?  Cavorting and wise-cracking as though nothing untoward had happened at all.  Doesn't usually work that way in real life, does it?  But research on regenerative cell growth may provide some clues to scientists for just this type of 'magic'.
While the odds remain pretty slim that if your head is smashed by a giant rubber hammer wielded by a colossus they'll be able to grow you a new one, this path of study may offer some new-found opportunities for patients who've not had other treatment avenues to explore.
Primary research is taking place at The Regenerative Medicine Institute in Galway, Ireland. Professor Uri Frank has this to say: "While there's no market for regrowing human heads, wouldn't it be great if we could repair spinal cords, damaged hearts, damaged kidneys, hands and any other organs we might lose?"
Maybe your own research will provide keys to some other medical breakthrough?  Or perhaps your invention will bring about advances in medical science already underway…  In any event, as the saying goes:  the trick is to keep your head while all those around you are losing theirs!
With the hazards of Ebola and anti-government protests and genocide being front and center in the news, we sometimes overlook the many organizations quietly operating in the background to bring assistance to those in strife or peril.  I ran across this entity quite by accident as part of my work for university programming.  Maybe your studies will bring you to become part of their efforts? Click on the logo below to learn more…
TIDES stands for Transformative Innovation for Development and Emergency Support. This research project is coordinated at the Center for Technology and National Security Policy (CTNSP) at the National Defense University (NDU), which is part of the Department of Defense.
STAR-TIDES (Sharing To Accelerate Research-Transformative Innovation for Development and Emergency Support) is a research effort that promotes sustainable support to stressed populations – post-war, post-disaster, or impoverished, in foreign or domestic contexts, for short-term or long-term (multi-year) operations. The project provides reach-back "knowledge on demand" to decision-makers and those working in the field. It uses public-private partnerships and "whole-of-government" approaches to encourage unity of action among diverse organizations where there is no unity of command, and facilitates both inter-agency and international engagement.
TIDES has three strategies that frame everything they do:
Leverage Global Talent
Promote Integrated Approaches
Sustain through the Private Sector
There are internships available through the National Defense University – check it out!