Public safety
I love it when I come across articles that describe how companies are using waste products in unconventional ways.  I find the solutions for everyday waste products both fascinating and surprising (and in some cases think – I should have thought of that!).
Take a look at some of these really cool recycle ideas:
1.  Turning tomatoes into plastics – because the demand for plastics is growing, more thought is needed on how to sustainably satisfy the demand.  Auto-giant Ford has been leading research into 100% bio-based plastics, teaming up with Heinz in a mutually beneficial union.
While producing their world famous ketchup, Heinz generates up to 2 million tons of stems, seeds and skins every single year. In a collaboration with plastics research specialists from Ford, the companies are striving to create a plastic material from plant byproducts which can be used in many aspects of automotive design and finishing.  The Coca-Cola Company, Nike Inc. and Procter & Gamble are also involved in the project, which will incorporate bio-plastic material into everything from packaging to clothing, making a huge dent in the impact of petrochemical-based products on the environment.
2.  De-icing roads with cheese brine – yes, you read that correctly.  The Wisconsin city of Milwaukee has discovered a way to alleviate the dairy manufacturers' problem of disposing of thousands upon thousands of gallons of cheese brine (the salty liquid which is left over after the production of Wisconsin's famous soft cheeses).  They will use this cheese brine waste to treat the harsh winter roadways which freeze over with ice.  This new partnership saves tens of thousands of dollars for the municipality and manufacturers every year.
3.  Making beer with unsold bread – The "Brussels Beer Project" led by the Belgium micro-brewers have teamed up with a local sustainability group to produce "Babylone"- a beer made using leftover bread which would otherwise have been thrown out.

Talented brewing specialists were able to reduce the amount of barley used in the brewing process and replace it with bread sourced from local supermarkets, a move which sees an average of 500kg worth of unused loaves that find their way into 4000 liters of amber ale.
4.  Using sugar beets to cool refrigerators – Anaerobic digestion, the process by which biodegradable waste materials are converted into energy or heat – has become a staple in the quest for greener industry.  The success of anaerobic digestion led UK supermarket giant Sainsbury's to investigate new ways in which food byproducts could be utilized, leading to the implementation of eCO2: an alternative refrigerant which is derived from waste sugar beet.
eCO2 meets all the refrigeration requirements of CO2, but is manufactured in a sustainable, environmentally friendly way. The same manufacturer that supplies Sainsbury's with sugar also supplies the refrigeration company with the waste beet material necessary for creating eCO2, which Sainsbury's will use to cut their CO2 emissions by 30% by 2020.
Do you have any waste produced that you can recycle into something that reduces the draw on our natural resources?
The many issues facing the African continent concerning food, energy, healthcare, and many other services taken for granted in various areas of the globe continue to dominate headlines.  Those issues bring the heads of nations to the table to speak seriously on what we all can do to address crises that arise in any part of the world.  If each of us were to take steps in our own lives to examine the way we go about our daily routines, there could be some miraculous improvements.  Take a look at a company in Africa that is dedicated to that concept – and the well-deserved recognition they've received for their work!  Notably, they were a recipient of a Genesis Generation Prize in 2015.  Click the logo below to learn about this exciting company in Nairobi, Kenya…
Check out some of the awards and accolades Sanergy has garnered.  And, their reach extends beyond the places in which inhabitants live…  Read about:
Sanergy's School WASH (Water, Sanitation, and Hygiene) program aims to raise students' awareness of the importance of hygienic sanitation. Over the last year, Sanergy has made good progress toward this goal, training teachers from 109 primary schools in the Mukuru and Kamukunji areas of Nairobi. Of these, 90 schools have now installed Fresh Life Toilets for their students.
Take a look, too, at this site & think about becoming a competitor…
The Genesis Generation Challenge welcomes multi-disciplinary teams of young adults to propose big ideas to better the world. Each team must consist of approximately 10 individuals and must designate a team leader (age 20-36). Other team members must be 18 years or older. Teams may represent nonprofit or for profit entities. Because the idea must offer a sustainable and scalable solution to an important problem, we are seeking social entrepreneurs and others with experience delivering projects with lasting and innovative change in their communities and the world.
Maybe your submission will bring about a remarkable change that leaves your imprint on civilization!
While it may sound like an oxymoron, the WalkCar is a reality.
With mobile phones, an industry was created that changed the communications model and allowed people to talk with one another anytime and anywhere -  free from a 'land line'.  The WalkCar may do the same for the auto industry.  It may be an item that will revolutionize the way we think about transportation – in addition to helping solve the dilemma of being unable to find a parking spot in a crowded urban location!!
As described by Charles Osgood on CBS Radio:  It is a lightweight aluminum board that – despite looking like a cookie sheet on wheels – has a top speed of over six miles an hour and a range of nearly seven-and-a-half miles when fully charged. …  The device is also pretty simple to maneuver, with the rider just shifting his weight to change direction.
Kuniaki Sato is the CEO of Cocoa Motors, which makes the WalkCar. He told Reuters it was designed to fit in a small bag…
Check out the video on YouTube here:
For those of us who haven't mastered a skateboard, this may be a tad unnerving – I like to have something to hold on to when I'm free-rolling along a sidewalk.  But, it certainly looks like fun!  And it's a non-polluting source of mobility.  What's your opinion?
September 25th, 2015
10:30
The following post was provided to us by Emmanuel Balami from the University Putra in Malaysia.  Thank you, Emmanuel, for sharing this news about your work!
High-Tech Public Utility Management
Following global concerns about Sustainable Development, and Environmental issues, it has become imperative to innovate, so, the idea of using embedded systems and ICT to help our world efficiently manage resource. These resources (water, energy, and food) are not only scarce but grossly mismanaged or wasted by the public. This module is a contribution in facilitating Responsible Consumption, Change of Attitude by the public toward public utility, especially where governments subsidise these resources for the poor and also to schools and large populations. Organisations/countries that are providing aids to poor countries may wish to take advantage of this module in providing services to humanity, and also, there will be no need for subsidy coupons for countries offering that.
Here are some photos that show the system components and a demo:
Additional information on the project may be obtained by contacting Emmanuel Luke (bel) BALAMI   imabalami@gmail.com
Emmanuel wishes to thank IBM-USA, for funding this project to a successful execution, and Wendy Murphy, for selecting this project & her unflinching support and guidance.  And, if you'd like to learn more about Universiti Putra Malaysia, please click the logo: 
The term "designer drug" may soon refer less to the illicit kind and more to custom creations by the pharmaceutical industry.  Aprecia Pharmaceuticals Company has just had its proprietary ZipDose® Technology platform approved by the US Food and Drug Administration (FDA).  This marks the very first instance that the FDA has given the green light for a 3D-printed drug product.
ZipDose® Technology utilizes their proprietary three-dimensional printing (3DP) platform.  This process stitches together multiple layers of powdered medication using an aqueous fluid to produce a porous, water-soluble matrix that rapidly disintegrates with a sip of liquid.
Spritam levetiracetam is an oral prescription for the treatment of seizures and those affected by epilepsy.  Aprecia's ZipDose® Technology enables the delivery of this drug, up to 1,000 mg per dose, with just a sip of water.  This rapid disintegration method is achieved by 3D printing Spritam with a porous formulation.  As a result, each dose is easy to take and does not require any measuring.
Take a look: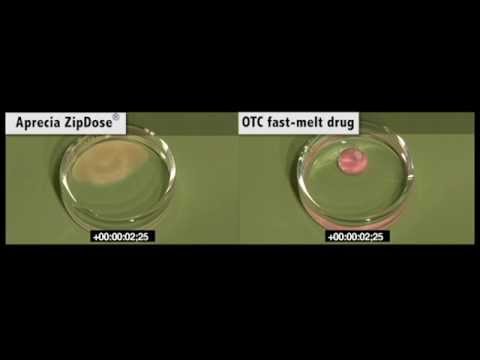 This is a great breakthrough and will greatly enhance the lives of so many that suffer from seizures and epilepsy!
If you have an interest in enhancing lives in a big way, check out their career opportunities here.