Security and resilience
Chances are you're already familiar with the term Internet of Things – and the acronym IOT – that keeps popping up all over in media of all kinds.  In case you're not…here's a great definition from Technopedia
"…its initial use has been attributed to Kevin Ashton, an expert on digital innovation

In 1999, Ashton said it best in this quote from an article in the RFID Journal:
"If we had computers that knew everything there was to know about things – using data they gathered without any help from us – we would be able to track and count everything, and greatly reduce waste, loss and cost. We would know when things needed replacing, repairing or recalling, and whether they were fresh or past their best"."
Many companies have been jumping on the IOT band-wagon.  Here's a nifty article and video from Hewlitt Packard that sums up their contribution:
The Internet of Things has exploded which means tremendous implications for apps, the cloud and the telecommunication service providers who keep it all connected.
So, you may be wondering how can lights cut emissions.  Well, the Danish city of Copenhagen has decided to host a massive experiment to determine the effectiveness of so-called "smart lights" – energy efficient street lamps that could cut carbon emissions and even help monitor an urban setting.
Their climate change plan is a roadmap to make Copenhagen "carbon neutral" by 2025, cutting carbon emissions to insignificant levels.  To become utterly devoid of all but the most insignificant of carbon dioxide emissions, the city will have to overhaul and reinvent some of the most iconic parts of city-life.  Lighting has been found to account for about six percent of global carbon emissions, a worrisome greenhouse gas.  According to New Scientist, Los Angeles pumped out 111,000 metric tons of carbon to keep its streets lit, simultaneously costing the city and estimated $15 million.
The 5.7 miles (9.2 km) of road in the Copenhagen suburb of Albertslund has replaced their street lights with "smart lights" which will be closely observed.  These lights could even help monitor city life, sensing potentially dangerous toxins in the air or noticing peculiar street activity that may warrant police attention.
It's nice to see yet another big move in an effort to clean up our planet.
If you're a Shakespeare fan, you'll be familiar with the words in the title of this blog.  If you're not a devotee of The Bard, you can catch up here and check out the literary reference:  Shakespeare Quotes
But this blog is not about that kind of sleep – it's about how lighting may be the key to getting a truly good night's rest.  Read all about the
According to Mariana Figueiro, who leads light and health research at the Lighting Research Center of Rensselaer Polytechnic Institute, "It's about delivering individualized light treatments to people."
The Sleepy Baby Bulb is an invention that comes to us from The Lighting Science Group  Perhaps this lighting is what you need to help you get through your studies – or maybe it will spark a "bright" idea for a lighting innovation of your own!!
A new hotel that is staffed with robots opened in Japan on July 17, 2015. The Henn-na Hotel (which translates as "Strange Hotel"), is part of the Huis Ten Bosch theme park complex in Sasebo, Nagasaki Prefecture.  This is a very no frills kind of place to stay.  It is expected that guests will rarely interact directly with human hotel staff.
The Henn-na Hotel was designed by Kawazoe Lab, the Institute of Industrial Science at the University of Tokyo, and Kajima Corporation.  As well as aiming to provide a pleasant and comfortable stay for guests, the hotel was designed to be cost-effective, modern, environmentally-friendly and fun.
Take a tour and see what you think: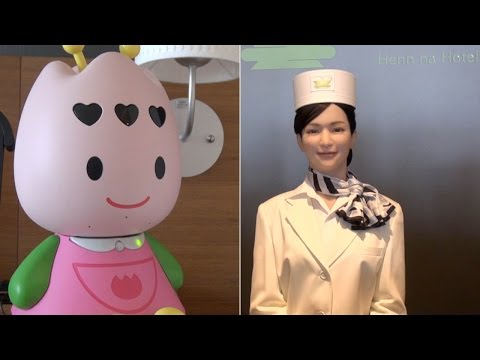 The cost of a room seems very reasonable.  I think I would miss some of the human interaction, but it might be fun to try it out if you're going to the theme park.  Certainly the future planned developments look intriguing.
Would you stay here?
Have you noticed?  Everywhere you turn, it seems that emoji's are flooding our written communications.  Originally meaning pictograph, the word emoji literally means "picture" (e) + "character" (moji).  As funny as they sometimes are, Intelligent Environments is capitalizing on the security aspect of these funny ideograms.
"The Emoji Passcode plays to humans' extraordinary ability to remember pictures, which is anchored in our evolutionary history," Intelligent Environments quotes memory expert Tony Buzan as saying. "We remember more information when it's in pictorial form, that's why the Emoji Passcode is better than traditional PINs."
Passcodes made up of emoji are reportedly more secure, as offering a choice of 44 emoji means there is a total of 3.5 million possible permutations. That's a lot more impressive than the 7,000-odd non-repeating PIN permutations. Using pictures should also prevent criminals from identifying significant numbers associated with an individual's life, such as birthdays or anniversaries.
What do you think?  Would you like to pick a string of 4 emoji's to secure your vast bank account?