Sustainability
September 16th, 2014
11:25
Have you ever submitted a paper to a conference? There is currently a call for papers for the Eleventh Sustainability Conference to be hosted in Copenhagen, Denmark on 21-23 January 2015. Here's an opportunity to share you great idea(s) for sustainability!
This is a knowledge community brought together by a common concern for sustainability in an holistic perspective, where environmental, cultural, economic and social concerns intersect. The community interacts through an innovative, annual face-to-face conference, as well as year-round online relationships, a family of peer reviewed journals, and book series. Members of this knowledge community include academics, teachers, administrators, policy makers, and other education practitioners.
Proposal guidelines can be found here.
Good luck to those who submit!
While aesthetics are often a main concern in home furnishings, and haute design is slick, these gadgets may completely revolutionize decor!  If you live in a house built in the 1800′s (as I do), you might have some reservations about putting these pieces next to a vintage dining table or hand-turned stair banister – but, mixing things up might make you a forerunner in stylish magazine photos, right???
École polytechnique fédérale de Lausanne (EPFL—Swiss Federal Institute of Technology in Lausanne) scientists are creating futuristic furniture that can move around and autonomously change its shape.
After all, the Swiss are known for the cuckoo clock and that's become a collectible around the world – proving a little silliness can be a very positive thing!
Roombots take a 'Transformer' spin on furniture design
Roombots: Modular Robots That Become Adaptive Furniture
Spray-on solar cells energize almost any surface. Bulky and expensive photovoltaic panels are so 2008. So what does the future look like?
The benefits that are promised by the spray-on solar cells include their low price, easily-produced solar energy and effectiveness.
Spray-on solar paint could help generate electricity from any surface.
Drastically cutting the cost of solar power could put it in league with fossil fuels, and the US Department of Energy (DoE) is betting on it. The DoE's SunShot Initiative aims to cut the price of installed solar power generators by 75 percent (of the 2010 cost) by the year 2020. They are so invested in this program that they are currently running an innovation challenge: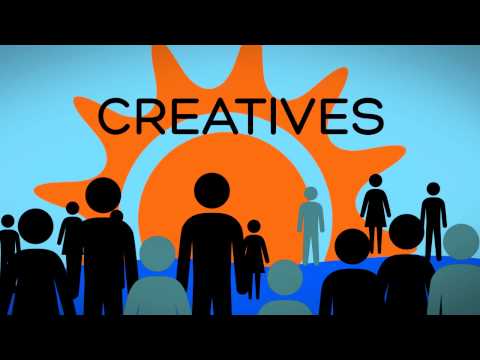 Here's the latest news on spray-on solar cells….
Do you have what it takes to be a pioneer in this industry?