Sustainability
What do you get when you mix salt water and fresh water?  The answer: ENERGY  (or at least that's one possible answer…)  While this isn't exactly new technology, it has been underdeveloped and underutilized.  Maybe that's about to change?
"Blue energy was first proposed in 1954 by a British engineer named R E Pattle. It is sometimes called "osmotic power", because it exploits the phenomenon of osmosis. To understand how this works, picture two solutions of water with different concentrations of a dissolved substance like salt. If these two solutions are separated by a thin "semi-permeable" membrane that lets water through but not salt ions, then water will naturally pass from the less- to the more-salty side. The flow of water across the membrane builds up pressure on one side that can be used to drive turbines and generate power."
Read this highly informative article on bbc.com/future to learn how the ability to generate power from water may be 'awash' across the globe:
Researchers at both University of Utrecht (Netherlands) and University of Granada (Spain) are exploring refining the original processes to make them more cost effective.
Click on the picture to learn a little about the history of one such power plant.
How will you participate in this innovative planning to "energize" the planet?
If you are fortunate enough to live in a part of the world that's blessed with sunshine a good amount of the year, you take advantage of that blessing.  Students at Cal Poly put their minds to just such a project with their INhouse.  It's part of a competition that will take place at the Orange County Great Park in Irvine, California, from October 8 through October 18.
"…the name INhouse describes the process the team has been going through—the design, engineering, and construction is really "in house" at Cal Poly. Also, three words—"interactive," "intuitive," and "integrated"—describe the technological-meets-natural features of the house. Mostly, it's learning by doing—a process of iteration and trying many things before reaching a final conclusion."
Read about the team and watch their video!
The story linked above was first published on the site: 1SunforAll.  Visit them and learn more about the sun's extraordinary powers and how we are finding new ways to brighten our world with new technology!
Ensuring that the food we eat is locally and sustainably grown is not always easy, especially in cities where crop-growing space is at a premium. Firms like Freight Farms and Cropbox, however, have a solution to this problem. They offer shipping containers that are kitted out as self-contained farms.
Check out this truly farm-to-table approach – and when I say farm, I mean freight container: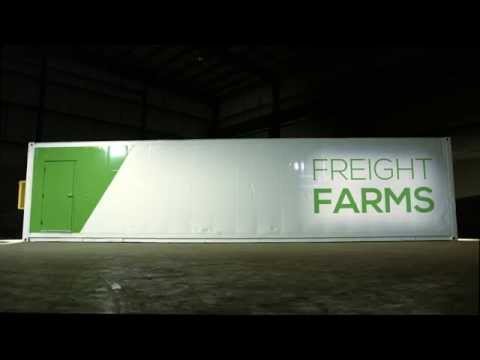 Another newbie in this arena is Cropbox, which appears to have a lot of the same features at a reduced cost.  They claim that you can grow the equivalent of an acre of field grown crops or 2,200 square feet of greenhouse space within a 320 sq ft footprint.  The business is scalable as you can expand vertically by stacking the containers 5 high – especially useful if setup in an urban area.
Sustainability features:
90% less water use than conventional and greenhouse cultivation
80% less fertilizer than conventional cultivation
Automatic record keeping for optimization
34% less inventory loss through simpler logistics
And both of these products enable consistent optimization of the growing process via a smartphone.
It kind of makes you want to try out your "green thumb"!
In our world of seemingly endless acronyms, I stumbled upon this one – and once you see the tongue-twister it represents, you'll understand why a shorter name was called for…
CRISPRs (clustered regularly interspaced short palindromic repeats) are segments of prokaryotic DNA containing short repetitions of base sequences.  [Prokaryotic DNA are single-celled organisms that lack a membrane-bound nucleus (karyon), mitochondria, or any other membrane-bound organelles]   Researchers hope to use CRISPR to adjust human genes to eliminate diseases, create hardier plants, wipe out pathogens and much more besides.
DNA research making use of CRISPR has been ongoing since the late 1980′s. Please note: while I have NO training in micro-biology or anything approaching a minimal understanding of the subtleties of this field, I am a strong believer that in order for technology to be well used to benefit humankind, those who categorize themselves as experts should be mindful of the potential harmful consequences of their work…  I encourage you to form your own opinion based on the article I've linked below [it's a very long piece, but worth more than a skim given the seriousness of the topic].
There are links to a variety of materials within the article that give several points of view – as well as some kickin' charts.  Give those some attention as well.  They'll appeal to those who prefer a graphical representation of the growth of CRISPR research.
Once you've digested all the material, THEN ask yourself what your role might be in the pursuit of genetic modification…are you pro or con?