Transportation systems
Philips has announced that it plans to make 110,000 LED street lights in Los Angeles connected. The company will bring the lights online using new plug-and-play CityTouch technology. It is said to be quick and easy to install, and will allow the city's lights to be monitored and controlled via the web.  Los Angeles will reduce its street lighting energy consumption by up to 70 percent, by switching to LEDs.
The plug-and-play nature of the technology reduces the time and cost of programming and commissioning each fixture. Philips says the device can also reduce maintenance costs by around 20 percent, by automatically reporting faults.  And with reduced energy consumption comes reduced costs.
It would be pretty cool to be able to modify the lighting around my town!  Some streets aren't well lit which makes it hard to detect the wildlife that may be lurking in your path.
Not only is this technology saving our planet by reducing our energy consumption, but it's making it safer for it's inhabitants!
Ensuring that the food we eat is locally and sustainably grown is not always easy, especially in cities where crop-growing space is at a premium. Firms like Freight Farms and Cropbox, however, have a solution to this problem. They offer shipping containers that are kitted out as self-contained farms.
Check out this truly farm-to-table approach – and when I say farm, I mean freight container: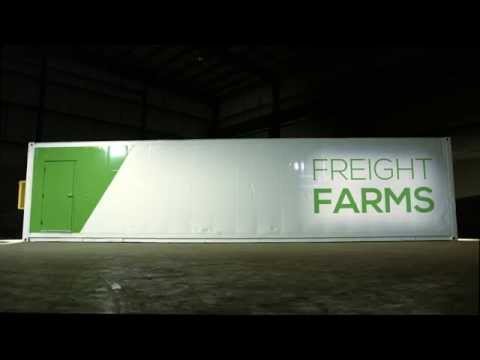 Another newbie in this arena is Cropbox, which appears to have a lot of the same features at a reduced cost.  They claim that you can grow the equivalent of an acre of field grown crops or 2,200 square feet of greenhouse space within a 320 sq ft footprint.  The business is scalable as you can expand vertically by stacking the containers 5 high – especially useful if setup in an urban area.
Sustainability features:
90% less water use than conventional and greenhouse cultivation
80% less fertilizer than conventional cultivation
Automatic record keeping for optimization
34% less inventory loss through simpler logistics
And both of these products enable consistent optimization of the growing process via a smartphone.
It kind of makes you want to try out your "green thumb"!
North West Bicester (pronounced "Bister") is one of four designated eco-towns in the UK announced by the government in 2007. The aim is to create a town that is good for the environment, good for the economy and a nice place to live.
This eco-town described as the UK's "most sustainable development" is moving closer to being occupied. The first residents are expected to move into North West Bicester later this year. It is also one of a handful of One Planet communities around the world. The One Planet scheme was set up by sustainability charity BioRegional. It aims to find ways for people and societies to reduce their level of consumption to an extent that is sustainable based on the amount of resources that the planet can provide.
Take a peek at this exciting new town development: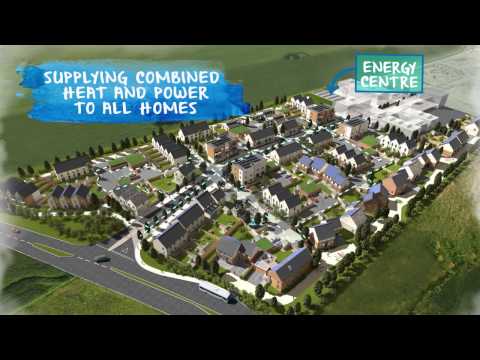 Looks like an ideal place to live.  What great ideas do you have that could make this an even more sustainable place to be?
NASA has issued a challenge to designers aimed at stimulating innovation in 3D printing solutions that may one day be the key to establishing a permanent presence on Mars.
NASA has launched the multi-phase 3D Printed Habitat Challenge as part of its Centennial Challenges program.  Phase 1 of the competition runs until September 27, with the top 30 submissions to be judged at the World Maker Faire in New York.
The first phase of the challenge will award a $50,000 prize based on pure architectural merits, while a second will hand out two $1.1 million prizes for those who figure out how to manufacture individual components and whole shelters from "indigenous materials," such as rocky soil. NASA hopes that the winning ideas will make it possible to settle alien terrain without bringing mountains of Earth-made construction supplies. That would not only let crews pack light, but fix their own abodes if something goes wrong millions of miles from Earth.
Do you have the skills needed to accept this challenge?
Ensuring the protection of pedestrians will become a bigger issue for cities as more people move to urban areas, increasing traffic. Read about three initiatives that aim to make the streets safer for citizens. 
Where Traffic Monitors Earn Their Stripes
La Paz, Bolivia, literally is changing its stripes to improve pedestrian safety. The city, as part of a campaign to increase public awareness on road safety, is employing at-risk youth to dress in zebra costumes at pedestrian crosswalks throughout the capital to attract motorists' attention and ensure they come to a stop. Participants in the "Mama Zebra" program, which was initially launched in 2001, are typically 15 to 22 years old and are also charged with making sure that pedestrians wait until the street is safe to cross.

Protecting Pedestrians With a Ping
For city walkers, tuning out can be a risky move. Being distracted while wearing headphones or texting can result in pedestrians not being able to hear potential warnings from vehicles or bikes. To help give those distracted walkers — or the hearing-impaired — a heads up of a potential collision, researchers at the University of Missouri, Kansas City, are working on a smartphone application that will alert pedestrians that they are approaching the path of an oncoming car or bike. Wi-Fi Honk uses the information smartphones send out while searching for available wireless networks to estimate potential collisions and issues auditory and visual alerts. The system can also give the same warning to drivers.
Changing Attitudes on Traffic Safety
With more than 250 deaths and about 4,000 people seriously injured in traffic accidents each year, leaders in New York City decided enough was enough. That's why they implemented Vision Zero — a program aimed at putting a major dent in traffic deaths and injuries. At the heart of Vision Zero's mission is the transformation of cultural attitudes. Rather than accepting traffic fatalities as accidents, the program seeks to educate everyone from government agencies to citizens that crashes aren't inevitable, but result from actions and behaviors that can be changed through better enforcement against dangerous moving violations, new street designs and public outreach. It's a plan that's already been tried and tested with success. In Sweden, where Vision Zero originated, pedestrian fatalities have dropped 50 percent in the last five years.
What type of traffic and transportation safety innovations would you like to see in your community? Sign-up here to tell us about it and help change the world for the better.