Transportation systems
While it may sound like an oxymoron, the WalkCar is a reality.
With mobile phones, an industry was created that changed the communications model and allowed people to talk with one another anytime and anywhere -  free from a 'land line'.  The WalkCar may do the same for the auto industry.  It may be an item that will revolutionize the way we think about transportation – in addition to helping solve the dilemma of being unable to find a parking spot in a crowded urban location!!
As described by Charles Osgood on CBS Radio:  It is a lightweight aluminum board that – despite looking like a cookie sheet on wheels – has a top speed of over six miles an hour and a range of nearly seven-and-a-half miles when fully charged. …  The device is also pretty simple to maneuver, with the rider just shifting his weight to change direction.
Kuniaki Sato is the CEO of Cocoa Motors, which makes the WalkCar. He told Reuters it was designed to fit in a small bag…
Check out the video on YouTube here:
For those of us who haven't mastered a skateboard, this may be a tad unnerving – I like to have something to hold on to when I'm free-rolling along a sidewalk.  But, it certainly looks like fun!  And it's a non-polluting source of mobility.  What's your opinion?
I don't know about you, but I'm not sure I could get up the nerve to traverse this new glass bridge proposed for China.  And I'm not necessarily frightened by heights.
Hunan Province in China has commissioned the architectural firm of Haim Dotan to produce a completely transparent glass bridge spanning 370 m (1,214 ft) across the Zhangjiajie Grand Canyon in a bid to increase tourism.  The bridge is planned to be 400 m (1,312 ft) above the canyon floor.  It will have the capacity to hold 800 people at a time.
The world's highest bungee jump is planned for the center of the span for those thrill seekers who find the bridge experience too tame.  Slated to open some time next year, the glass bridge is touted as a "Wonder of the World" by Hunan Province.
Something to add to the 'bucket list' for some
A new hotel that is staffed with robots opened in Japan on July 17, 2015. The Henn-na Hotel (which translates as "Strange Hotel"), is part of the Huis Ten Bosch theme park complex in Sasebo, Nagasaki Prefecture.  This is a very no frills kind of place to stay.  It is expected that guests will rarely interact directly with human hotel staff.
The Henn-na Hotel was designed by Kawazoe Lab, the Institute of Industrial Science at the University of Tokyo, and Kajima Corporation.  As well as aiming to provide a pleasant and comfortable stay for guests, the hotel was designed to be cost-effective, modern, environmentally-friendly and fun.
Take a tour and see what you think: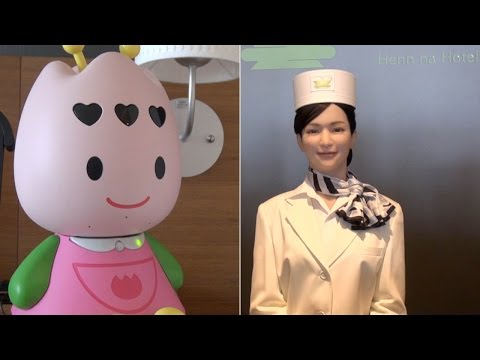 The cost of a room seems very reasonable.  I think I would miss some of the human interaction, but it might be fun to try it out if you're going to the theme park.  Certainly the future planned developments look intriguing.
Would you stay here?
September 14th, 2015
10:22
You may remember a recent blog which described a great new innovation – the Smog Free Tower being developed by Dutch artist Daan Roosegaarde.  Well, Daan's been busy with many great sustainable projects.
Here's another:  Van Gogh's The Starry Night is the inspiration for a new illuminated bike path in the Netherlands which is part of a program that celebrates Van Gogh in 2015, the 125th year after his death.
The new cycle path designed by Studio Roosegaarde aims to make cycling in the dark a touch safer, while introducing an artistic element.  The Van Gogh-Roosegaarde in Eindhoven glows in the dark to show cyclists the way.
The path features thousands of luminescent stones that are charged via solar energy during the day and glow when it gets dark. This means that, in addition to helping to light the cycle path and celebrating Van Gogh's work, the stones do not use any electricity.
A similar principle is used by the Starpath system, which has been used to create a glow-in-the-dark pedestrian path in the UK.  The UK company Pro-Teq has developed a water-resistant, spray-on coating that absorbs UV light during the day and releases it at night, adapting to the lighting conditions in its surroundings.
As mentioned, there are a number of other concepts under the Smart Highway umbrella yet to be piloted. Dynamic Paint envisions the use of temperature sensitive paint on the roads to provide contextual information. For example, if it were to be very cold, then the usually transparent paint would become visible and display warning messages.
Another is Interactive Light which seeks to detect where cars are on a road and then light only the sections of the road around and in front of them. The aim of this would be to reduce the use of electricity by dimming lighting where roads are empty. Induction Priority Lane, meanwhile, proposes a lane with electric vehicle charging technology embedded under the road surface, while Wind Light envisions turbines at the side of the road that generate electricity for lighting using the wind caused by passing cars.
Looks like our cities around the world are getting a beautiful sustainable makeover.  Kind of makes you want to go exploring at night just to see all of the sparkle!
Researchers from Hiroshima University recently demonstrated a new portable bridge (MB4.0) that is said to be "the world's fastest, largest, strongest, and lightest expanding temporary bridge."  The scissoring origami-inspired bridge could help out in disasters within an hour of arrival.
Natural disasters like floods, earthquakes or landslides have a nasty habit of cutting survivors off from aid by destroying bridges.
When not in use, the MB4.0 is contracted like an accordion and can be towed on a trailer. Once it gets to the site of a destroyed bridge, however, it employs a scissor-like action to fold out, its sections of decking sliding out end-to-end to provide a platform for vehicles.
Are you inspired by this design to engineer what's needed in other disaster situations?