Transportation systems
Along with modernization has come an increase in noise pollution worldwide.  Although this technology was introduced approximately a year ago, its relevance remains timely.  As we move further along the path to more organized and efficient mass transportation worldwide, consideration must be given to the impact the noise will have on the surrounding environs and inhabitants (both human and other…)  Sustainability of the materials is another concern – and that, too, is addressed.
Take a look at the: BREMEX ANNSYS for railways – watch the videos posted there!  The system was designed by 
a company based in Slovenia, and has been installed in Russia and Germany.  Visit their website by clicking on the logo above.  Their purpose is developing systems that solve worldwide railway problems relating to noise, wear and tear, friction, vibrations, jolts, corrugation, maintenance problems, and railway working conditions.  All their solutions are supported by revolutionary WONROS™ (Wear Out and Noise Reduction On Source) technology.
And, read about their involvement in the Better Cities for Better Life conference held in Prague in 2014.
Advantages of the BREMEX system:
99 % reduction of high frequency braking noise
Reduces vibrations and strokes on the rail brake
Effective anti-wear protection of rail braking segments and wagon wheel flanks
Effective anti-noise and anti-wear protection for exposed parts on the switches, check rails, etc
Operates at all extreme weather conditions with the same material (DBM 50)
What noise reduction systems do you envision to make the world a more soothing place to inhabit, while providing increased mobility to the masses?
The aircraft – called Solar Impulse-2 – has traveled it's first leg of what will be a 5 month trip.  The 2 pilots will take turns piloting each leg of the trip with stops along the way to spread the message about the aircraft that uses no fossil fuel.  The route will cross the Pacific and Atlantic oceans while skipping from continent to continent.
One of the challenges will be that they may have to fly for five days and five nights to cross the oceans.
This newer Solar Impulse model has a wingspan of 72m, which is wider than a 747 jumbo jet. And yet, it weighs only 2.3 tons.
Its light weight will be critical to its success.
So, too, will the performance of the 17,000 solar cells that line the top of the wings, and the energy-dense lithium-ion batteries it will use to sustain night-time flying.
Operating through darkness will be particularly important when the men have to cross the Pacific and the Atlantic.
Here's the flight path:
Witness the historic landing of the first leg which takes place at night:
We wish them great success as they traverse the globe and prove that solar power is where more expertise should be focused.
Do you have any skills to contribute to this VERY important technology?
The University of Michigan Ann Arbor is taking driving to roads hitherto untraveled!  They're testing vehicles in a 'fake city' constructed on their campus under the auspices of the Mobility Transformation Center, a partnership with industry and government to lay the foundations for a commercially viable ecosystem of connected and automated mobility.  Read the story straight from the school:
Called M City, the one-of-a-kind facility will include a network of roads with up to five lanes, intersections, roundabouts, roadway markings, traffic signs and signals, sidewalks, bus facilities, benches, simulated buildings, streetlights, parked cars, pedestrians and obstacles like construction barriers.
The story is getting play from the UK tabloids as well…   The Fake City Helping Create Tomorrow's Cars
While it might seem like an image out of a Hollywood movie clip, the advances that are made on this "stage set" are hoping to lead to the implementation of a connected and automated mobility system on the streets of southeastern Michigan by 2021.
WOW – OSVehicle is gaining traction as an open source DIY electric car – check it out: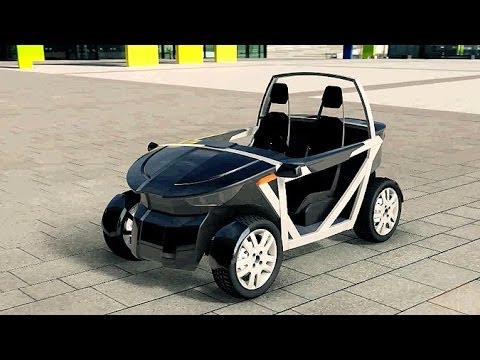 The OSVehicle, which comes in both two seat and four seat versions, can integrate a fully electric drivetrain, an integrated hybrid engine, or an internal combustion engine
They have a robust career page available here which lists some tech/engineering jobs that would put you on the leading edge of this great new technology!
Transportation is a tricky issue for countries around the world.  With increases in population, more and more bodies need to move from one location to another.  And 'the need for speed' is always at the forefront of everyone's mind.  Combine that with critical sensitivity to 'saving the planet', and you've got a recipe for… Battery-operated trains?
This test pilot in the UK may provide some of the answers – - -
"The eco-friendly battery-powered train will contribute to Network Rail's target of reducing the cost of running Britain's railway system by 20% over the next five years."
While this is just one of the projects that's out there, your home country may be thinking along similar lines.  You can find out about others by checking out this link:  http://www.railway-technology.com/projects/region/