Transportation systems
Cutting edge technology called Lybra is a tire-like rubber paving, which is designed to convert the kinetic energy produced by vehicles into electric energy. It has been developed by an Italian start-up Underground Power, founded in February 2011.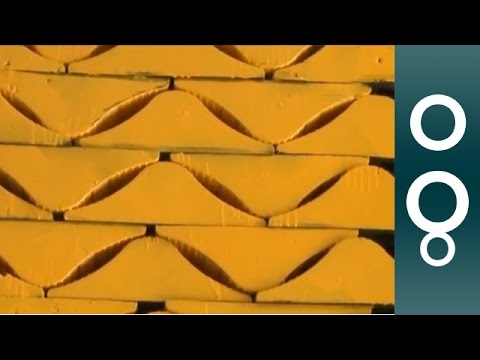 Developed in cooperation with the Polytechnic University of Milan, Lybra operates on the principle that a braking car dissipates kinetic energy. The edge-cutting technology, in its turn, is able to collect, convert this energy into electricity and pass it on to the electricity grid. In addition to improving road safety, the device upgrades and promotes sustainability of road traffic.
According to the team of engineers, a chain of 10 devices located at a rather busy roundabout would be able to produce 100 thousand kWh per year. Just to compare, the same quantity of energy is produced by 19 tons of oil – that's enough to meet the annual power needs of about 40 families.
It seems that places that were traditionally thought of pollution-filled places, have sparked inventive ways to go greener.  Do you have any ideas to turn a typical pollution-ridden area into a green hero?
Most people have not heard the term "particulate matter".  It is an extremely harmful emission created by all combustion engines, but particularly diesel engines.
The LeefH2 (Leveraging Energy Efficient Fuel with Hydrogen) system hopes to "make particulate matter emissions a thing of the past" and to help clean air by increasing the combustion efficiency of ALL combustion engines. Yes, all.
Imagine if a little bit of water could make your internal combustion engine run cleaner and more efficiently, and help it produce more oxygen than a tree. That's what the LeefH2 device is designed to help your motor do. HNO Green Fuels, the maker of the LeefH2, wants to turn your engine – and every other combustion engine – into an oxygen farm while reducing particulate matter and getting more power out of your fuel.
We're talking trucks, buses, trains, planes, ships, helicopters, tractors, ambulances, and all the other combustion engines you can think of!
Here's more detail about how LeefH2 operates:
Would you employ this new device into your vehicle to improve our world?
So many people make New Year's resolutions at this time of year, many of which are very hard to practice for the long term. Here are some ideas to reduce your carbon footprint. While some of these ideas are not appealing to all, adopting even one would make a difference in our world. See what you think….
1) Eat less meat. While not everyone is ready to become 100% vegetarian, there is little doubt that eating less meat is one of the fastest ways to reduce your carbon footprint. Pick one or two days a week where you will eat only vegetarian food. Find a good vegetarian food cook book to learn the best recipes, and you're set!
2) Pick seasonal and local fruits and vegetables. While it can be tempting to eat strawberries in winter, when they have been imported from halfway across the planet or grown in energy-hungry greenhouses, they're hardly sustainable. Do some research into what is naturally grown in your area in the season, and prefer these. This way, you'll also rediscover the pleasure of meals changing with the seasons!
3) Use public transportation more. Start using public transportation to go to work and the supermarket.
4) Make your home efficient. Check your home for heat loss (there are companies specialized in this if you don't feel expert enough) and make it your DIY project in 2015 to fix them. If you haven't yet, lower the thermostat during the night. The ideal temperature to sleep is around 60 degrees Fahrenheit (16 degrees Celsius). If that's too cold for you, do it in steps – a degree less each month. You might realize you even sleep better – and you will see it on your heating bill!
5) Become a toxic-free household. This might take a while in research, so plan to do it over the whole year. From beauty products to clothes detergent and computer parts, we have become used to toxic products in our daily lives. Time to stop it. When buying new products, check what they are made of, and pick the one that will have the least toxic residues.
6) Keep your electronics for the year. New cellphone? Must absolutely have the latest tablet? How about the newly released gaming console? Our consumption of electronics is reaching record highs. Make a break, and promise not to buy new electronics this year, unless the one you already have breaks down (and when it does, ensure it is recycled properly!).
7) Take recycling to the next level. You probably have two different recycle bins in your home, sorting your waste to have it recycled. It doesn't end here though. In 2015, try to reduce the amount picked up by the garbage truck. If you have a garden, start your own compost. When you're at the supermarket, prefer products that are not overpackaged (you know the one: plastics wrapped in plastic, itself wrapped in cardboard…). If there are too many of these items in your local supermarket, time to start campaigning! Write to the store manager and express your concerns – and convince your neighbours to do so as well.
8) Spend more time outdoors. Learn to enjoy nature again. Make a habit of taking a weekly walk outside. We have become so used to live in our houses and in our cars, many people have no idea what nature looks like anymore.
AND WISHING YOU
With Toyota's roll-out of it's first fuel-cell car in Japan, the stakes are high. The four-door Mirai sedan, powered by hydrogen and emitting nothing but water vapor from its tailpipe, launches with with a range of up to 400 miles, 153 horsepower and a $57,500 USD price tag which includes free hydrogen for up to three years. Toyota expects to sell 400 units in Japan in 2015.
The roll-out will hit the US and some European countries, including the United Kingdom, Germany and Denmark, in 2015.
Just like Honda's FCV Concept, the production Mirai will refuel in less than five minutes, and also comes with an optional power take off (PTO) device that turns it into a mobile generator. Toyota says the Mirai, which means future in Japanese, is "capable of powering home essentials in an average house for up to a week in an emergency," emitting only water in the process, of course. Now that's a huge added benefit for those who lose power.
There is some controversy about the new model design – what do you think?