Updates on current projects
IBM announced today that the Victoria University of Wellington, on behalf of the Murchison Widefield Array (MWA) Consortium, has selected IBM systems technology to help scientists probe the origins of the universe.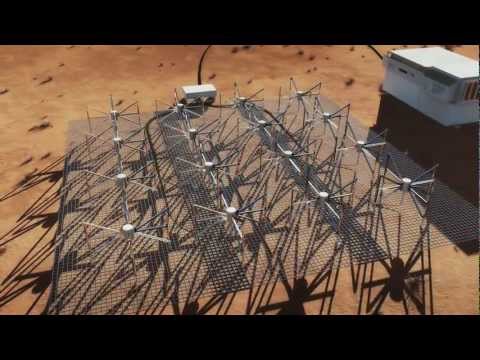 The result of an international collaboration between 13 institutions from Australia, New Zealand, U.S. and India, the MWA is a new type of radio telescope designed to capture low frequency radio waves from deep space as well as the volatile atmospheric conditions of the Sun. The signals will be captured by the telescope's 4,096 dipole antennas positioned in the Australian Outback in a continuous stream and processed by an IBM iDataPlex dx360 M3 computing cluster that will convert the radio waves into wide-field images of the sky that are unprecedented in clarity and detail.
The IBM iDataPlex cluster replaces MWA's existing custom-made hardware systems and will enable greater flexibility and increased signal processing. The cluster is expected to process approximately 50 terabytes of data per day at full data rate at a speed of 8 gigabytes per second, the equivalent to over 2,000 digital songs per second, allowing scientists to study more of the sky faster than ever before, and with greater detail.
"The MWA project is dependent on the massive computer power offered by IBM's iDataPlex to create real-time wide-field images of the radio sky," said Professor Steven Tingay, MWA Project Director from the International Centre for Radio Astronomy Research at Curtin University in Perth. "The combination of the MWA, IBM technology and the radio-quiet environment of the Murchison will allow us to search for the incredibly weak signals that come from the early stages in the evolution of the Universe, some 13 billion years ago."
The ultimate goal of the revolutionary $51 million MWA telescope is to observe the early Universe, when stars and galaxies were first born. By detecting and studying the weak radio signals emitted from when the Universe consisted of only a dark void of Hydrogen gas – the cosmic Dark Age – scientists hope to understand how stars, planets and galaxies were formed. The telescope will also be used by scientists to study the sun's heliosphere during periods of strong solar activity and time-varying astronomical objects such as pulsars.
"Victoria University was delighted to work with the IBM team to find a solution for the compute challenges of the MWA," said Dr Melanie Johnston-Hollitt, Senior Lecturer in Physics, Victoria University of Wellington.  "The IBM iDataPlex cluster provides an elegant resource to handle the processing and imaging requirements of the telescope, allowing us to do cutting-edge radio astronomy."
"IBM is delighted to have been selected by the MWA consortium in this significant global scientific endeavour," said Glenn Wightwick, Chief Technologist, IBM Australia. "'High performance processing capabilities are essential to facilitating world-class science. The IBM iDataPlex cluster will be used to digitally process incoming signals and produce image data in a standard astronomical format, ready for use by scientists."
The IBM iDataPlex cluster will be housed on-site in the Murchison Radio Observatory (MRO) site around 700 km north of Perth, near the radio telescope antennas. With a 10 Gbps communications link to Perth, it will allow the images to be transferred and stored and made available for research. The MRO site will also be the Australian location for a significant portion of the Square Kilometre Array (SKA), which will be the world's most powerful radio telescope and is being co-hosted by Australia and South Africa.
The MWA project is led by the International Centre for Radio Astronomy Research at Curtin University and is one of three SKA precursor telescopes.
For more information MWA, please visit: http://www.mwatelescope.org
For more information on IBM iDataplex, please visit: http://www-03.ibm.com/systems/info/x/idataplex/
If you have been looking for new and creative usage of apps and tablets, you need to read this article on IEEE Spectrum.  It describes how researchers have been using touch-screen computers and tablets to prove bonobos have ability to recognize thousands of spoken words and associate them with abstract symbols.  They use these symbols to make requests, answer questions, and compose short answers including coining their own short phrases.
The world's largest particle physics laboratory, CERN, is located near Geneva at the border between Switzerland and France.  Today CERN scientists had an important announcement to make.  It was about discovery of Higgs boson, also known as God particle.  They were 99.999% sure that they have found God particle or Higgs boson.  The existence of Higgs boson was predicted almost 40 years ago by prof. Higgs.  This discovery, however, cost Stephen Hawkins $100.00
. This discovery will help with our understanding of why elementary particles have mass and the existence of diversity and life in the universe.  Watch this video if you want to learn more about Higgs boson.
How do you think this discovery will influence the future of physics and our understanding of the planet?
We have several schools' teams doing projects now; or having events.  We invite comments here by participants; if they don't have an ID to do a full blog post; no ID is required to comment.  Please tell everyone
What is your project or event about?
What's it like to work with an IBMer? Did you have fun?  What one thing did you learn?
What do you know now about IBM now that you did not know before  this experience?