Water
Although most of us are, at all times, peripherally aware of the food shortages around the world, there are those who are constantly addressing the needs of the hungry.  Charities, governments, and individuals make concerted efforts to alleviate the challenge of feeding the globe's inhabitants.  Here are a few links to stimulate your thoughts on what you may be able to contribute through your own work…
Permaculture is a philosophy of working with, rather than against nature; of protracted and thoughtful observation rather than protracted and thoughtless labor; and of looking at plants and animals in all their functions, rather than treating any area as a single product system. —Bill Mollison
From The African Moringa and Permaculture project:

Food Forests

, an idea pioneered by permaculture, draw upon the examples provided by natural native forests and carefully incorporate non-aggressive exotic varieties.
Creativity is helping drive new solutions that help  conserve water and ensure safe, clean supplies. Read about three ideas awash in innovation.
Finding New Signs of Water
In Peru, some researchers are creating advertisements that can make your mouth water. Scientists at the Universidad de Ingenieria y Tecnologia in Barranco and a local ad agency worked together to build a modified billboard that harvests and purifies the area's humid air and wrings it out to produce safe drinking water. All that happens thanks to a reverse-osmosis system that circulates the air through air filters, a vapor condenser, a carbon filter and a cold tank. The resulting clean water is collected in a tank with a spigot, where locals can fill up. The billboard is capable of purifying 100,000 cubic meters of urban air a day, according to the university.
A Conservation Idea That Sits Well With Citizens
Residents of Mumbai, India, can relax a bit more about water conservation. That's because Dutch-Chinese architectural firm MARS, in collaboration with the BMW Guggenheim Lab in Mumbai, has created an outdoor "sofa" for parks that doubles as a rainwater collector during the wet season. Designed to resemble a Chesterfield sofa, the Water Bench is made out of recycled plastic whose seams and grooves divert rainwater to "buttons" that act as water inlets. From there the water flows to a tank inside the sofa. The water then can be used in the dry season to irrigate surrounding parks and grounds where the bench is located, reducing consumption of local supplies.
A Fairy-Tale Story Ending That Holds Water
This clean-water solution is one for the books. WATERisLIFE, a nonprofit group that provides drinking water and sanitation to schools and villages in developing regions, has created the Drinkable Book. While the book's pages are printed with food-grade ink that offer tips on safe water habits, they also can be used to filter and purify water. The new technology, developed by researchers at Carnegie Mellon and the University of Virginia, uses coffee-filter-like paper that's coated with silver nanoparticles, which kills diseases such as E. coli, cholera and typhoid on the spot when water is poured through it. Each book costs only pennies to produce and can provide clean water for as many as four years.
For more inspiration on how smart innovations in water are improving citizens' lives, read the post When a Smart Tool Helps East Africans Tap Into Safe Water.
Do you know of other water innovations that are making a difference in communities? Sign up here, tell us about it and help change the world for the better.
I've blogged about sustainable farming methods and even farming on the moon, but the article I recently read made me think even more deeply about agriculture and how we can most efficiently use resources here on earth to produce the vast amount of food needed to feed our planet's inhabitants.
Sky Greens is the world's first low carbon, hydraulic driven vertical farm using green urban solutions to achieve production of safe, fresh and delicious vegetables, using minimal land, water and energy resources.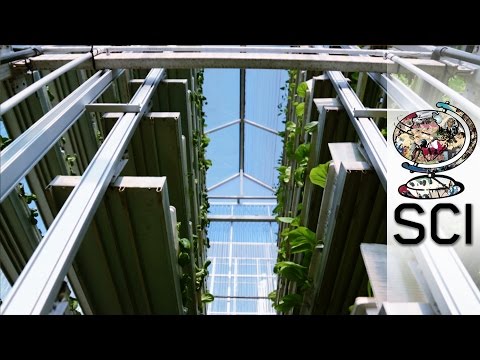 It only takes one idea to create a truly sustainable, profitable solution to a known problem.  Do you have one simple idea?
Carlsbad, California, is on target to be the biggest desalination plant in the Western Hemisphere.  That is one of the many plants stepping up their production to make drinkable water from the ocean – but it takes a lot of energy to get there.
Records dating to A.D. 200 show that sailors boiled seawater and used sponges to absorb fresh water from the steam. Today, desalination is more sophisticated: multistage flash distillation, reverse osmosis, electrodialysis, and more.
Even though more than 70 percent of the Earth's surface is covered with water, civilization has quenched its thirst mainly by tapping the one percent of world water that is unfrozen and fresh.
Some desalination plants aim to fuel operations with another abundant resource—the sun.  "Desalination is energy-intensive, but it doesn't have to be fuel-intensive," said Aaron Mandell, co-founder and chair of WaterFX, one of the companies pioneering the renewables approach. "That's what really matters. The focus should be not so much on consumption, but where the energy comes from."
Here are some of the worldwide plants' strategies:
The Middle East – in the United Arab Emirates (UAE), construction begins in the coming weeks on four small pilot desalination plants. But the world's sixth largest oil producer (second in the Middle East only to Saudi Arabia) is not rushing into the solar part of the equation. Instead, UAE energy company Masdar plans to test four companies' different technologies to determine which is most energy-efficient.
Australia – solar desalination got a boost recently in one of the most arid states on the driest inhabited continent on Earth. Global investment firm KKR announced it was investing in a project developed by Australia's Sundrop Farms that will use concentrated solar power to turn ocean water into fresh water for irrigating crops. The system, now being expanded with KKR's capital, generates the heat to keep the plants growing in specially designed greenhouses in a region of South Australia that otherwise could not grow crops.
Texas – for years, Texans have talked about tapping into the Gulf of Mexico to address chronic water woes, and interest grew after 2011, when the state experienced its worst one-year drought in recorded history. Wildfires were rampant, and ranchers had to sell off cattle.  The high cost of seawater desalination has stymied development.  Texas does have about a hundred inland desalination plants that tap into the state's large stores of brackish underground water, but they rely on coal- and natural gas-fired electricity for energy.  With so much brackish water beneath that same landscape, the economics for turbine-powered desalination would be good, University of Texas researchers said in a study last year.
California – amid the worst drought in California's history, there are proposals for more than a dozen desalination plants on the Golden State coast. Most would rely on natural gas-fired electricity for power.  A $1 billion coastal project under construction at Carlsbad, Poseidon Water, aims to be the biggest desalination plant in the Western Hemisphere using reverse osmosis. San Diego has agreed to buy Poseidon's water at double the cost of conventional water supplies.
Here is even more detail about the impacts of creating drinkable water from our natural resources
Oh to be one of these guys and have all the water needed right in our environment:
One of the VERY popular gluten free foods growing in popularity is quinoa.  Quinoa grain has been called a superfood.  The protein content is very high for a cereal/pseudo-cereal (14% by mass), but not as high as most beans and legumes.
The rise in popularity of gluten-free grains may have helped producers improve their daily lives, but there have been environmental consequences. The rise of quinoa production in Bolivia means farmers rarely give the soil time to recover and that producers plant the crop continuously on slopes and valley areas.
Over time, the soil becomes eroded, pest and diseases spread and yields decrease. Research organizations in Bolivia are currently working on solutions for sustainable intensification in these areas.
As quinoa becomes more lucrative, some farmers who had left for the city are returning to cultivate quinoa part-time. This means they can't manage the llama herds year-round, and as llama manure is used to fertilize the soil, the soil isn't being replenished.
Sara Scherr, president of EcoAgriculture Partners thinks consumers need to do more to ensure gluten-free grains are produced sustainably.
The growth in demand for gluten-free grains puts pressure on the environment and on the livelihoods of workers. It's worth considering that higher demand, leading to higher prices, can create conditions that enable investments in environmental sustainability and greater protection for workers. Right now such efforts are concentrated on higher-value products like cocoa and coffee. It would be ideal if those seeking gluten-free diets would communicate their demand for sustainably produced products.
When gluten-free grains exist as part of the economy, rather than as its primary crop like in Bolivia, farmers have more time and opportunity to experiment with sustainability; farms across Romania, Denmark and the US have tried growing sustainable buckwheat.
One of quinoa's benefits that we should bear in mind says Jones, is that it's salt- and drought-tolerant, "two problems that will certainly increase with climate change".
Have you developed a taste for quinoa and the other gluten free grains?  It appears that farmers have a way to go to ensure that they are producing these foods in the most sustainable manner.
Speaking of quinoa, it puts me in the mood for this simple vegetarian recipe for quinoa that some might enjoy:
Quinoa With Mushrooms, Kale, and Sweet Potatoes
Ingredients
2 small sweet potatoes (about 1 pound), peeled and cut into 3/4-inch pieces
10 ounces button mushrooms, quartered
2 cloves garlic, thinly sliced
1 bunch kale, stems discarded and leaves torn into 2-inch pieces
kosher salt and black pepper
1/4 cup grated Parmesan (1 ounce)
Directions
Place the quinoa and 2 cups water in a small saucepan and bring to a boil. Reduce heat and simmer, covered, until water is absorbed, 12 to 15 minutes.
Meanwhile, heat the oil in a large pot over medium heat.
Add the sweet potatoes and mushrooms and cook, tossing occasionally, until golden and beginning to soften, 5 to 6 minutes.
Stir in the garlic and cook for 1 minute.
Add the kale, wine, ¾ teaspoon salt, and ¼ teaspoon pepper. Cook, tossing often, until the vegetables are tender, 10 to 12 minutes.
Serve the vegetables over the quinoa and sprinkle with the Parmesan.