Water
This past weekend, the Berkeley Energy and Resources Collaborative (BERC) hosted its second annual Cleanweb Hackathon. This event was a powerful embodiment of BERC's mission – to connect, engage, and educate its members in order to foster innovation and action; it was a forum for attendees to learn about the trends in cleanweb, learn about basic application development skills, and build connections with each other. After an evening of mingling and a morning of skills training, the 40+ participants (who hailed from UC Berkeley, Lawrence Berkeley National Labs, and the greater Bay Area) raced to build web-based applications to address current challenges in energy and water.
The Hackathon, which was selected as Students for a Smarter Planet project, posed questions across different tracks. Each team selected a track to focus on; one grand prize was awarded for the winner, and individual prizes were awarded within each track. Fueled only by pizza, optimism, and an irrepressible desire to change the world, our teams sought to address these questions:
Energy: H

ow can our appliances and devices work for us by saving money and increase the ability of the power grid to make use of intermittent renewable power? 

Define a new approach to controlling appliances and devices that is responsive to electricity prices and other real-time and predictive data streams (e.g., weather forecasts).  

Water: C

alifornia is an ongoing drought, yet not enough action is being taken by individuals, businesses, and cities to conserve water and lower the collective water footprint of our society! 

Design a web application or visualization that can lead to better understanding and action on water use in California. Consider both direct water use as well as indirect water use (from our consumption of food and electricity for instance).
Our judges were impressed by the resourcefulness and creativity of the teams. In a matter of hours, they devised innovative ways to meaningfully use energy and water data, employ sensors in entirely new applications, and empower consumers with the data they need to take action on energy and resource issues. And now (drumroll please!), here are the 2014 Cleanweb Hackathon winners:
Please check out our winners' apps! Although the competition ended this weekend, we hope that these projects will live on (in fact, we've got a track record for being the launching pad of cleanweb apps! Check out last year's winners Watttime and Thermostatly). And while the teams competed for cash prizes, the real winners here are the students and our community. The teams' innovative yet practical applications inspired us all to consider our everyday use of energy and resources in novel ways.
Hello!
We are the University of Connecticut team of students working with Students for a Smarter Planet. Our project will be based around a campaign to raise public awareness and involvement with the water infrastructure in Rotterdam, Netherlands. We will be utilizing the Intelligent Operations for Water platform to develop a mobile application that will make learning and managing the water infrastructure both fun and rewarding.
But how could water infrastructure be interesting you may ask?  Simple.  Put it in a game!  Users will interact in a gamified, informative system that will help the city's water utilities to maintain their infrastructure.  Through the use of this app and social media, we aim to get the public thinking about how their city manages and maintains its water.
Meet the Team…
Andrew Boba – Senior, Computer Science and Engineering major.  A lover of snowboarding, the Brooklyn Nets, take-out Chinese, and of course, sewage.
Ian Brunjes  - Senior, Computer Science major. Enjoys puns far too much.  A devout gamer, likes to go outside occasionally, especially when it rains.
Julie Cappello – Senior, Computer Science and Engineering major.  Loves cooking, sushi, warm weather, and sleeping (especially on water beds).
Zhuoqing Xu- Senior, Computer Science major.  Embracing the nigh impossible task to build a healthy body while being a software engineer.  A big fan of Arsenal FC and frivolously jumping around in puddles.

Follow us and enjoy all our missteps, triumphs, and confusion of IBM acronyms.  We are about to take a plunge into Smarter Water and are excited to see where this ends up.
If you have any questions or comments, please let us know!
Water has been one of the most controversial resources nowadays as it is turning into a scarce resource, especially in developing countries. This led to several scientists developing various technologies to address water scarcity. Desalinization of the ocean water is one technology that is proven to be useful for the future.
Another technology, developed by Indian scientists, uses silver nanoparticles for clean water production. Thalappil Pradeep and his colleagues of the Indian Institute of Technology in Chennai, India developed a $16 water filter based on an aluminium composite, embedded with silver nanoparticles. According to the scientists, as water flows through the filter, the nanoparticles are oxidised and release ions, which kill viruses and bacteria, and neutralise toxic chemicals such as lead and arsenic. With the use of these silver nanoparticles for clean water production, and at a cheaper price, it will be possible to provide water to the poorest of the communities in developing countries.
In a country like India, for example, potable and clean drinking water in poor rural communities is a rare resource. With the development of this filter, Pradeep addresses the lack of affordable and clean drinking water of India's poorest communities. In fact, he already ran small-scale field trials and found the filters to be effective. His team is already planning to distribute filters to Indian communities, and they expect that it will provide water to approximately 600,000 people in West Bengal.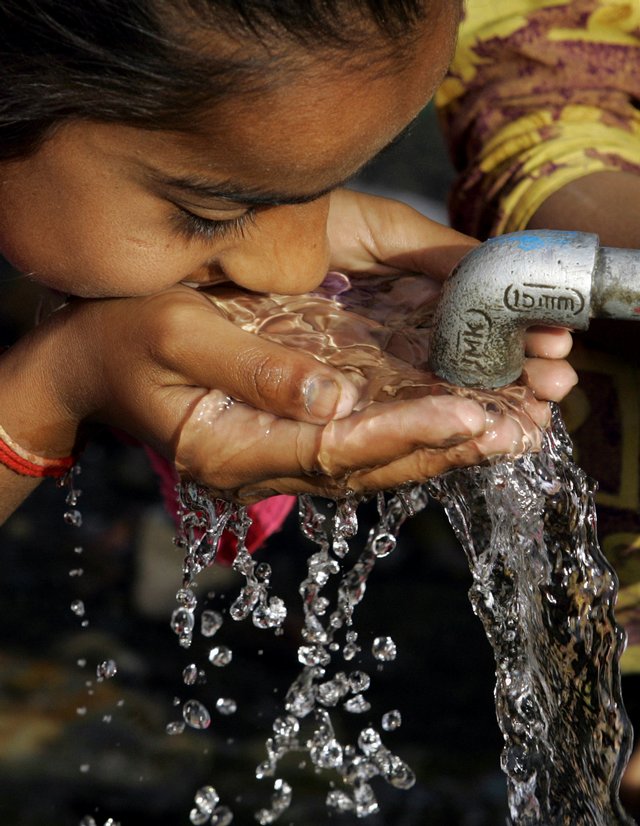 Water is a life sustaining resource. Without water, no living plant, animal or human can live. Water is an important resource which is taken for granted by majority of the people because of its "apparent" abundance. However, having water in one's house does not equate to having an abundance of water to all parts of the world. According to Pradeep, "Water means health, education and overall well-being of a society." Water does not only address one's thirst, but it also caters to a person's well-being and overall wellness.
Guest editor: Kristine Rowan
Economics teaches us how to allocate scarce resources. We learn that resources are not unlimited, and they come with a price. What we once thought as an unlimited resource such as water, is as limited as clean, fresh air nowadays. One can barely get safe potable water for free.
It's been a couple of weeks since the World Water Day on March 22. It reminds us of the scarcity of water, and how soon we might be investing for desalinization plants. UN Water estimates that 780 million people around the world do not have access to clean water. Countries like India are scarce of clean drinking water and are seeking help from international organizations.  But how about businesses? What can they do?
A bulk of water usage comes from companies. Carbon Trust's interviews "with senior executives of large companies in the UK, US, China, South Korea and Brazil found that only one in seven of those businesses had set water reduction targets or publicly reported on water performance. … However, 86% were concerned that legislation is on the horizon, as governments around the world assess the vulnerability of water resources, and review water policies."
So does this mean it's only the government's job to address water scarcity? According to the same interview, 47% of the companies believe that if they act on this issue, they will have to decrease their profits. This is why businesses need to wake up to water waste. If there is no water, their business also loses. Water conservation is not only for the benefit of the households. It is for everyone, and every single entity has to pitch in – may it be the government, businesses, non-government organizations, or individuals.
Imagine a world without water. Can you?
I can't.
Guest editor: Kristine Rowan