Water
At the University of South Florida, students and staff are working through research to create a more sustainable earth. Fertilizer needs to be reinvented if it is to be as effective as it should be healthy for the planet. Conventional fertilizers need to be replaced.
The fertilizers that we are sustainably creating through our system at USF, offset need to create conventional fertilizers. Conventional fertilizers require mining of important nutrients such as phosphate, which generates extremely harmful environmental impacts and often creates wastelands on the mine site. Places such as Florida (where we are located) have large expanses that have become these wastelands. Furthermore, worldwide phosphorus deposits are depleting (just as oil deposits are depleting). Our system allows for recovering nutrients such as phosphorus from waste, turning that waste into a valuable resource. Therefore, it creates a renewable source of nutrients and reduces the need to have harmful phosphate mining operations. Furthermore, creating Nitrogen fertilizer, which is typically done through the Haber process, uses large amounts of energy and incurs high costs.
Not only are our fertilizers created sustainably using renewable source, but they also are expected to outperform conventional fertilizers in several ways that are important to the environment. For example, our fertilizers are expected to have slow-release characteristics, meaning that they dissolve slowly, allowing for the plants to uptake the nutrients efficiently. Conventional fertilizers dissolve very quickly, causing most of the fertilizer to be washed away by rain. The fertilizer nutrients that are washed away cause very harmful environmental impacts such as eutrophication, which often leads to hypoxia or "dead zones" (complete depletion of oxygen in the water) that cause mass death of aquatic life such as fish and crabs. This is a common occurrence in the Gulf of Mexico, where nutrients are carried into it by rainwater runoff, causing massive dead zones and loss of life.
Our slow-release, sustainable fertilizers can significantly reduce the instance of these fish kills. However, our growth study is needed to prove that our fertilizers can compete with conventional fertilizers. This will prove that these sustainable fertilizers can be widely adopted while still providing the same performance as conventional fertilizers.
Excess heat is a wasted by-product of many industrial processes. Weizmann Institute of Science reports on an Israeli start-up that has discovered a way to capture this industrial by-product and turn it into fuel.  While this new process has not yet been put into production, the test data supports a very compelling debate.
Besides being a sustainable source of energy, an advantage of using released industrial heat rather than solar energy is that the former is released 24 hours a day, while solar energy heat can only be generated between 8 and 10 hours daily.
With plans on the table with two companies in Europe – the largest steel manufacturer in the world, and an engineering and equipment supplier, it remains to be seen how successful this new process will be.
Do you think this transformation of excess heat into fuel will reap substantial benefits?
Can aquaculture make fish tastier and more environmentally friendly?
Fish farming is experiencing sharp growth. The global demand for fish is increasing, while ocean resources are at their limits. So what is needed is a sustainable way to produce more fish.
At the Wageningen University in the Netherlands, researchers are doing an in-depth study of fish metabolism.
Fish nutritionists and geneticists have managed to replace most of the meal and oil in fish diets with plant nutrients. Some fish in this project from the trout family are being fed on a strict vegetarian diet.
The research shows us not only how to feed the fish, but also how to feed the fish in a way that is environmentally friendly.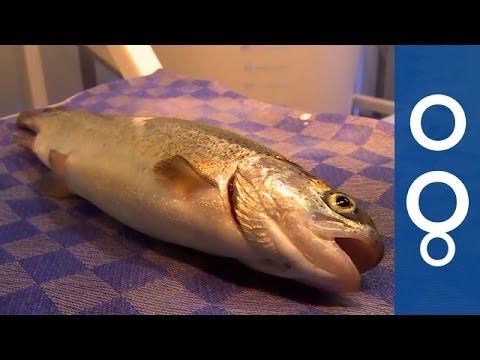 So….  where did last night's fish dinner come from?
How do you educate others?  Do you take up the cry for what is right?  Contribute to the betterment of your society?  You may be inspired by a passionate and dedicated voice for Africa.
The environmentalist, Nnimmo Bassey, deplores the Green Revolution in Africa and oil spills in the Niger Delta region. He does not underestimate the work to be done to educate people on the need to stop those who wish to destroy the environment and to redefine new concepts of development Read an interview with Nnimmo Bassey, director of Health of Mother Earth Foundation in Nigeria, which is an ecological think tank.
Visit the Health of Mother Earth Foundation (HOMEF) website and learn the stories of those who want to make a difference.  Explore the activities undertaken by these individuals driven by their love of humanity. (Be patient; it may take a few mins for the site to load…)  While you're there, view some of the recorded videos of Bassey – powerful stuff!
If you've read the children's tale of Jack, the Giant Killer and his adventures scaling the beanstalk (or some version of this story that has been handed down in a non-US culture), you know that climbing high can have its rewards and its challenges.  Vertical farms may bring a new language to farming around the globe – as we climb ever higher to feed our expanding world population.
Vertical farming is a way in which smaller spaces can be used to produce quantities of produce and plant life that plots of land don't allow for in crowded or urban areas.  "Simply put, vertical farming means using a multi-level building, preferably within an urban centre, to grow food." (JP Brown)  Check out his full post on LinkedIn:  Growing Up, Not Out: The Potential of Vertical Farming
Take a look at some of the companies that are involved with this growing technique.  Maybe there's an employment opp here for you?
Green Living Technologies, Inc.