Water
The many issues facing the African continent concerning food, energy, healthcare, and many other services taken for granted in various areas of the globe continue to dominate headlines.  Those issues bring the heads of nations to the table to speak seriously on what we all can do to address crises that arise in any part of the world.  If each of us were to take steps in our own lives to examine the way we go about our daily routines, there could be some miraculous improvements.  Take a look at a company in Africa that is dedicated to that concept – and the well-deserved recognition they've received for their work!  Notably, they were a recipient of a Genesis Generation Prize in 2015.  Click the logo below to learn about this exciting company in Nairobi, Kenya…
Check out some of the awards and accolades Sanergy has garnered.  And, their reach extends beyond the places in which inhabitants live…  Read about:
Sanergy's School WASH (Water, Sanitation, and Hygiene) program aims to raise students' awareness of the importance of hygienic sanitation. Over the last year, Sanergy has made good progress toward this goal, training teachers from 109 primary schools in the Mukuru and Kamukunji areas of Nairobi. Of these, 90 schools have now installed Fresh Life Toilets for their students.
Take a look, too, at this site & think about becoming a competitor…
The Genesis Generation Challenge welcomes multi-disciplinary teams of young adults to propose big ideas to better the world. Each team must consist of approximately 10 individuals and must designate a team leader (age 20-36). Other team members must be 18 years or older. Teams may represent nonprofit or for profit entities. Because the idea must offer a sustainable and scalable solution to an important problem, we are seeking social entrepreneurs and others with experience delivering projects with lasting and innovative change in their communities and the world.
Maybe your submission will bring about a remarkable change that leaves your imprint on civilization!
September 25th, 2015
10:30
The following post was provided to us by Emmanuel Balami from the University Putra in Malaysia.  Thank you, Emmanuel, for sharing this news about your work!
High-Tech Public Utility Management
Following global concerns about Sustainable Development, and Environmental issues, it has become imperative to innovate, so, the idea of using embedded systems and ICT to help our world efficiently manage resource. These resources (water, energy, and food) are not only scarce but grossly mismanaged or wasted by the public. This module is a contribution in facilitating Responsible Consumption, Change of Attitude by the public toward public utility, especially where governments subsidise these resources for the poor and also to schools and large populations. Organisations/countries that are providing aids to poor countries may wish to take advantage of this module in providing services to humanity, and also, there will be no need for subsidy coupons for countries offering that.
Here are some photos that show the system components and a demo:
Additional information on the project may be obtained by contacting Emmanuel Luke (bel) BALAMI   imabalami@gmail.com
Emmanuel wishes to thank IBM-USA, for funding this project to a successful execution, and Wendy Murphy, for selecting this project & her unflinching support and guidance.  And, if you'd like to learn more about Universiti Putra Malaysia, please click the logo: 
The term "designer drug" may soon refer less to the illicit kind and more to custom creations by the pharmaceutical industry.  Aprecia Pharmaceuticals Company has just had its proprietary ZipDose® Technology platform approved by the US Food and Drug Administration (FDA).  This marks the very first instance that the FDA has given the green light for a 3D-printed drug product.
ZipDose® Technology utilizes their proprietary three-dimensional printing (3DP) platform.  This process stitches together multiple layers of powdered medication using an aqueous fluid to produce a porous, water-soluble matrix that rapidly disintegrates with a sip of liquid.
Spritam levetiracetam is an oral prescription for the treatment of seizures and those affected by epilepsy.  Aprecia's ZipDose® Technology enables the delivery of this drug, up to 1,000 mg per dose, with just a sip of water.  This rapid disintegration method is achieved by 3D printing Spritam with a porous formulation.  As a result, each dose is easy to take and does not require any measuring.
Take a look: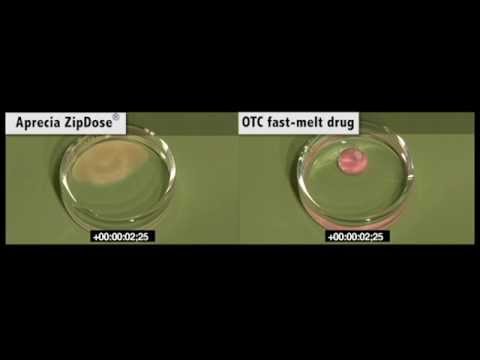 This is a great breakthrough and will greatly enhance the lives of so many that suffer from seizures and epilepsy!
If you have an interest in enhancing lives in a big way, check out their career opportunities here.
September 14th, 2015
10:22
You may remember a recent blog which described a great new innovation – the Smog Free Tower being developed by Dutch artist Daan Roosegaarde.  Well, Daan's been busy with many great sustainable projects.
Here's another:  Van Gogh's The Starry Night is the inspiration for a new illuminated bike path in the Netherlands which is part of a program that celebrates Van Gogh in 2015, the 125th year after his death.
The new cycle path designed by Studio Roosegaarde aims to make cycling in the dark a touch safer, while introducing an artistic element.  The Van Gogh-Roosegaarde in Eindhoven glows in the dark to show cyclists the way.
The path features thousands of luminescent stones that are charged via solar energy during the day and glow when it gets dark. This means that, in addition to helping to light the cycle path and celebrating Van Gogh's work, the stones do not use any electricity.
A similar principle is used by the Starpath system, which has been used to create a glow-in-the-dark pedestrian path in the UK.  The UK company Pro-Teq has developed a water-resistant, spray-on coating that absorbs UV light during the day and releases it at night, adapting to the lighting conditions in its surroundings.
As mentioned, there are a number of other concepts under the Smart Highway umbrella yet to be piloted. Dynamic Paint envisions the use of temperature sensitive paint on the roads to provide contextual information. For example, if it were to be very cold, then the usually transparent paint would become visible and display warning messages.
Another is Interactive Light which seeks to detect where cars are on a road and then light only the sections of the road around and in front of them. The aim of this would be to reduce the use of electricity by dimming lighting where roads are empty. Induction Priority Lane, meanwhile, proposes a lane with electric vehicle charging technology embedded under the road surface, while Wind Light envisions turbines at the side of the road that generate electricity for lighting using the wind caused by passing cars.
Looks like our cities around the world are getting a beautiful sustainable makeover.  Kind of makes you want to go exploring at night just to see all of the sparkle!
There are situations where people tell you that you will 'eat your words' – implying that whatever you are saying to them is either untrue, unfounded or unsupported by any factual evidence.  It could also be that you are just being downright mean!  Whatever the case, although it makes for a great cartoon image, we seldom actually eat our words.  Some have difficulty filtering their words for appropriateness as well…
But how about drinking them instead – and, already pre-filtered???  The shortage of potable water is not news to anyone – and the situation becomes increasingly dire as we continue on our merry pollute the planet way…  This idea may bring 'hardcopy books' back into fashion -  I don't think a Nook or Kindle could do what is being described here!
The pages are infused with copper and silver nanoparticles that make tainted water safe to drink. You just pour the polluted water – it can even be raw sewage! – through a page … and the result is fresh, clean water. The books are printed in both English and a local language with simple instructions. One page can purify 26 gallons of water, and one book can supply a person's drinking water needs for about four years.
And take a look at the fundraising efforts that are shaping up to make this available to more and more needy individuals across the planet by clicking the pic:
Is there a filtration system that you're working on to solve water shortages?