Fourteen flooring tiles from London-based clean-tech company Pavegen Systems were installed outside the Saint-Omer subway station in northern France. The tiles, each roughly 7 by 24 inches, generate renewable electricity from the otherwise wasted energy of footsteps.
When a walker's foot makes contact with the tile, it bends inappreciably, depressing an average of five millimeters each step and creating approximately seven watts of converted kinetic energy in the process. The slabs, made from 100 percent recycled rubber, can store energy for up to 72 hours via small built-in batteries.
"I realized that although wind and solar alternatives were progressing exponentially, they were inefficient in urban environments due to high-rise infrastructure and pollution," he says. "Given that 60 percent of the world's population would be residing in urban environments by 2030, I decided to investigate further. I discovered footfall as an untapped, renewable resource that is efficient, constant, and literally all around us, to be used when and where it is needed."
The tiles were also installed at the Simon Langton Grammar school in Kent, UK. Check out the students' reaction to this exciting new technology: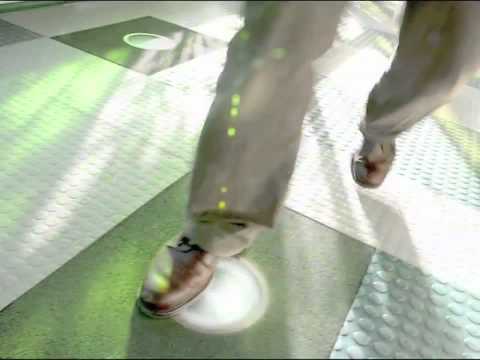 This is a win-win situation for all involved: the students who get inspired to think of ways to contribute to a smarter planet at a very young impressionable age, the company looking to expand operations into different venues to capture greener energy production, and, of course, the entrepreneur who profits from this great new technology!
What a great world we live in – that young minds can shape a very (literally) bright future!
Once every few hundred thousand years the magnetic poles flip so that a compass would point south instead of north. While changes in magnetic field strength are part of this normal flipping cycle, data from Swarm have shown the field is starting to weaken faster than in the past.  Researchers think power grids and communication systems would be most at risk.  Is there work that you are engaged in that could help mitigate the effects of our world turning 'upside down'???
Changes measured by the Swarm satellite show that our magnetic field is weakening 10 times faster than originally predicted, especially over the Western Hemisphere.  The Swarm satellites not only pick up signals coming from the Earth's magnetic field, but also from its core, mantle, crust and oceans.
Here is some additional information on the topic from the British Geological Survey site that you may find helpful: Reversals: Magnetic Flip
And some amazing detail from NASA:  Magnetic Pole Reversal Happens All The (Geologic) Time
Are pesticides really helpful to producing more strawberries? Researchers are trying to find out.
The projected is funded by a $172,663 USDA specialty crop block grant administered by Florida Dept. of Agriculture and Consumer Services, led by Cecilia Nunes, an assistant professor in USF's department of cell biology, microbiology and molecular biology. This project initially made headlines in December, 2013. This initiative is still underway, and it will continue for an estimated 2 years.
She is working with Natalia Peres of UF's Gulf Coast Research Center, where initial research on the reduced use of pesticides by strawberry growers was already underway. Nunes and Peres are working with a Florida grower to produce side by side strawberry crops – one grown with the customary levels of pesticides, the other reduced by 50 percent.
The project is still underway, so there is no definitive conclusion. The important part, however, is the question this research is trying to answer. Researchers want to know what change in already applied methods may be a positive one in the future of farming. For example, the reduction of pesticides may allow for more or equal strawberry production. In that case, farmers will have the information they need to safely move ahead with safer practices for the environment and their own bottom line. Farmers use pesticides to kill pests, and the potential problem farmers face is using too little of the pesticides they currently use. This study will provide critical data for strawberry farmers, if reducing pesticide utilization actually doesn't change the outcome farmers want to see.
- See more at: http://highlandstoday.com/list/highlands-agri-leader-news/usfuf-researchers-explore-path-to-better-strawberries-20131225/#sthash.eg5WCkRc.dpuf
You may have heard that the Monarch butterfly is endangered.  I fondly remember seeing many of these beautiful creatures while growing up in suburbia.
One threat to the Monarch butterfly population results from the deforestation occurring in their over-wintering locations – specifically in the mountains of Mexico.  Last year, the Monarch population dropped to the lowest level since record-keeping began in 1993, covering just two-thirds of a hectare (1.65 acres) in the pine and fir forests west of Mexico City.
Many petitions have been signed to protect the habitat of the Monarch butterfly, but until we can develop more sustainable sources for the products currently using the trees that are being harvested, the Monarch butterfly is in jeopardy.
Just because wood is natural doesn't make it sustainable.  There are multiple alternatives for wood.  There are lists of products approved by the Forest Stewardship Council and the Sustainable Woods Network, as well as salvaged wood and wood alternatives.
I will certainly look at wood and wood products differently going forward and hope to be part of the crusade to save the beautiful Monarch butterfly so generations to come may also enjoy them.