We frequently hear that eating fish is a healthy thing to do, because it's full of beneficial long chain fatty acids. Unfortunately, the Western diet tends to be short on fish and bigger on beef, which contains short chain fatty acids that aren't quite so good for us. Chinese scientists are creating a work-around, however – genetically-engineered beef that's high in the "good" fatty acids.
Fish is a prime source of long chain n-3 polyunsaturated fatty acids, more commonly known as omega-3 oils, which help protect against obesity, cardiovascular disease and neurodegenerative disorders. The short chain fatty acids in beef are known as n-6.
In order to turn n-6 into n-3, a research team from China's Northwest A and F University, and National Beef Cattle Improvement Centre, first isolated the fat1 gene from a nematode worm. That gene codes for desaturase enzymes, which play a key role in converting n-6 fatty acids to n-3.
While the research is still ongoing, I wonder how many of us would want to take the plunge and eat this new type of beef.
I guess we could order our "omega-burger" at McDonald's golden arches and feel that we are eating healthier at least.
In the "early days" of architectural design, buildings boasted quite small windows to allow for ventilation.  These smaller apertures served the purpose of keeping buildings more snug in the winters, too.  (Tiny openings were also a good deterrent against attacking marauders with their arrows, bullets, and the like.)  Glass was an expensive product, and was generally a sign of the level of wealth of the building owner/occupant.
My, how times have changed!  Most of the buildings constructed in the 20th century boast glass from top to bottom – and we've started to make some big changes in the 21st century, too!
Researchers at the Cockrell School of Engineering at The University of Texas at Austin are one step closer to delivering smart windows that have a new level of energy efficiency. Their research has created new materials that allow windows to transmit light without transferring heat, or conversely to block light while allowing heat transmission.  The materials are controlled by a small voltage applied by the building occupants.
 "We believe our deliberately crafted nanocrystal-based materials could meet the performance and cost targets needed to progress toward commercialization of smart windows," says engineering professor, Delia Milliron.
Green building is a burgeoning field – how will you contribute??
(…and, as a bonus, if you click on the picture above, you can read a fascinating story about Château de Cazemajou in Montazels and the mystery surrounding its priest. I love these speculative reconstructions of lifetimes past.  There are some fabulous architectural photos to enjoy on the site as well…)
Most of us take our mobility for granted.  But for those who are challenged in this area, any breakthrough that enriches their lives is a major "step" in the right direction.
Take a look at the advances in wheelchair technology that the students from ETH Zurich and the Zurich University of the Arts have developed:  the Scalevo electric wheelchair, which features wheels for cruising and tracks for climbing stairs: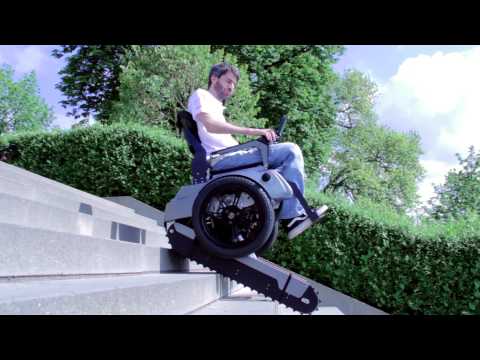 Do you have any brain child that would enrich someone's life?
While there's been a lot of hype that has induced fear among many that they may someday be passed over in favor of a machine, this shouldn't discourage you.  While automation has certainly had an effect on everyday life – think of the changeover from horse-drawn carriages to mechanized vehicles – a.k.a. cars! – the horse hasn't lost his/her ability to signifcantly contribute to the "labor force".  It's true that the role of the animal may have undergone a transformation; but, they certainly haven't become totally obsolete!
Here's a great article about what we humans may have to look forward to as technology continues its steady march forward:
"In a widely-circulated article in Harvard Business Review, Thomas H. Davenport and Julia Kirby outline what workers can do to ensure they thrive in an era of advanced artificial intelligence.

 Their five strategies for adapting to life in the robotic age are: Step up or find a job a computer cannot do; step aside or choose a career that requires specific human toolset like empathy; step in or monitor and modify the work of computers; step narrowly or find a specialty that wouldn't be economical to automate; and step forward or develop the next generation of computing and AI tools."
So, is your current curriculum preparing you to be one of the humans that will rise above the machines?  Or will you play a part in educating the children of today to do so?  There's unlimited opportunity to be a difference maker – for yourself or someone younger than you – use your human smarts to identify ways that will benefit all of us!
SFSP is supporting the Yale Future Energy Club in the Solar Decathlon competition – building a net-0 impact house powered by solar energy alone.
A multi-disciplinary team will apply skills learned in their respective majors:  Mechanical Engineering, Electric Engineering, Geology and Geophysics, Architecture, Economics.  GOOD LUCK TEAM